Danish Warmblood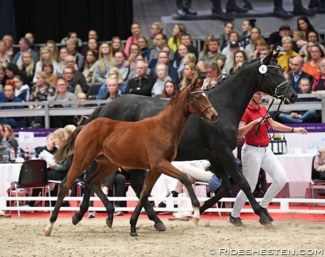 Hesselhøj Ebay (by Escolar x Hesselhøj Donkey Boy) was the top seller of the special auction the Danish warmblood society hosted at the 2019 CDI-W Herning World Cup qualifier on 18 October 2019.
Austrian Victoria Max-Theurer acquired the price highlight as well as the second most expensive foal. 
A collection 21 foals – 8 jumping foals and 13 dressage foals – comprised the collection at the second edition of the DWB World Cup Foal Auction in Herning. In a crowded auction hall, 17 foals changed ownership for an average price of 9,647 euro.
The collection of quality foals had been selected on a criteria of very successful dam lines, so that all the foals had an international profile based on strong genetics for performance which also ensured a good flow in the action.
Austrian Olympian Victoria Max-Theurer is competing at the CDI-W Herning, as she rides Benaglio in the World Cup Qualifier and Rockabilly in the CDI3* Grand Prix tour. It was her first time at a Danish foal action and already at the presentation of the foals in the afternoon she felt quite excited about the quality.
The top seller was the strong moving filly Hesselhøj Ebay, bred by  Dorthe and Hans Jørgen Hoeck, who also bred the dam sire, the two-time medal winner from Ermelo, Hesselhøj Donkey Boy. The filly was acquired by Victoria Max-Theurer for 20,000 euro.
"When I saw her move very energetically at the presentation prior to the auction I knew she had to be mine," Victoria Max-Theurer said after the auction.
Already last year Gestüt Vorwerk, owned by Victoria's mother Sissy Max-Theurer family, purchased a very good filly out of the famous dam line of Blue Hors Zackerey, Fiontini etc.. At the 2019 DWB World Cup Foal Auction breeders Tove and Ove Møller Nørgaard presented a high quality filly that Victoria Max-Theurer fell for. She bought Overgaards Vanity (by Blue Hors Veneziano x Londonderry) for 13,000 euro. This filly is out of a mare that is a half-sister to Blue Hors Zackerey and the dam of two licensed stallions.
"We also sold a foal to Victoria's stable last year, and it makes us very proud when the best riders take an interest in our breeding," said Ove Møller Nørgaard, who came to congratulate Victoria Max-Theurer and her partner Stefan Lehfellner.
Related Link
Gems in DWB World Cup Foal Auction at 2019 CDI-W Herning