Oldenburg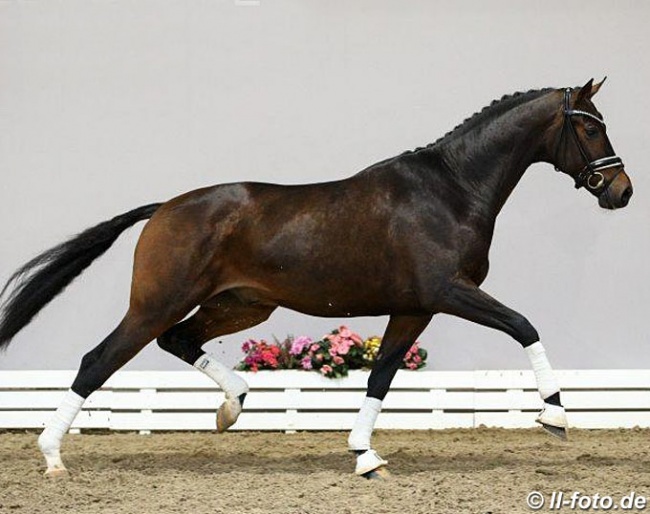 The Oldenburg stallion committee has selected the colts which are eligible to compete in the 2019 Oldenburg Stallion Licensong on 21 - 23 November 2019.
Around 180 dressage bred 2.5 year old colts were entered for the five pre-selection days held in Vechta, Germany. They were presented on hard surface, on the lunge line and in freedom. 
A collection of 45 colts has been selected. The sire with the most offspring selected is the KWPN bred but Oldenburg licensed Ibiza (by Desperado) who has four sons in the lot. Feinrich and Bon Coeur both have three sons accepted.  Million euro stallion Revolution has one son accepted from his first crop born in 2017.
The colts selected for the 2019 Oldenburg Stallion Licensing are:
Bon Coeur x De Niro x Langata Son - Breeder:  Siegrid Schmidt
Bon Coeur x Fürstenball x Rubin-Royal - Breeder: Dr. Stefan Tietje
Bon Coeur x L'Espoir x Hohenstein - Breeder: ZG Croonenbroek-Srdanov
Bordeaux x Florencio I x Santander H - Breeder: Hans + Britta Scherbring
Borsalino x De Niro x Harvard - Breeder: ZG Sahlmann & Schmitz
Danone I x Rosengold x De Niro - Breeder: Dr. Ivan Urbas AUT
Desperado x Don Romantic x Rohdiamant - Breeder: Clemens-August Berding
Diamond Hit x De Kooning x Weltmeyer - Breeder: Heinrich Ramsbrock
Don Juan de Hus x Sandro Hit x De Niro - Breeder: Sara Longworth GBR
Don Olymbrio L x Hohenstein x Pik Bube - Breeder: Storchenhof Janssen
Dream Boy x Fürst Heinrich x Gribaldi - Breeder: . M. v. d. Biggelaar NED
Dream Boy x Fürstenball x De Niro - Breeder: Home of Stallions (shown on VIDEO)
Fahrenheit x Dante Weltino x Don Romantic - Breeder: Ulrike Buurmann
Feinrich x Don Primero x Rohdiamant - Breeder: Hermann Lübke
Feinrich x Sandro Hit x De Niro - Breeder:  Silvana & Peter Wolters
Feinrich x Sandro Hit x Don Gregory - Breeder: Hajo Hedemann
Ferdeaux x Johnson x Houston - Breeder: Tepperik & Sassen NED
For Dance x Detroit x Donnerschwee - Breeder: Gerd Sosath
For Dance x Quaterback x Lordanos - Breeder: Volker Steenken
For Romance I x Diamond Hit x Landadel - Breeder: Dr. Rolf-Peter Schulze
For Romance I x Kaiserkult x A Jungle Prince - Breeder: Dr. Carsten Haack
For Romance II x Desperados x Wolken-Hit - Breeder: Jens Damm
Foundation x San Amour I x Caprimond - Breeder:  Marin Schönfeld
Franklin x Dolany x Linaro - Breeder: A. Jones GBR
Fürstenball x San Amour I x Florestan I - Breeder: Manfred Milnikel
Fürst Jazz x San Amour I x Rohdiamant - Breeder: Harm Oncken
Fürst Wilhelm x Sir Donnerhall x Latimer - Breeder:  Thorsten Hogrefe
Grey Flanell x Sir Donnerhall I x Don Schufro - Breeder: Gestüt Lewitz
Hennessy x Bordeaux x Ferro - Breeder:  Coby van Baalen NED
Ibiza x Fidertanz x De Niro - Breeder:  Franz Bolte
Ibiza x Belissimo M x Londonderry - Breeder: Franz Kampers
Ibiza x Rohdiamant x Donnerschwee - Breeder: Vasco Janke
Ibiza x Hotline x Alabaster - Breeder: Gestüt Byager DK
Indian Rock x Lauries Crusador xx x Grand Cru - Breeder: Klaus Gustenberg
Marc Cain x Christ x Donnerhall - Breeder: Albert Sprehe
Millennium x Alassio x Auftritt - Breeder: ZG M. & R. Zeller
Morricone x San Amour I x Diamond Hit - Breeder: Wilhelm Strohm
Morricone x Sir Donnerhall I x Akzent II - Breeder: Ulf Tönjes
Revolution x Belstaff x Londonderry - Breeder: Sally Schultz DK
Sezuan x Sir Donnerhall I x Rohdiamant - Breeder: Dr. Frank Nordhausen
Toto jr. x Johnson x Uptown - Breeder: P. Nussen NED
Vincent Maranello x Destano x Silvio I - Breeder: Dr. Stefan Tietje
Vitalis x Apache x Fürst Romancier - Breeder: HP horses DK
Vitalis x For Romance I x Don Schufro - Breeder: Christine Arns-Krogmann
Vivaldi x Sandro Hit x Brentano II - Breeder: Klaus Tuchen
Photo © LL-foto
Related Links
2018 Oldenburg Licensing Top Colts Global Player and Dodo Weihgand Both Positive to WFFS
Global Player, Champion of the 2018 Oldenburg Stallion Licensing
Forty-Eight Colts Selected for 2018 Oldenburg Stallion Licensing