Oldenburg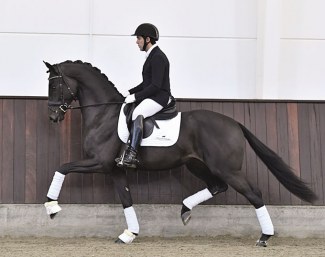 The two highest placed premium stallions at the 2018 Oldenburg Stallion Licensing - champion Global Player and reserve champion Dodo Weihgand - have both tested positive as carriers of WFFS. 
Dodo Weihgand (by Diamond Hit x Furst Romancier x Don Schufro x Sandro Hit) is bred by Christine Arns-Krogman and has Isabell Werth's Weihegold as grand dam. The stallion is owned by Madeleine Winter-Schulze. He was originally named Weihgand, but as he needs to carry a name starting with the first letter of the sire since he was licensed, "Dodo" has been added in front. His positive WFFS carrier status already became known a month ago.
With the updating of the 2019 stallion roster on his official website, Paul Schockemohle revealed the positive carrier status of the licensing champion Global Player (by Grand Galaxy Win T x Don Schufro).
Schockemohle and Helgstrand Collaboration for 2019
In October 2018 the largest Danish and German stallion station - Helgstrand and Schockemohle - announced their collaboration. Schockemohle would become the German distributor of the Danish owned stallions. Schockemohle also continues to collaborate with Danish private stallion owner Lone Boegh Henriksen and Holland's biggest dressage stallion owner Joop van Uytert.
Global Player is being offered at stud for the introduction price of 1300 euro in his first season standing at stud. The black is owned by Schockemohle in partnership with Andreas Helgstrand and HH Horses. 
Helgstrand's most expensive breeding stallions are Franklin, Revolution, and Jovian. All three stand at stud for 1600 euro. Schockemohle's most expensive dressage breeding stallion is still Totilas (2,500 euro), followed by the big whoppers Vitalis, Vivaldi, and Furstenball whose stud fee is 2000 euro.
Schockemohle's updated roster now features Helgstrand's stallions after they agreed on a collaboration. Eight dressage stallions in total are positive. They are Atterupgaards Barcelo (by Bon Coeur x Caprimond), Bluetooth (by Bon Coeur x Bordeaux), Furst Toto (by Furstenball x Totilas), Fursten-Look (by Furstenball x Londonderry), Jovian (by Apache x Tango), Springbank II (by Skovens Rafael x De Niro), Top Gear (by Totilas x Don Frederico), and Global Player (by Grand Galaxy Win x Don Schufro). No status is listed for Danciano 
The inheritance of WFFS only comes into effect if both stallion and mare are carriers of the WFFS gene! Breeding to a positive stallion (n/ffs) only might have consequences if the mare (n/ffs) is positive too, so breeders are recommend to have their mares tested if they want to breed to a positive stallion. Breeding a carrier (n/ffs) to a non-carrier (n/n), can lead to the foal being a carrier (n/ffs), but only when both parents are carriers, the risk of a foal with actual WFFS is 25% (ffs/ffs). Most mares abort their embryos/foals affected with WFFS. Very rarely is a live, affected foal born.
Schulze-Schleppinghoff Wants Disclose About Stallions' Health Status
The Dutch equestrian magazine Horses.nl stated that Global Player's positive WFFS was already rumoured during the licensing in November. At the time Oldenburg breeding director Wolfgang Schulze-Schleppinghoff commented that, "I wish I could talk openly about it, so that we don't have to turn WFFS into something secret and exciting. But unfortunately there are a few stallion owners in Oldenburg who try to stop disclosure of WFFS with all their might."
Schleppinghoff continued: "It's my opinion that you have to be open about and by doing so you take away a lot of the worries. This also counts for the health status on X-ray of the stallions. I would want to be more open about that too. If you just make these things public in all serenity, it will be less inflated."
Related Link
Global Player, Champion of the 2018 Oldenburg Stallion Licensing
Helgstrand Dressage and Schockemöhle Stallion Station to Cooperate
Jovian and For Sure Test Positive as WFFS Carriers
Four Schockemohle Dressage Stallions Positive to WFFS
Kareen Heineking-Schütte: "Two Cents About Warmblood Fragile Foal Syndrome"