Finnish warmblood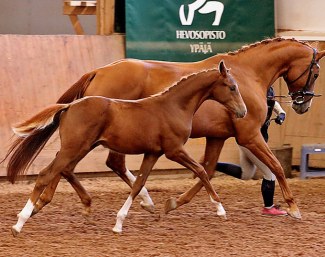 The Finnish warmblood colt Ridaaja's First Son (by Furst Jazz x Sir Donnerhall) was named Champion Foal of the 2019 European Breeding Event Finland, hosted for the 10th time in Finland at Ypäjä Equine College  on 28 - 29 September 2019.
The event was judged by representatives from three different studbooks: Bernhard Thoben from the German Oldeburg Society (GOV), Ira Hagemann from the Hanoverian Society, and Anna Pajanen, Carl-Harry Frey, Annu Stenqvist and Liisa Kaitala from the Finnish Warmblood Society. 
On Saturday approximately 70 foals were presented:  in the morning the foals with a jumping pedigree and in the afternoon it was time for the dressage foals.
The champion foal of the 2019 EBEF was the Finnish Warmblood colt Ridaaja's First Son (by Fürst Jazz x Sir Donnerhall I), bred and owned by Ratsutarvike Ridaaja Oy. He scored an overall result of 9,03.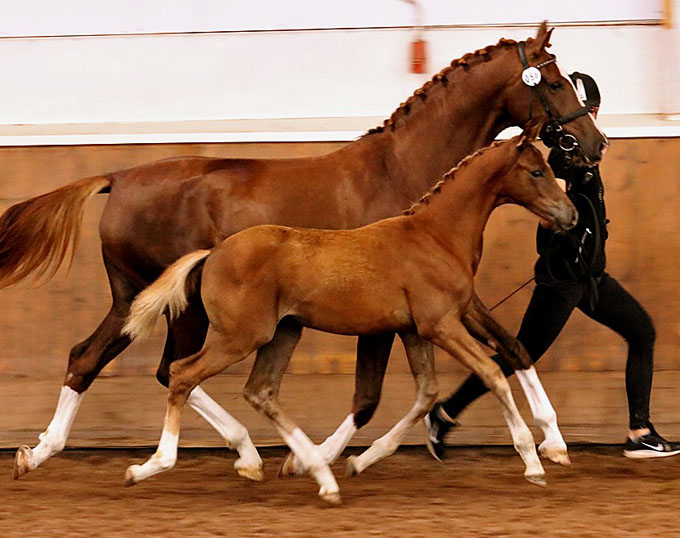 Finnish Warmblood colt Seaside Galaktic (b yGrand Galaxy Win x Sezuan), bred and owned by A-C Brunström and E-M Porthan-Brodell, was named reserve champion.  The third ranked foal was the Finnish Warmblood colt Cor de las Legacy (by Concreto x Louvre), bred and owned by Tiia Simpura.
The judges also ranked the foals according to breed.  The best Oldenburg foal was the colt Sheldon Carrus (by San Amour x Davignon II) and the best Hanoverian foal was filly So Luzy Carrus (by So Unique x Sir Donnerhall I). Both are bred and owned by Mty Niiranen Helena & Jukka of Carrus Dressage.
On Sunday the focus was on the "older" young horses, as a Hanoverian Championship for 4-year old riding horses and a Hanoverian mare show was being held as well as studbook inspections and a mare performance test. The day ended with classes for 2-3yo in both free jumping and movement in freedom.
In the 2-year old mare class the winner was the Finnish warmblood Fraulein T (by Foundation) with a score of 8.16 points, while Finnish Warmblood mare Fairuza (by Feinrich) was second with 8.0 points. 
The Hanoverian Championship for 4-year olds was won Fürstentanz Carrus (by Furstenball x Wolkentanz I) with an 8.06 point score, ahead of Fair Liberty (by Fidertanz x Lauries Crusador xx) with 7.8 points. 
The best moving 3-year old in freedom was Finnish warmblood Felicitas (by Furstenball) who scored 8.16 points, with Finnish warmblood Dark Rebel M (by Chaccon Blue) as runner-up with 7.66 points. 
The event was broadcast live the entire weekend and the videos can be found on Youtube after the event.
EBEF 2019 was organized by Finnish Hanoverian Society, Finnish Hippos and Ypäjä Equine College.
Photos © Leena Kahisaari
Related Links
Sir Connery Named Champion of 2016 European Breeding Event Finland
Concreto Colt Named Champion of 2015 European Breeding Event Finland
Nameless Filly Named Champion Foal at 2014 European Breeding Event Finland
Franzeska Carrus Wins Foal Championship at 2013 European Breeding Event Finland
Scatman Stands Out at 2012 European Breeding Event Finland