2019 CDI-W Fot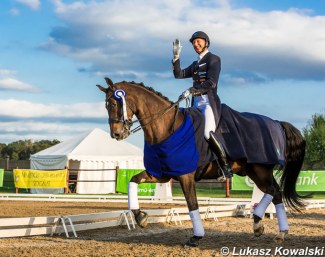 Swedish Patrik Kittel and the Oatley family's 13-year old Oldenburg gelding Delaunay became the winners of the World Cup Qualifier at the 2019 CDI-W Fot in Hungary on 26 - 29 September 2019. 
Riding Delaunay (by Dr Doolittle x Feinbrand) at his first show since the 2019 World Cup Finals in Gothenburg last April, Kittel won the Grand Prix with 75.00% and went on to claim victory in the Kur to Music with 78.375%. 
German Jessica von Bredow-Werndl and her own 15-year old Dutch warmblood mare Zaire E (by Son de Niro x Jazz) were the runners-up. In the Grand Prix they posted 74.630% and in the Special they scored 77.750%.  Jessica's brother Benjamin Werndl was third in the Grand Prix on Flora Keller's Famoso OLD with 73.109%, while French Morgan Barbançon landed third place in the Kur on Sir Donnerhall II with a personal best of 77.750%
The trip to Hungary was successful for Patrik, who also brought along his client, Japanese Masahiro Kosaka's 10-year old Dutch warmblood Eddieni (by Johnson x Negro). Kittel took over the ride on the chestnut from his assistant trainer Malin Wahlkamp-Nilsson who campaigned the horse first in the spring and summer of 2019. Kittel and Eddieni won the Grand Prix for Special with 73.152% and placed second in the Special with 71.660% behind Luxembourg's Nicolas Wagner on Quater Back Junior (by Quaterback).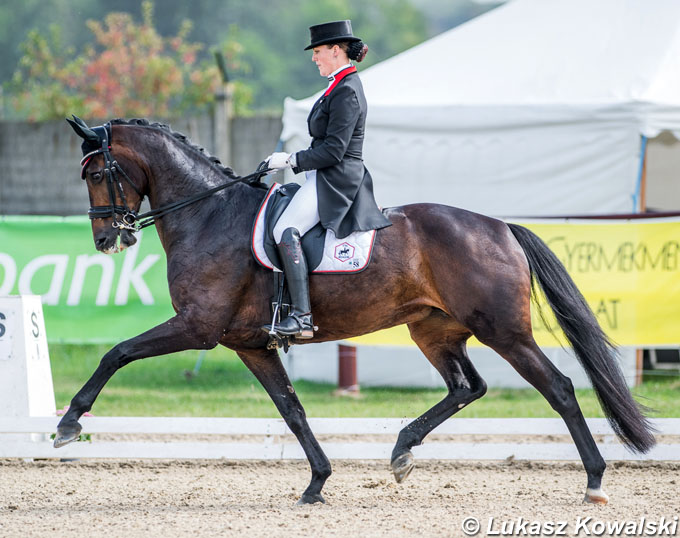 In the small tour Russian Elena Sidneva and Dutch Thamar Zweistra moved into the winner's circle. Sidneva and the just 7-year old Hanoverian mare Sacura (by San Amour x Don Frederico) won the Prix St Georges with 69.588%. Sacura was first competed internationally in March 2018 by Russian junior Ekaterina Dubrovina until April 2019. Zweistra and Arie Yom-Tov's 10-year old Dutch warmblood mare Erina (by Jazz x Sandro Hit) dominated the Intermediaire I and Inter I kur to music with 71.265% and74.460%.
Photos © Lukasz Kowalski
Related Links
Scores: 2019 CDI-W Fot
Photo Report: Zweistra, Barbançon, Schneider, Werndl In Front at 2018 CDI-W Fot
Milczarek and Prunthaller Strike Big Tour Gold at 2015 CDI Fot
Photo Report: Scene Shots from the 2014 CDI Fot
Helene Melsen Brings Home the Trophies at the 2012 CDI Fot
Julia Coppard and Final Destination Shine at 2009 CDI Fot