2015 CDI Fot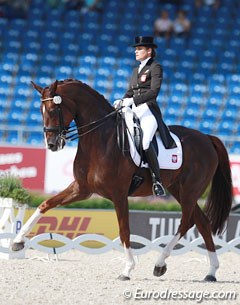 Polish rider Katarzyna Milczarek and Austrian Ulrike Prunthaller were the stars of the Grand Prix tour at the 2015 CDI Fot on 25 - 27 September 2015. Milczarek and Dzeko won both the Grand Prix and Grand Prix Special, while Prunthaller and Duccio took the kur win on 72.500%, and interestingly both riders were on horses both sired by Dimaggio.
Milczarek and Dzeko posted winning scores of on 67.860% and 69.882% on the board.
"It was my first time to the CDI Fot and the atmosphere was very nice," Katarzyna told Eurodressage. "The people were friendly and Budapest was beautiful and lively as always."
Unfortunately for Katarzyna and her fellow competitors it started raining quite badly on the Friday morning and didn't stop until the Sunday. "This meant there were quite a few difficulties for riders and rather heavy ground for the horses," she explained. 
Her big tour ride, 9-year old Oldenburg gelding Dzeko, is a very ambitious horse and Katarzyna felt he made the best of his winning attitude in the Grand Prix and Grand Prix special.
"At 6 this horse qualified for the Bundeschampionate and at 7 and 8 we competed successfully at international Small tour level," said the proud rider and trained.  "This year we began the medium tour at  the Hamburg Derby where he won both the Intermediaire A and Intermediaire II. and then went on to win the Grand Prix at the CDI Brno. We made a last minute qualification for the Polish team to Aachen."
Working on improving the quality of the Grand Prix movements, Katarzyna doesn't like to plan too far ahead with her horses, but she hopes to be at the CDI Zakrzów in Poland.
"I studied Animal science and I run my own stable where I also breed horses near Szczecin in North West Poland. My main trainer is Ernst Hoyos, whom I've been consulting for some years now, and hopefully I will stay with his guidance into the future," she stated.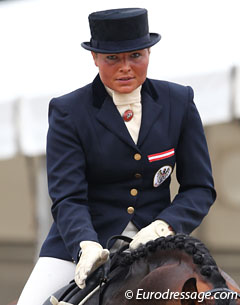 Austrian Ulrike Prunthaller claimed highest honour in her horse's first ever Grand Prix Kur. Prunthaller is "endlessly happy" with Bartlgut's 10-year old Duccio.
"For his first ever Grand Prix Freestyle, to win it on the first go is amazing," Ulrike told Eurodressage. "I only started the Big Tour with Duccio this year and in Verona we earned a placing. Now in Fot the win in the Grand Prix Freestyle is more than I ever dreamed of."
Duccio was bought as a foal by Ulrike's long-time sponsors of 15 years, the Schmidt family which own Bartlgut equestrian centre in Austria.
"In Fot Duccio was listening to me the whole time, and as I was very nervous he settled me with his presence and I really enjoyed riding to our music. It seems like he was born to be a freestyle horse," said Ulrike.
Just beginning their journey at International Big Tour level,  Ulrike says that each lesson is a continuation of the last and you are never finished on the journey.
"I also want to give Duccio plenty of time to mature in the Grand Prix as he is only 10. Currently I am training with Fritz Atschko from Austria and every few weeks Jürgen Hoffmann from Germany comes to correct and support me with my work," she stated.

Ulrike rides between 8 and 12 horses each day and all of them horses are owned by the Schmidt family.  "For 2016 I have a lot of plans but nothing in concrete just yet," she added.
by Sarah Warne - Photos © Astrid Appels
Related Links
Scores: 2015 CDI Fot
Polish Team Selected for 2015 European Dressage Championships