France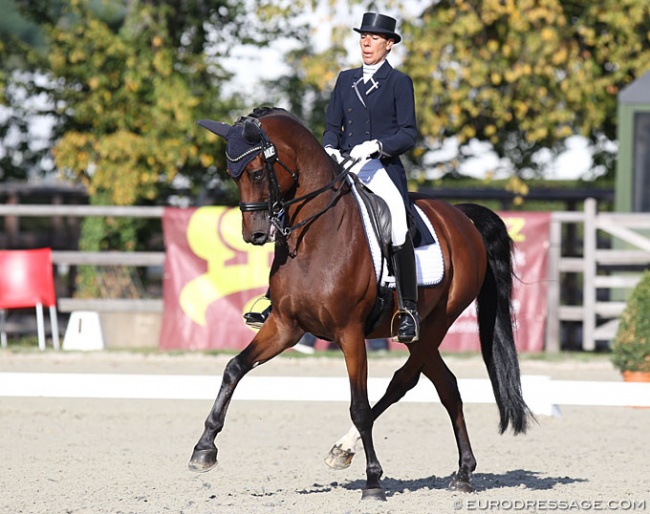 The French Grand Prix dressage squads of 2019 have been expanded based on recent good results from riders at national and international shows.
The French squads are divided into an A- and B-squad which they call Group 1 and 2. 
To be submitted to the A-squad (Group 1), riders have to score more than 70% three times at a national Grand Prix of CDI 3* of which one show has to be at least abroad. The results have to be achieved in a period of 12 months and the most recent score can not be older than six months. For Group 2 riders have to achieve three times 68% or once 70% on the same competitions and in same conditions.
Newest additions to the B-squad are Camille Cheret Judet who rode Duke of Swing, owned by HRH Princess Siri of Thailand, to good scores at the CDI Waregem. Anne Sophie Serre and Actuelle de Massa earned their Group 2 qualification at the 2019 CDI Ornago last weekend.
The updated squads include
Group 1
Morgan Barbancon - Bolero and Sir Donnerhall II
Stephanie Brieussel - Amorak
Arnaud Serre - Ultrablue de Massa
Group 2
Alexandre Ayache - Zo What
Charlotte Chalvignac - Lights of Londonderry
Camille Cheret Judet - Duke of Swing
Nicole Favereau - Ginsengue
Bertrand Liegard - Star Wars
Philippe Limousin  - Rock 'n Roll Star
Guillaume Lundy- Tempo
Isabelle Pinto - Hot Chocolate van de Kwaplas
Anne Sophie Serre - Actuelle de Massa & Vistoso de Massa
Jean Philippe Siat - Lovesong
Photo © Astrid Appels
Related Links
Wagner, Hermes, Koschel Sweep Big Tour at 2019 CDI Waregem
Scores: 2019 CDI Ornago
French Grand Prix Squads for 2019 Announced
French Dressage Squads for 2019 Updated