Germany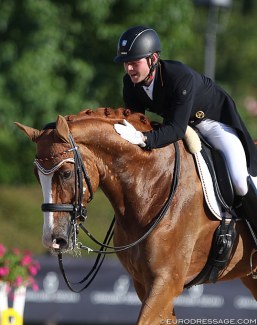 With the final Piaff Forderpreis qualified having concluded at Gut Ising on Sunday 8 September 2018, the riders qualified for the 2019 Piaff Forderpreis Finals in Stuttgart are known.
The Piaff Forderpreis is the German national Under 25 show circuit with a Finals each year that counts as inofficial German Under 25 Championships as there is no separate Under 25 Championship held for this division at the Senior or Youth Nationals.
Riders that compete on the circuit are selected by the German team trainers based on a training seminar held in Warendorf, Germany, each February. There they are assessed by the selectors in a training session and in a test. A group of approximately 16/17 riders is picked to compete at a series of four qualifiers held in spring and summer throughout Germany (Balve, Wiesbaden, Verden and Ising).  The best scoring riders on the circuit are invited to the Finals, which are held at the CDI-W Stuttgart in November.
Qualified for the 2019 Piaff Forderpreis Finals are:
Ann-Kathrin Lindner - Sunfire (by San Amour I) and Flatley (by Fürst Piccolo)
Sophie Reef - Charming Lady (by Painted Black)
Anna-Christina Abbelen - Henny Hennessy (by Hofrat)
Jil-Marielle Becks - Damon's Delorange (by Damon Hill)
Bianca Nowag - Sir Hohenstein (by Sir Donnerhall I) and Luciano (by Lucky Champ)
Hannah Erbe Carlos (by Carabas)
Hannah Cichos - Dias de Rio (by De Chirico)
Raphael Netz - Lacoste (by Locksley II)
Katharina Hemmer - Don Angelo (by Don Larino) and Capo (by Cracker Jack)
Nina Kudernak - Dione (by De Niro)
The winner of the 2019 Piaff Forderpreis selection trial, Alexa Westendarp and Der Prinz (by Diamond Hit), are not going to the Finals. Westendarp rode her second horse, Four Seasons, to team gold at the 2019 European Young Riders Championships in San Giovanni in Marignano, Italy, in July.
"For me the young riders tour was the priority this year, because it's my last year as a young rider," Alexa explained. "That's why I could not participate in all the U25 qualifiers."
Photo © Astrid Appels
Related Links
Westendarp Wins 2019 Piaff Forderpreis Selection Trial, Sixteen Riders Qualified for 2016 Show Circuit
Nowag and Lindner Submitted to German Under 25 Squad
Flatley to German U25 Rider Ann-Kathrin Lindner