2019 Almased Dressage Amateurs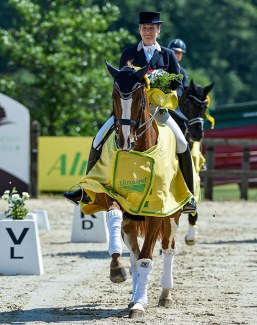 Almased Dressage Amateurs, the international show circuit for FEI level amateur dressage riders, is in its second year and is drawing to a conclusion with the fifth and final leg held on an elite stage at the World Cup Qualifier in Herning, Denmark, on 16 - 20 October 2019. 
In 2018 the German company Almased Wellness and Danish show organizers Andreas Helgstrand and Jens Trabjerg joined forces to establish the Almased Dressage Amateurs, a show circuit which gives amateurs an extraordinary experience by allowing them to participate in the same top professional surroundings as some of the world's best dressage riders.
In 2019 Almased Dressage Amateurs was reduced from three to two divisions: a Small tour with the Prix St. Georges and Intermediate I, and a Big tour with Intermediaire II and Grand Prix.
Five Legs in 2019
Five high profile competitions included the amateur classes into their programme this year: the CDI's in Mannheim, Uggerhalne, Hamburg, Leudelange and Herning. 
The new format and venues have been very well received by riders. The locations for the circuit allow more people from the north to ride at their their current level in a competition environment, without having to invest much money for long distance travel. 
Riders aged 26 or older and not listed on FEI's World Ranking for dressage riders are eligible to compete in the Almased Dressage Amateurs and a maximum of 24 rider are allowed to compete at every show.
"It has always been part of our company policy to support sports both locally and internationally," said Anette Witthöft from Almased Wellness. "We have developed health products that many athletes use, so when the chance offered to support the first dressage tournament for amateurs, there was no doubt that this project was within our area of interest and thus a natural way to support our business."
Kick off in Mannheim
The 2019 Almased Dressage Amateurs kicked off at the CDI Mannheim on 3 - 5 May 2019.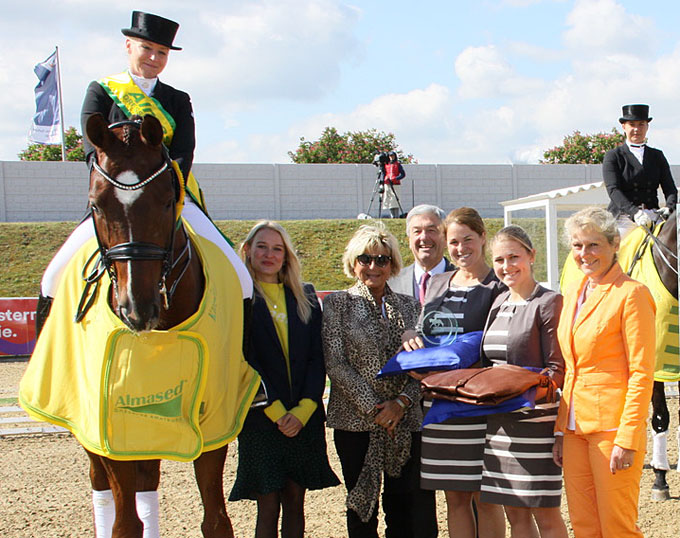 The small tour division was won by German Anica Fröhling aboard her 11-year old Oldenburg gelding Feeling (by Florencio x Rubinstar). She topped the board in the Prix St Georges with 70.539% and in the Intermediaire I with 71.716%. She twice had Austrian Katharina Stumpf on her heels. Aboard the 18-year old Hanoverian gelding For My Love (by For Feeling x Escudo), Stumpf posted 68.627% and 67.971%.
Dr. Ilka Boening and Aniko Loconszy & Berill Szoke Toth's 10-year old Oldenburg gelding Qatar (by Quaterback x Stedinger) led the way in the big tour division. She won the Intermediaire II with 69.118% and the Grand Prix with 69.275%. In the Intermediaire II it was Uta Grosserichter and her 16-year old Holsteiner Diorissimo (by Dolany x Heraldik xx) that put pressure on Boening with their second place finish on 67.598%, while Alexandra Eiband and the 9-year old Holsteiner mare Coco Chanel HS (by Lorentin x Lucky Lionell) were the runners-up in the Grand Prix with 68.370%.
Home Show in Uggerhalne
The Almsased Dressage Amateurs then moved to the home show of organizer Andreas Helgstrand in the Danish town of Uggerhalne, all the way north in Jutland.
Anica Fröhling stayed on point  with Feeling and won the Prix St Georges again, this time with 71.029%, but she was bested in the Intermediaire I by Danish Mette Sejbjerg Jensen on the 17-year old Danish bred stallion Watson (by World Boy). Fröhling was the runner up in that class with 70.049%. German Meike Lang, who is a professional dressage rider at Helgstrand dressage  but not a World ranked international competitor at FEI level, landed second place in the Prix St Georges with the Baden Wurttemberger bred stallion Sorrento Snörri (by San Amour) on 70.147%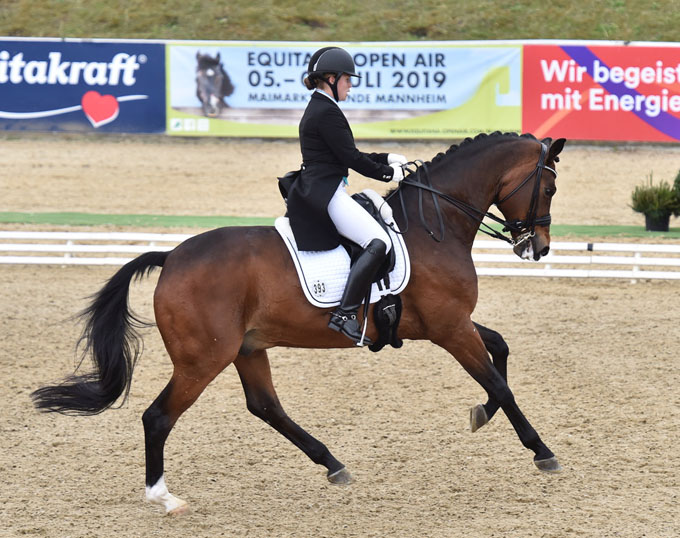 While there was a big group of 15 riders in the small tour, just one entered the big tour in Denmark. German Bettina Schulte-Overmüllen rode the 17-year old Hanoverian gelding Grosso's Gentle (by Grosso Z x Ordos xx) to a 64.020% in the Intermediaire II and 59.384% in the Grand Prix. 
In Hamburg for that Derby Feeling
The CDI Hamburg is one of the most prestigious dressage and show jumping competitions in Germany with a long-standing tradition of hosting an exclusive Derby. Drawing out the masses, the Hamburg Derby provides a unique atmosphere for Almased Dressage Amateurs to take place. 
Fifteen small tour riders battled it out and it was Danish Ditte Birck Dragsted and Françoise Cantamessa's German Sport Horse bred Achilles FC (by Alassio's Boy x Lanthano) who captured the trophy in the Prix St Georges with 70.931%. She went on to dominate the Intermediaire I with an improved score of 71.765%. In the Prix St Georges  Dr. Simone Flemish was the runner-up aboard Jacques Albeck's Hanoverian mare Haya (by Hochadel x Hofrat) with 70.098%, but in the Intermediaire I Bettina Schulte-Ubermühlen and her 14-year old Diplomat (by Dantes) came second with 68.775%.
In the big tour, German Andre Hecker wielded the axe of power aboard Lars Bartling's 12-year old Hanoverian Hemingway (by Hochadel x Wolkenstein II). He won the Intermediaire II with 71.373% and the Grand Prix with 72.826%. Uta Grosserichter and Diorissimo were second in the Inter 2 with 67.794%, while Albert Pedram and the 12-year old Hanoverian Hidalgo (by Hofrat x Prince Thatch xx) were second in the Grand Prix with 65.181%.
Crossing Borders to Luxembourg
The Almased Dressage Amateurs crossed borders to arrive in Leudelange, Luxembourg, for the fourth leg. It was held at the beginning of July and hosted at Ecuries des Prés where judge Christof Umbach and his partner Sascha Schulz have their base.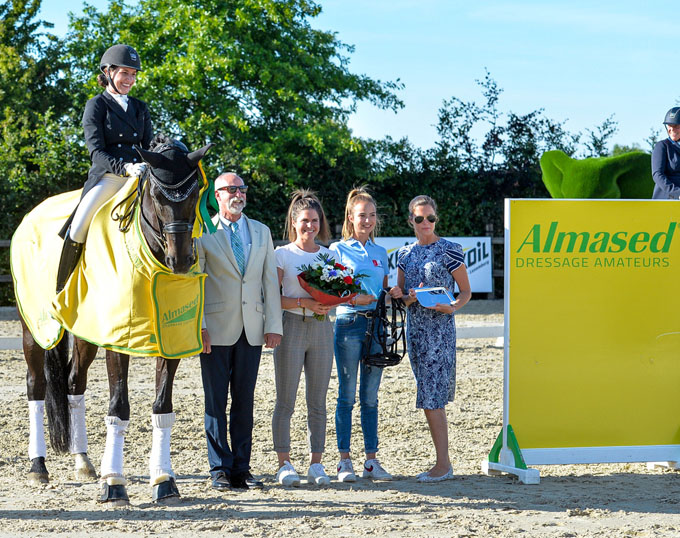 In the small tour Luxembourg's Lisa Arendt and the 15-year old Oldenburg gelding Furstengruss (by Furst Heinrich x Welt Hit II) topped the Prix St. Georges with 68.922%, while German Lars Viereck and the 10-year old Rhinelander mare Sonrisa Divina (by Sir Donnerhall x Rubinstein) came second with 67.304%. The cards were entirely reshuffled in the Intermediaire I with a new winner and runner-up. German Dorthe Pack and the 11-year old Westfalian gelding Esteban (by Escolar x Laudabilis) posted 67.647% for the victory, while Danish Caroline Palsgaard and the 14-year old Oldenburg Findus B (by Figaro) were second with 66.961%.
In the big tour Patricia Koschel and her 16-year old Hanoverian Leuchtfeuer DE (by Londonderry x De Niro) moved into the winner's circle in the Intermediaire II on a score of 67.696%, while she kept Grosserichter and Diorissimo at bay (66.667%). In the Grand Prix Dorte Pack and her 11-year old Oldenburg bred Dream Box (by Dressage Royal x Rouletto) claimed the trophy with 67.029%, while Koschel landed second place with 65.688%.
Fifth Leg in Herning
The fifth and final leg of the 2019 Almased Dressage Amateurs will be held at the World Cup Qualifier in Herning, Denmark, on 16 - 20 October 2019. 
"The success of our tournament is the result of this being a completely new opportunity for the amateurs," said organizer Trabjerg. "We enabled amateur riders to compete at spectacular shows, where they had some great and unforgettable experiences."
Don't miss out on the season finale, which will be set indoors on a world stage with Europe's elite riders attending.
For more information and news about the Almased Dressage Amateurs, visit www.almaseddressage.com
Related Links
2019 Almased Dressage Amateurs is Ready to Roll
Teams Known for 2019 FEI Nations Cup in Uggerhalne
Scores: 2019 CDI Mannheim
Scores: 2019 CDIO Uggerhalne
Scores: 2019 CDI Hamburg
Scores: 2019 CDI Leudelange
Successful Start of 2018 Almased Dressage Amateurs in Hamburg, Wiesbaden and Uggerhalne Next
Great Support For Almased Dressage Amateurs So Far
Almased Dressage Amateurs: New Show Circuit for Amateur Dressage Riders Established