KWPN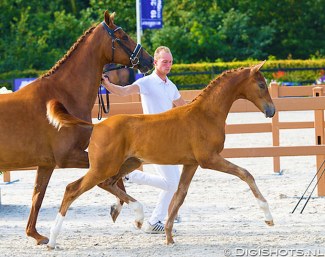 The colt Oristo (by High Five x Vivaldi) was named the 2019 KWPN Foal Champion at the annual KWPN Championships held in Ermelo, The Netherlands, on Friday 16 August 2019.
A group of 10 foals was selected for the champion's ring to fight for the KWPN Foal Champion's title. 
Judge Marian Dorresteijn assessed five groups of foals all day out of which the cream of the crop, 10 foals, were picked for the champion's ring. "Of course it's the form of the day and those foals have had a long day, so one shows himself better than the other. But we were able to make a good choice."
The judges named Oristo (by High Five x Vivaldi)  the champion of 2019. They praised the chestnut colt for being a well developed, long legged foal with a correct conformation and strong hindleg. Oristo is bred by Appie Dijkstra, who had no less than two foals in the champion's ring. 
The reserve champion was Onora Waard (by Escolar x Florencio), bred by Luc van Rijn. She was one of the youngest foals in the Championship and stood out with her expression, cadence and suppleness in trot and canter. 
The third place went to Orange Oride (by Daily Diamond x Jazz), bred by A. Buijze. 
Results - 2018 KWPN Foal Championship
1. Oristo (by High Five x Vivaldi)
2. Onora Waard (by Escolar x Florencio)
3. Orange Pride (by Daily Diamond x Jazz)
4. Ovieni (by For Romance x Krack C)
5. Orange Crush (by Ferguson x Bretton Woods)
6. Okwa (by Ghandi x Santano)
7. Oilili (by Franklin x Davino VOD)
8. Outlaw (by Daily Diamond x Florencio)
9. Ochtendsterina (by Vivaldi x Rubels)
10. Oz (by Expression x Oscar)
Photo © Digishots
Related Links
Nina Ricci Named 2018 KWPN Foal Champion
Metallic Named 2017 KWPN Foal Champion
Le Formidable Named 2016 KWPN Foal Champion
Kompaan Named 2015 KWPN Foal Champion
Jambeau Named 2014 KWPN Foal Champion
Islero Proclaimed 2013 KWPN Foal Champion
Hero-K Proclaimed 2012 KWPN Foal Champion
Gregwaard Proclaimed 2011 KWPN Foal Champion
Ferrari Proclaimed 2010 KWPN Foal of the Year