2019 CDI Deauville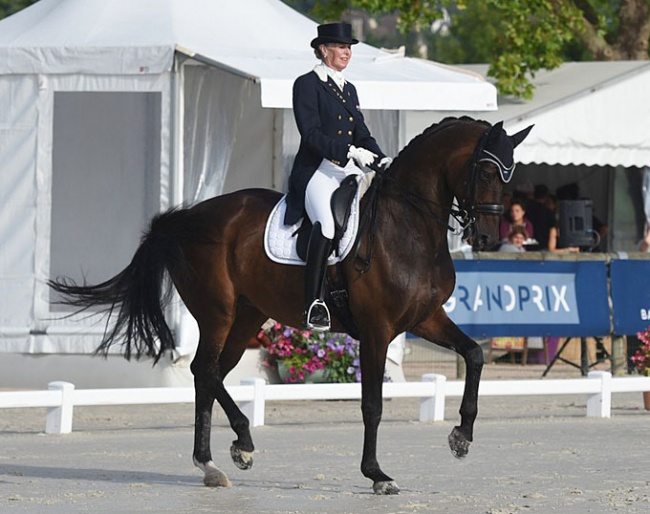 Five-time Australian Olympian Mary Hanna has been round the block, but the fire that keeps this 64-year old Grand Prix rider going, is burning as ardently as ever. With top ride Calanta on full form and second iron in the fire, Syriana, coming of age at the 2019 CDI Deauville, a sixth Olympic berth in Tokyo seems highly likely.
For Hanna 2019 has been a year of change. She has drafted a new strategy for Tokyo that included selling her 2016 Rio Olympic horse Boogie Woogie and young star Gerion as well as purchasing two Grand Prix hopefuls, Syriana and Ferrero. 
"After selling my Boogie Woogie and Gerion, I did feel a bit at a loss," Hanna admitted. "My trainer Patrik Kittel and I decided to take a leap of faith and I purchased Ferrero and Syriana. Finding that special partner you can form a bond with and reach a higher level is not always easy. Calanta had already proven herself, and having brought her through the levels myself, I believe once she was fully back in work after her injury prior to the 2018 World Cup Finals, she would be a great horse to campaign for Tokyo. However I felt I needed back up, so we bought the charming mare Syriana."
Calanta Confirms Quality, but Syriana Shines
The 12-year old Dutch warmblood mare Calanta (by Johnson x Goodtimes) has been Mary's number one in the barn but shooting star Syriana has certainly been shining brightly alongside her stable mate. 
After missing the 2018 World Cup Finals in Paris due to a hoof injury, Calanta returned to full form and the competition arena in 2019. The pair started their spring show schedule at the CDI Nieuw en St. Joosland in The Netherlands and posted two solid 68% scores. At the CDIO Compiègne a month later, they proved consistency with two 69% scores and two months later in Leudelange they uppped the ante and posted a 70.522% in the Grand Prix. Also at the CDI Deauville in France on 19 - 21 July 2019, Hanna and Calanta showed that they have found their stride and placed third twice with 70.174% and 70.468%.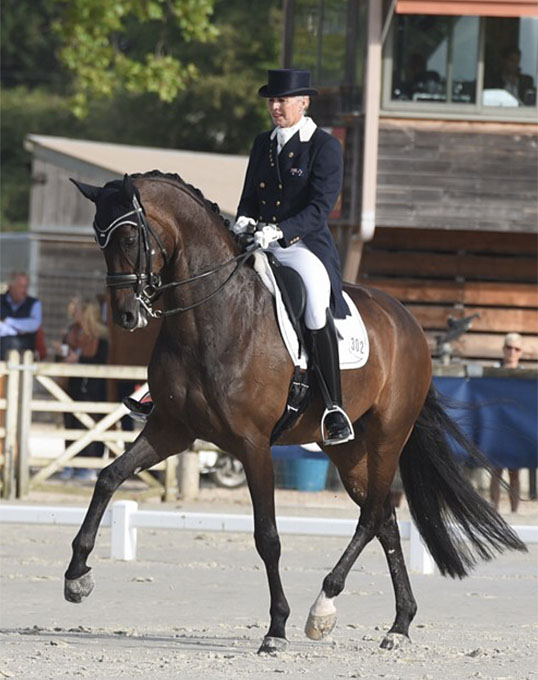 Purchased in March of this year, the 13-year old Westfalian mare Syriana (by Sir Donnerhall I x Bormio xx x Werbefunk) outshone all competition in Deauville. Only five months into their partnership, Mary has gelled with the tall dark bay mare, whose international show debut was in June at the CDI Geesteren, followed by a start in Leudelange.  At the CDI Deauville, Hanna and Syriana outshone the competition and won the Grand Prix with 71.239% and the Kur to Music with 75.545%.
"These past few months we have been training hard with both horses and made steady improvement, reflected in our performance," said Mary. "At Deauville all our hard work paid off.  I have always enjoyed this show, having had success there with Sancette, Boogie Woogie, and Calanta in previous years. However this time Syriana made it really special by winning both the Grand Prix and the Kur."
Hanna was thrilled with both her mares in Deauville, which is France's number one luxury seaside resort on the Atlantic Ocean.
"In the Grand Prix Syriana did a lovely clean test, offering good piaffe-passage and keeping a very positive energy to the end," said Mary. "Calanta backed this up being my second horse after a very short break. I think I was a little less concentrated, but Cally put in an honest performance for 70.1% and third place, which she repeated the next day in the Special, in rather wet and sloppy going.  Syriana delighted me in the Kur. It was actually Calanta's music and a very difficult test, but we made some lines a bit easier, and she danced her way through, especially shining in her he canter work to "Waltzing Matilda" from the movie Australia. It really felt like the test was made for her. It was fun to ride, and she won by quite a big margin with 75.545%."
Hanna believes that her results in Deauville brought her plan to make her sixth Olympics a little bit closer. 
European Training Camp at Eulenhof
Mary has been working closely with Swedish Patrik Kittel for almost a decade. While in 2018 she was briefly based with her horses in a satelite barn in Munster, Germany, a stone throw's from Patrik's yard in Appelhulsen, this year trainer and student are back together in the Kittel-Oatley family's posh fully renovated, state-of-the art equestrian centre Eulenhof in Dulmen, Germany.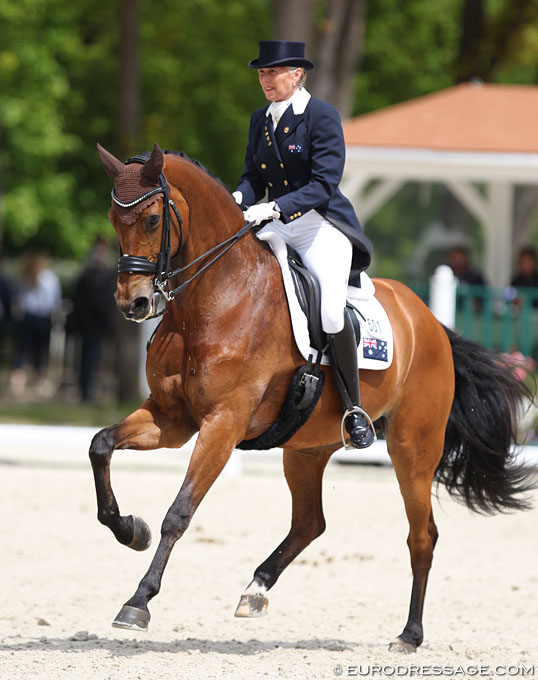 After so many years in the saddle, Hanna finds inspiration in Europe by competing against the world's best. Although she has her own yard, Statene Park, in Australia, Mary makes the deliberate choice to spend half a year in Europe to fully immerse herself into the European training and competition world. Kittel and his wife, Australian Olympian Lyndal Oatley, have finally settled in their home-for-life Eulenhof and offer top facilities for their students.
"Patrik has been so positive, helping me with the horses, and he really keeps me motivated," said Mary. "It's hard not to feel positive, being in such a beautiful surroundings as Eulenhof. It is a beautiful environment to work in. We have been there since Patrik first moved in. As with his teaching his attention to detail is amazing, making a paradise for horses and humans."
With her training plan on point and three Grand Prix horses in the barn, Hanna's run for Tokyo and potentially her sixth Games are feasible. Aside from Calanta and Syriana, Hanna is bringing along 9-year old Ferrero (by Tuschinski x Jazz) as a third option for the future.
Photos © Pixelsevents.com - Astrid Appels
Related Links
Syriana, New Grand Prix Horse for Mary Hanna
Mary Hanna Sells Boogie Woogie, Focuses on Calanta for Possibly Final Olympics
Mary Hanna's Calanta Blossoms at 2017 CDI Deauville on French Whirlwind Tour