U.S.A.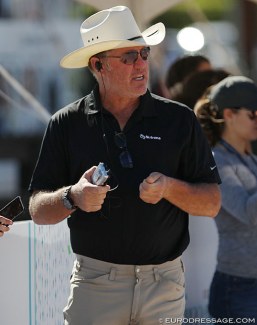 Michael Barisone, a U.S. dressage team reserve for the 2008 Olympic Games and trainer, has been charged with two accounts of attempted murder and unlawful possession of a gun on Thursday 8 August 2019. 
Barisone was arrested after firing two shots in the chest of client Lauren Kanarek at his yard Hawthorne Farm in Morris County, NJ, on Wednesday 7 August 2019. 
Kanarek (38) has been hospitalized at Morristown Medical Center in critical condition and was operated on. Her condition is now stabilized.
According to law enforcement, the suspect was also injured in the incident along with a third person.
Barisone is a well respected dressage rider and trainer. He operates Barisone Dressage at Hawthorne Farm in Morris County, NJ, and spends his time between Wellington, Florida, and New Jersey.
According to the New York Post, tension between the two led to the firing incident.  Kanarek rented a home and stalls at Hawthorne Farm, an arrangement Barisone was seeking to end. An eviction sign had been posted in front. The week leading up to the shooting, the police has been called to the farm numerous times.
Barisone's career highlight as a dressage rider was in 2008 when he campaigned the KWPN bred Neruda (by Haarlem) at Grand Prix level. He was named second team reserve and became the first reserve when Leslie Morse and Kingston had to be replaced. Three riders per team were eligible to compete in the Olympic format in Hong Kong.
Since then Barisone went on to compete Grand Prix horses Ellegria, HF Victor and Wyatt Star. His last international start was in October 2016. Barisone also coached Allison Brock to team bronze at the 2016 Rio de Janeiro Olympic Games.
Photo © Astrid Appels
Related Links
U.S. Olympic Dressage Team Replaces Reserve Team Rider
U.S. Dressage Team for 2008 Olympic Games Selected
Lyle and Barisone Win Grand Prix Special Classes at 2014 CDI Wellington
Barisone and Page Reign at Wellington Dressage Show
Tip Top Wins Grand Prix at 2009 U.S. Grand Prix Dressage Championship
American Qualificants for 2008 U.S. Olympic Selection Trial Announced