2014 CDI Wellington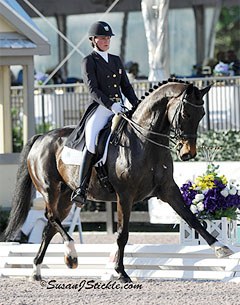 Adrienne Lyle (USA) and Wizard, a 15-year-old Oldenburg gelding by Weltmeyer, owned by Peggy Thomas won the Grand Prix Special at the 2014 CDI Wellington on Saturday 8 February 2014. The pair scored a 70.353% for the win with Megan Lane (CAN) and Caravella in second with a 69.922%. Eliane Cordia-van Reesema (USA) and Jewel's Adelante finished third with a 66.569%. 
"I was incredibly happy with him today," Lyle said of Wizard. "It was the end of a long, hot weekend and he tried so hard. I thought his piaffe/passage was much stronger than it has been. I was super happy with that because that is what we have been focusing on, really trying to solidify that and getting active, relaxed, and confident in that. The rider totally blew the changes today, but I would much rather have me making an error than having some issue with him. The canter work normally we are very solid in, so that is something I just need to fix, but he was wonderful."
Lyle thought that Saturday's test was one of her best, noting that although there were small errors, he felt confident.  "I thought the piaffe/passage was the best," she stated. "I thought the trot work was very solid. As far as the feeling I got from it, I thought that was one of the best. He just felt solid. He felt there for me. He felt relaxed; he wasn't stressed about stuff. I think it definitely helps that we have been able to come back to this venue and I think it helps that I have been able to get here enough. It's not like I show and then go home for six months and wonder if what stuff I was working on six months ago is still relevant."
In addition to working on Wizard's piaffe and passage work, Lyle has been trying to improve his fitness level with different exercise.  "I take him out twice a week and we go hacking for like an hour," she explained. "I take him on the trails through the housing developments and things like that so he gets a little more physical fitness as well as working on the moves. I have added a little more cardio. There is a big, nice field across from us where we can take them out and trot and canter."
Lyle has hopes of qualifying for the U.S. team for this year's World Equestrian Games and also plans to compete in the World Cup qualifiers coming up in in Wellington. She explained that she has rearranged her freestyle music a little bit and is trying to keep Wizard fit and healthy.  "I think I am on a good path with him," she said. "I want to just keep it going, keeping him happy, trying to improve the little parts that we need, but not overdoing it. Today I was on 18 minutes before my ride. I did a very short warmup because I did too much on Thursday. Hopefully I am getting to a place where I can trust him, just get on and do a little loosening and that is going to keep him physically and mentally much happier than having to be out there drilling. I was really happy with today's win and being in a 4*, that was huge," Lyle acknowledged. "It was great competition. I am happy not just that he won, but that he was honest in the places that I needed him to be honest. That for me was the most important thing."
Megan Lane had a great test with Caravella in Saturday's class as well and praised her mare, a 13-year-old KWPN by Contango. "I think it went fantastic," Lane smiled. "She is all the time better. We have not been doing the Grand Prix for very long, so every single ride I am happier than I was before and that is all that I can ask for."
Lane has owned Caravella since the mare was eight years old and explained that she is very willing. "She is multi-talented," Lane described. "(Her sire) Contango was a jumper. She is versatile in that sense. I bought her from a hunter/jumper barn and she did perfectly late hunter changes, but I was able to fix the changes within a week. She is super trainable. She is so much fun," she added. "She is everything you could ask for in a small package, which I think makes a rider's life easy. The highlight of her I would say is her trainability. She loves learning new things and she loves being great."
Barisone and Ellegrie Win Grand Prix Special 3*
Veteran dressage competitor Michael Barisone topped the Grand Prix Special 3* earlier on Saturday evening. The American rider took Lauren Sprieser's 13-year-old Westphalian mare Ellegria to the blue ribbon finish with a score of 68.873%.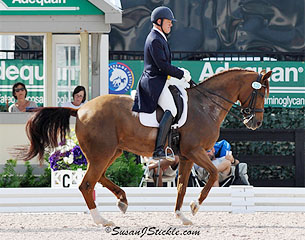 The United States took the top three placings of the class, with second place going to Katherine Bateson Chandler and Wellnetta, who finished on a score of 67.588%. Shawna Harding and Come On III were third with a score of 66.000%. Ellegria is a relatively new ride for Barisone, who has helped owner Sprieser with the mare for a while. Barisone only took over the reins recently, once Sprieser decided she wanted to sell her.
"I claim no credit for this horse. She belongs to Lauren Sprieser. Lauren has been a student of mine for five years and I helped her with this mare for a long time, but Lauren has done all the training. That mare is 100% trained by Lauren," Barisone expressed.
Ellegria doesn't have much in the way of experience in a competition setting, with Saturday's win only being her fifth time out at the grand prix level, but Barisone sees something special in the chestnut mare. "[Her] tests are really solid. One of the judges came to me and said 'I just love her, she's so solid.' There's never going to be drama. There's never going to be any kind of misbehavior. She's a wonderful horse," Barisone commented.
Ellegria remains for sale, but Barisone and United States Dressage Chef D'Equipe Robert Dover would both like to see her remain in the country, particularly with the 2014 World Equestrian Games looming. "She is for sale, because that's the way life is. If I'm lucky, maybe one of my [clients] will get together. Robert Dover keeps saying 'You have to try to get her for yourself.' We'll ride it out and see where it goes. You never know, we could get a call tonight or maybe not for six months," Barisone acknowledged.
Ellegria is the ninth different horse Barisone has won a CDI grand prix on, and he admitted she is completely different than his mounts before her. "She's nothing like any other horse I've ridden. All the rest have generally been really hot athletes, really high-strung, big. She's really a German horse. She looks like a stallion. She's stout, she's got a big neck. Every day I say, she's not what I would pick when I choose horses. She kind of fell in my lap, but I love her," Barisone smiled.
Another desirable trait Ellegria possesses is her age; Barisone believes she is at exactly the right point in her life to enjoy a long and successful grand prix career. "The average international horse gets about five seasons. That's what you get. One of my life mistakes I always say is no more eight-year-old grand prix horses. I'm going to stay at home until they're nine or ten now. I just think I maybe rushed it too much in the beginning. With [Ellegria], I'm counting 13, 14, 15, 16; that's a real nice time in their career. It's when they're settled, but young enough to be good. It seems like the ones that are doing their best, in my experience, are the 13 (to) 16-year-olds. They seem to be the solid ones," Barisone noted.
What makes Ellegria so wonderful also means she will be an easy sell to whatever buyers surely come calling. Simple to warm-up and eager to please, Ellegria is any rider's dream come true. "She's one of those nice horses that you come out of the barn and she's on the bit. She's not stupid, you don't have to work her down. She's not spooky, she's round right off the bat. You do posting trot for a couple of minutes, you sit, do a couple of half passes. A little big trot, a little small trot, little bit of passage, little bit of canter, and go. Which is a joy. She actually could be ridden by an amateur rider," Barisone detailed.
Matute Guimon Continues Small Tour Winning Streak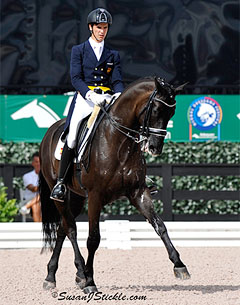 Junior Juan Matute Guimon (ESP) has taken the small tour by storm this season with Don Diego Ymas. The pair picked up their second win of the weekend in Saturday's Intermediaire 1. Matute, Jr. also won the Junior Individual class later in the day with Dhannie and a score of 72.149%. The Young Rider Individual class went to Tanya Strasser-Shostak (CAN) and Action Tyme.
Matute, Jr. topped the class with a 74.553% on Don Diego Ymas, an 11-year-old Hanoverian gelding owned by the Matute Family. Second place went to Canadian Brittany Fraser and her own All In, a nine-year-old Dutch Warmblood gelding. The pair scored a 69.921%. Silva Martin (USA) rounded out the top three with a score of 68.974% aboard Rosa Cha W, an eight-year-old Warmblood mare owned by the Osa Cha W Syndicate.
Matute Guimon jokingly declared to his mother that Saturday would be the day he would hit a score of 74, but the top score still came as a surprise to the 16-year-old phenom. "It feels kind of weird. It's such a hard mark. It's like, 'Wow I really did a 74?' It's shocking, but I'll take it!" Matute, Jr. beamed.
Of his test, Juan said, "It was phenomenal. One of the best feelings I've had in the ring for a long time. It was the test. I couldn't ask for more."
After their auspicious debut on the small tour, Matute Guimon plans to move up to the Under-25 division and attempt grand prix later this year. Don Diego Ymas is already well-schooled at the grand prix level, and Matute, Jr. is more than up to the challenge. "My dad likes to start teaching passage-piaffes when they are very young. Of course, not all out, but a little bit here and there so they start to get the feeling of collection and using their haunches. He does completely grand prix. We started doing the one tempis two months ago and I can already say we are solid in thirteen, so we're almost all the way there!" Matute, Jr. smiled.
Don Diego Ymas has been a member of the family for the last seven years, with Matute, Jr. having the ride for the last three. The road to the small tour hasn't always been easy, but Matute, Jr. couldn't ask for a better partner. "He's a big horse. He used to be very spooky. He didn't have self-confidence; he was a little bit insecure all the time, but overall he has a great mind. His personality is the best. He's goofy. We call him 'Goofy' in the barn, like Goofy from Disney. He's a lovely horse," Matute, Jr., described.
Second place finisher Brittany Fraser returned to Wellington this year with her gelding, All In. Fraser was pleased to see her horse beginning to grow up, a trend she noticed later last year at Dressage at Devon (Pa.) and the Saugerties Fall Festival of Dressage (N.Y.).
"[This year] he's fit, he's strong. Last year was his first year at St. Georges and he is huge, and it takes a long time to develop a horse like that. I showed at Saugerties and Devon last year and I really noticed a huge difference then in him, and it's kind of just carrying on. I think he's growing up. He's nine now, so he's not a baby anymore," Fraser explained.
 
As for Saturday's test, Fraser was happy to see All In consistently stay relaxed, which is one of her biggest challenges with her horse. Keeping his large frame in check is the predominate focus of all of Fraser's rides.
 
"He's such a huge horse that you have to keep him on his hips and you have to make sure he doesn't get too long, because he has a humongous trot and a huge front leg, so he gets too long. I have to keep him very much in a package throughout the test," Fraser explained.
press release, edited by Eurodressage
Photos © Sue Stickle
Related Links
Scores 2014 CDI Wellington
Petersen Sweeps the Board in Grand Prix Kur 4* at 2014 CDI Wellington
Lars Petersen and Katherine Bateson-Chandler Win Grand Prix Classes at 2014 CDI Wellington