2019 Pan American Games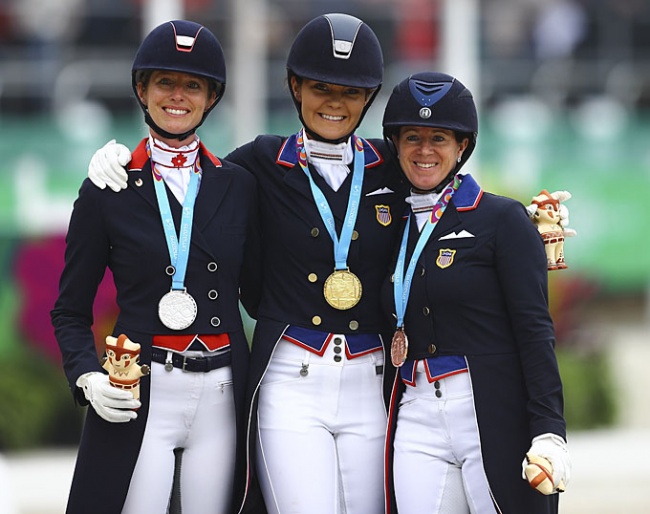 It was Team USA on the top step of the podium on Wednesday 31 July 2019, when Sarah Lockman steered the lovely chestnut stallion, First Apple, to clinch Individual Dressage gold at the Pan American Games 2019 taking place at the Army Equitation School at La Molina in Lima, Peru.
A superb score of 78.980 in the Intermediate l Freestyle clinched it for the 30-year-old who pipped Canada's Tina Irwin and Laurencio by just over a single percentage point, while Lockman's team-mate, Jennifer Baumert, claimed the bronze with her gelding Handsome.
Gold and Bronze for the U.S.A.
This was America's ninth individual Dressage title in the history of equestrian sport at the Pan American Games, which dates back to Buenos Aires (ARG) in 1951. And Lockman made it a US three-in-a-row as compatriot, Steffen Peters, posted a consecutive double at Guadalajara (MEX) in 2011 and Toronto (CAN) in 2015.
Both Small Tour and Big Tour combinations compete at the Pan Ams, and the Small Tour riders were first to battle it out in the Intermediate l Freestyle today. Just four horse-and-rider partnerships contested the higher-level Big Tour class that followed, but the medals were decided by the biggest scores on the day, regardless of the category, and it was Small Tour contenders Lockman, Irwin and Baumert who posted those to claim the top three steps of the podium.
The USA was never eligible for one of the two Olympic team qualifying spots on offer because they sent just three Small Tour riders to Lima. They already had their Tokyo ticket in the bag after claiming silver at last year's FEI World Equestrian Games™ on home soil in Tryon (USA) and were quite happy to settle for silver in the team competition won by Canada on Monday.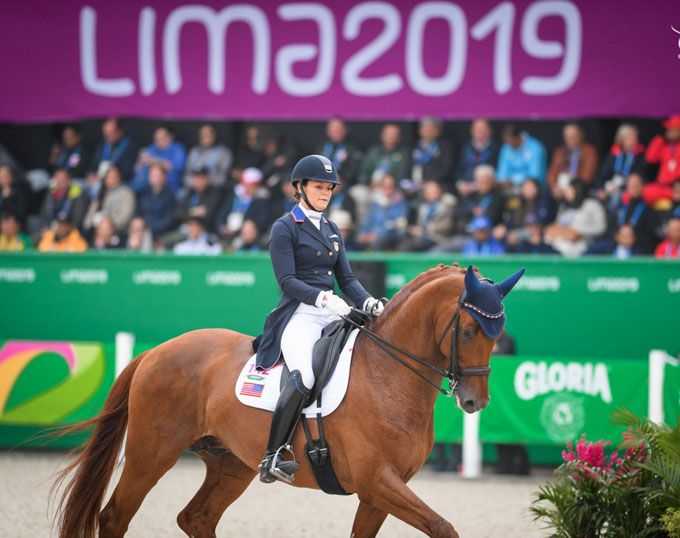 But today they were gunning for the gold and they got it, thanks to a stunning performance from team debutante Lockman and her sensational nine-year-old Dutch stallion which is owned by Gerry Ibanez. Judges Thomas Kessler (GER), Mary Seefried (AUS), Eduard De Wolff Van Westerrode (NED) and Janet Lee Foy (USA) all put the American first, while Canada's Brenda Minor placed her second, and the winner achieved high marks for Degree of Difficulty from all five judges, including a nine from Kessler.
Lockman and the nine-year-old Dutch Warmblood stallion (by Vivaldi x T.C.N. Partout) owned by Gerry Ibanez, rode their freestyle to high-energy electronic dance music, with the choreography complimenting First Apple's impressive movement and rhythm. The pair have been unstoppable in their first international championship debut, recording class-topping scores across all three days of competition.
"I am so proud of my horse and, to be honest, with myself. I put a lot of pressure on myself today because the last two days were so phenomenal. I couldn't have asked for anything more. I'm just over the moon excited and may still be in shock, but it will sink in soon. I'm just so happy with that score and so happy that I was able to do that on this international stage," said Lockman.
"I'm over the moon excited about it!" Lockman said. "It's everything I ever dreamed of and wanted, and I'm so proud of my horse and grateful to everybody who helped me get here and the whole support staff that have been here helping me at my first ever Games experience - it's been truly unforgettable!"
The duo have been together for less than a year, as "Apple" was purchased in October of 2018 and did not arrive stateside until early 2019. The speed of their progress has given Lockman the confidence to try and reach her ultimate goal of one day competing at the Olympics. The experience they take home from this competition will be invaluable in their efforts to achieve that aspiration.
"Being in a competition like this really makes the horse and rider a lot closer. We traveled so far, and there's a lot of stress involved. I put a lot of pressure on myself to perform for my team, my owner, my coach, and everybody that's here. I just look to Apple and I know we can pull it off together," she said.
With a resounding start to their international championship career, Lockman and First Apple will depart from Lima with high expectations for their future, but Lockman will always remember where she started.
"I've been really committed to this sport. When I was 10, I told one of my trainer's that I was going to grow up to be a horse trainer and go to the Olympics. This is step one, being able to represent my country here and I'm looking forward to whatever comes next," she elaborated. "It's a complete dream come true. I'm a small-town girl, and I'm so fortunate to that have had so many people believe in me from the beginning. I really think hard work pays off, and I have worked so hard to be here. I have something to say to all of the little girls out there who tell someone that they want to go to the Olympics one day, it is possible."
US Chef d'Equipe, Debbie McDonald, who with the great mare Brentina was double-gold medallist at the Pan American Games in Winnipeg (CAN) in 1999, couldn't hold back her tears of delight. Lockman described the motivation her team leader has been providing throughout these Games.
"Debbie has been sending us some really amazing quotes and I think I'm going to have to have one put up in my barn and on my mirror…. she told us 'you are what you believe, and preparation is everything and you can really do it, and to work to the very last moment for it'. I'm so thankful to her for the leadership, and to my coach Scott Hassler for his encouraging words leading up to this which have helped me handle the pressure and figure my way through my first Games!" said the new Pan-American individual Dressage champion.
Irwin Collects Team Gold and Individual Silver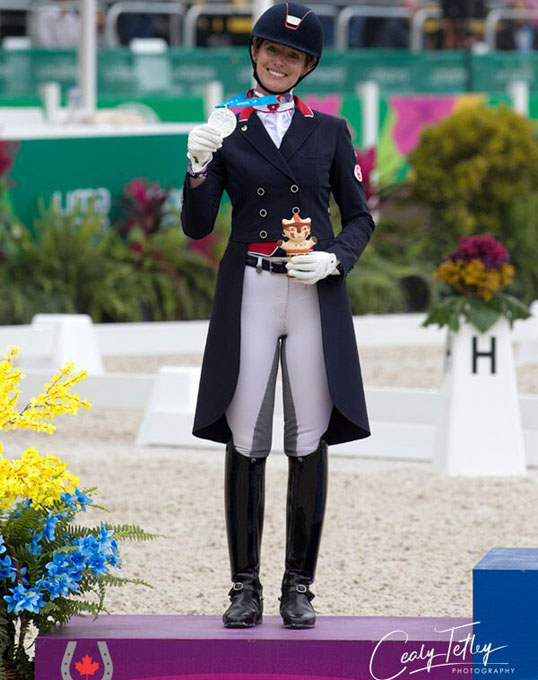 Irwin and Laurencio, members of Canada's gold-medal-winning team on Monday, put a strong 77.780 on the board to hold second spot, and when Baumert and Handsome slotted into third on 75.755 then all three medal contenders had an anxious wait while the Big Tour foursome strutted their stuff in the Grand Prix Freestyle.
After leading the Canadian Dressage Team to gold on July 29, Irwin, 38, returned to the main stadium for the dressage individual final aboard Laurencio (Laurentio x Donnerhall), a 12-year-old Oldenburg gelding she co-owns with her husband, coach, and fellow elite dressage athlete, Jaimey Irwin. The pair was making a solid run for gold performing their Intermediate I Freestyle, right up until Laurencio misinterpreted a movement at the very end of their test.
"I was super happy with my ride until the very last centreline, where my horse decided to give a preview of Tokyo and did a bunch of one-tempis," joked Irwin, explaining that one-tempis are a movement found at the big tour level, which the duo had been competing in before making the decision to come back down to the small tour in 2019 with the aim of helping Canada secure Tokyo qualification in Lima. "That was not planned, but other than that he felt great, so what can you do? It cost me some marks, I'm sure, but I was really happy with the rest of the Freestyle, he was great."
Grabbing the attention of both the judges and the crowd, Irwin began her freestyle test to music with one of the more challenging movements, the two-tempi changes. And, she never let up on the level of difficulty, performing three-tempi changes on a bending, serpentine line, and navigating a pirouette straight into an extended canter. The intricate choreography, combined with perfectly synced music made for a crowd-pleasing performance from start to finish.
"The people who designed my freestyle music are really good friends, Wendy Watson and Lewis Manne from Zap Productions in Toronto," said Irwin of the music, which incorporated a medley of songs, such as Hey Brother by Acivvi,(I've Had) the Time of My Life of Dirty Dancing fame and the much-covered Life is Life, originally by Opus. "Zap Productions were more into the film industry and documentaries, but they also produce some of their own music. They did the theme song for the Canadian show, Degrassi with the famous Drake. I tell them which pieces of music I like, then I put the choreography together and they compose a whole new piece for the freestyle."
While Irwin has a team silver medal under her belt from the 2011 Pan Am Games in Guadalajara, MEX, Lima represents her first individual medal.
"It's amazing to get the silver medal. I was obviously thrilled with the team gold, and now to be on the podium individually is fantastic, so I'm thrilled," she said. "It was definitely my goal, I was coming to win a medal. I was hoping for gold, but that's okay. My horse was amazing through the whole competition. We did our best and they're not machines. At the end of the day, one little mistake can cost you first position, potentially. I'm okay with that, my horse tried his heart out. Now, my plan is to go back to grand prix. We're going to take a little break after Pan Ams and then we'll make a new plan for 2020."
Baumert for Bronze
Jennifer Baumert and Handsome, a 14-year-old Hanoverian gelding (by Hochadel x Weltmeyer) owned by Betsy Juliano LLC, helped the U.S. Dressage Team earn the team silver medal with their performances in the Prix St. Georges and the Intermediate I tests, but their Intermediate I Freestyle was a highlight, as the pair recorded a career-high 75.755 percent.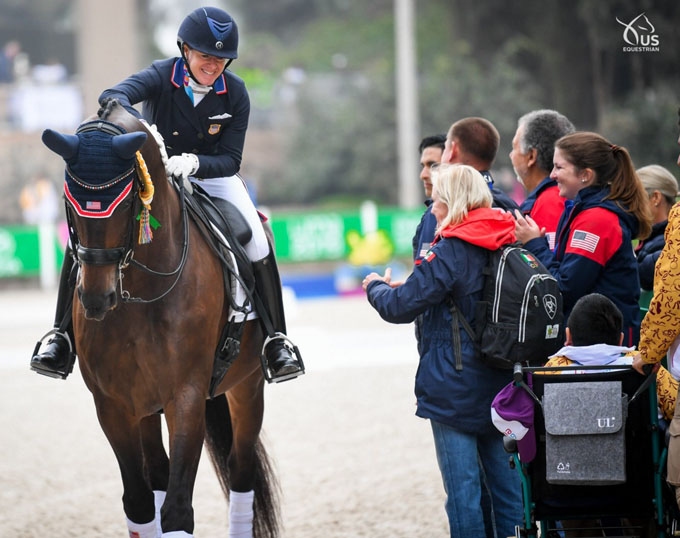 "Overall, I was very pleased. There were no major mistakes in the test, and he is just so electric here. In other venues he's a little bit quieter, and it's a different ride, which means I need to make adjustments quickly, but you can't complain for having that kind of energy," laughed Baumert. "I was really happy with the trot work at the end because by that time he was lit, so it felt really nice. Over the past few days, I've figured out how to ride him in this atmosphere and we've had a very deep bond for a long time. I've learned how to ride my horse a little better each day here."
The duo were part of the gold medal team at the 2019 FEI Dressage Nations Cup™ USA in Wellington, Fla. but earning a team and individual medal at their first continental championship for the United States has been incredibly rewarding for Baumert, who has dedicated her life to perfecting the sport.
"I know that my horse is capable; I'm capable, and we have an awesome freestyle. Of course, I was hopeful, but it's all up in the air until it really happens, and I'm just so proud," said Baumert when asked if she ever considered she would be an individual medal contender in Lima. "Obviously, this is any horse-crazy kid's dream come true. I'm so thankful to Betsy Juliano, the owner of Handsome, my coach Debbie McDonald, and Morgan Klingensmith, who is the most amazing groom in the entire world."
And Dominican Republic's Yvonne Losos De Muñiz put in a strong challenge here with her 14-year-old mare, Aquamarijn, but when the scoreboard showed 75.430 then she just missed out on the podium and the top three wouldn't change.
Text by Louise Parkes for the FEI, edited by Eurodressage 
Photos © Daniel Apuy - Cealy Tetley - Shannon Brinkman
Related Links
Scores: 2019 Pan American Games
Eurodressage Coverage of the 2019 Pan American Games