Austria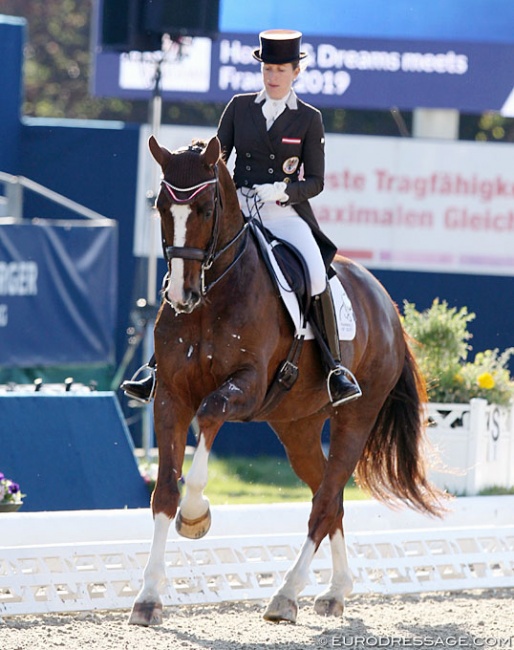 After deciding not to send any rider to the 2018 World Equestrian Games in Tryon based on selection criteria very hard to achieve by its rider,  this year the Austrian Equestrian Federation opened up the opportunity again for a feasible team qualification.
Today, the Austrian federation announced the team that will compete at the 2019 European Dressage Championships in Rotterdam on 19 - 25 August 2019. 
Austria aims to achieve a team ticket for the 2020 Tokyo Olympic Games in Rotterdam.
The Austrian team includes:
Victoria Max-Theurer - Benaglio or Blind Date
Belinda Weinbauer - Fustanella or Fräulein Auguste MJ
Astrid Neumayer, - Sir Simon 
Florian Bacher - Fidertraum
No reserve rider has been named.
Interestingly, Ulrike Prunthaller and Quebec have been consistently scoring higher this season than two other team selected pairs, yet were not nominated on the team.   Austrian riders in contention for a team spot were invited to compete at the CDI Achleiten and CDI Cappeln, two shows hosted by Sissy Max-Theurer, the president of the Austrian Equestrian Federation.
This 2019 CDI show season Bacher scored 70.652 (Cappeln), 69.957 (Achleiten), 70.544 (Mariakalnok), and 69.283 (Wiener Neustadt). Neumayer scored 68.087 (Cappeln), 69.217 (Achleiten), 68.500 (Munich), 69.739 (Hagen), 70.848 (Ebreichsdorf), and 70.652 (Ornago). Prunthaller scored 71.152 (Aachen), 68.804 (Brno), 71.891 (Ranshofen), 71.804 (Wiener Neustadt), and 69.065 (Lier).
"Of course I would have started with pleasure in Rotterdam for Austria, but the circumstances are very difficult for me here," said Prunthaller, whose sponsors Wenzel and Edda Schmidt have been personally embroiled in legal battles with Max-Theurer the past few years. "Two years ago my trainer at the time inquired with the (OEPS) sports director, if I could come. The answer, which we received, was: 'Of course she can come; we'll see what she makes of it.' I think everybody could understand, that I wouldn't participate in a selection event, which takes place on riding facilities belonging to the president. But I wish the Austrian team all the best for Rotterdam."
Photo © Astrid Appels
Related Link
Eurodressage Coverage of the 2019 European Dressage Championships