Rhinelander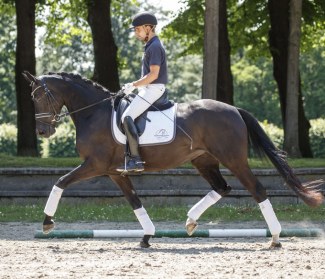 The Rhenish Sport Horse Sales will return from 16 till 21 July 2019 during this year's CHIO Aachen. The Rhinelander horse centre is offering a high quality collection of dressage horses for sale, which will be presented twice during Dressage at Aachen.
A total of nine exceptional (young) dressage horses are stabled at the Castle Wickrath equestrian centre (58 km from Aachen), where they can be discovered and test ridden on appointment.
The nine horses are trained and guided by three top riders who present the horses in a real way according to their age and training level. They will assist clients with their expertise and knowledge of the horses.  The Rhenish Sport Horse Sales was able to attract riders Lydia Camp, Kathrin Madlen Sladeck, and Carolin Brandt for this occasion. 
The collection of horses will be presented at the CDIO Aachen on Wednesday 17 July (17h40 - 18h00) and Thursday 18 July (12h05 - 12h25) in the Deutsche Bank stadium. 
The contact person will be Fabio Ladwig, managing director of the Rhinelander breed society. 
You can discover the entire collection online at www.pferdezucht-rheinland.de
We look forward to greeting you in Wickrath.