2019 Bundeschampionate Qualifier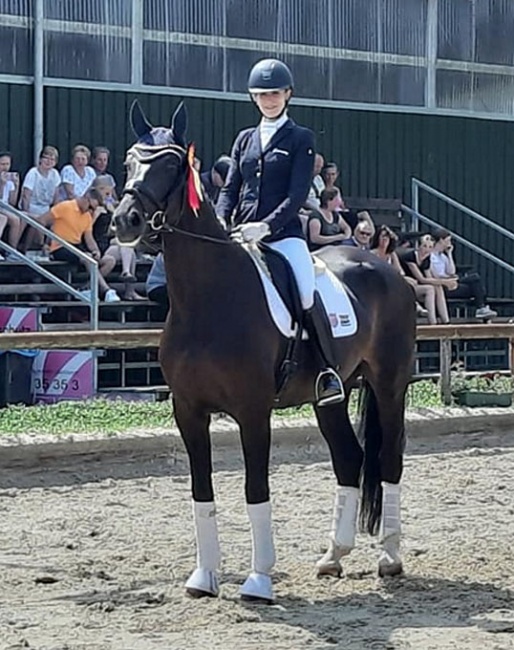 The 5-year old Elitist and the 6-year old Sazou became the winners of the Bundeschampionate qualification classes held at the regional dressage show at Niershof in Mönchengladbach, Germany, on 29 June 2019. 
Seventeen 5-year olds gathered at the Niershof and German international Grand Prix rider Heiner Schiergen aced the division aboard Hof am Eifgen's Rhinelander stallion Elitist (by Escolar x De Niro). The pair totalled 8.4 after receiving 8 for walk, and 8.5 for trot, canter, submission and general impression. Janine Drissen and Guido Winkelmann's Oldenburg stallion Black of White Bordeaux (by Bordeaux x Rohdiamant) landed second place with 8.2. The stallion got 8 for walk and trot, 8.5 for canter, 8 for submission and 8.5 for general impression. 
Seven 6-year olds competed in the 6-year old division and Beatrice Buchwald aced the class aboard Jasmin Troike's Oldenburg mare Sazou (by Sezuan x Brentano II) on 8.0. The mare earned 8.5 for walk, 8 for trot, 7 for canter, 8.5 for submission and 8 for general impression. The second placed pair, Charline Wetzeler on the Westfalian gelding Dresscode (by Destanox  Friedensritter), followed in the distance on 7.5. The black gelding got 8 for walk, 7.5 for trot, 7 for canter and 7.5 for submission and general impression. 
Results - 2019 Bundeschampionate Qualifier - Mönchengladbach
5-year olds
1. Elitist (by Escolar / De Niro) - Schiergen,Heiner - 8.40
2. Black or White Bordeaux (by Bordeaux (NLD) / Rohdiamant) - Drissen,Janine - 8.20
3. Donnerknispel MLP (by Daley Thompson / Donnerhall) - Camp,Lydia - 8.00
4. Lucky Diamond (by Like a Diamond NRW / Fürst Piccolo) - Kolbe,Timo - 7.70
5. Quel Rubin (by Quadrofino / Florencio) - Abbelen,Anna­Christina - 7.60
5. Federer (by Franziskus / Damon Hill ) - Caetano,Carlos Manuel - 7.60
7. Deneuve (by Den Haag / Rocket Star) - Buchwald,Beatrice - 7.50
7. Million Memories (by Millennium / Sandro Hit) - Matthew,William - 7.50
9. Zonith (by Zonik / Diamond Hit ) - Frahm,Steffen - 7.40
9. Cody D (by Codex One / Caspar) - Krenzke,Anne - 7.40
9. Van Victorio BD (by Van Vivaldi / Don Frederico) - Burschik,Kim - 7.40
12. F ­ Type (by Franziskus / Chico's Boy) - Danwitz,Johanne Pauline von - 7.30
13. Duna Blanca (by Don Darius / Fabriano) - Seidel,Jil Lana - 7.10
14. Fürstin Felice (by Fürst Romancier / Fürst Piccolo) - Schlosser,Dominique - 7.00
15. K.C. Danzador (by San Amour / Ragazzo) - Baumann,Kahra Alena - 6.90
16. Kacyro (by Saint Cyr / Freudenfest) - Camp,Lydia - 6.80
17. Van Holli (by Van Vivaldi / Show Star) - Sandfort,Ashlea - 5.40
6-year olds
1.  Sazou (by Sezuan / Brentano II) - Buchwald,Beatrice - 8.00
2. Dresscode  (by Destano / Friedensritter) - Wetzler,Charline - 7.50
3. FairPlay  (by Feedback / Rubin­Royal) - Stremler,Beata - 7.40
4. Future of W  (by Fürstenball / Windspiel As) - Nesheim,Frode-7.20
5. Lord Cristobal  (by Lord Loxley I / Coriander) - Freund,Jana - 7.10
5. Descando  (by Diamond Hit / Florestan) - Freund,Jana  - 7.10
5. Fürst Belcanto TS (by Fürstenball / Lancier) - Pfeiffer,Martin - 7.10
Related Link
Eurodressage Coverage of the 2019 Bundeschampionate