2019 Bundeschampionate Qualifier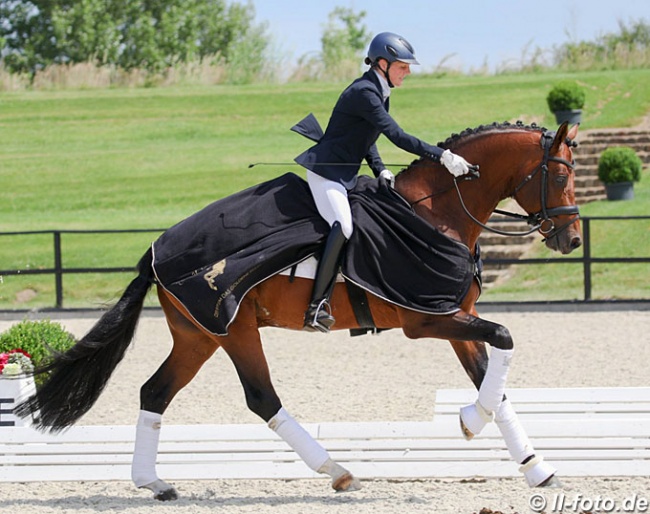 The 5-year old Franco Nero and the 6-year old Just Great became the winners of the Bundeschampionate qualification classes held at the national dressage show at Gestut Bonhomme in Werder, Germany, on 21 June 2019. 
Twelve combinations competed in the 5-year old division and professional Esther Maruhn aced the class aboard Frank Becker's Hanoverian stallion Franco Nero (by Franziskus x Sorento) with an 8.8 total. The stallion got 9 for walk and trot, 8.5 for canter and submission and 9 for general impression. Kira Wulferding and her own Oldenburg gelding Tom's Diamond (by Tomahawk x Royal Dance) were second with 8.1. The bay gelding earned 7 for walk, 9 for trot, 8 for canter and submission and 8.5 for general impression. 
Spanish Borja Carrascosa and Petra Minarova's Oldenburg stallion Just Great (by Jazz x Briar) rode into the winner's circle in the 6-year old division on 8.3 points. The stallion got 8 for walk, 8.5 for trot, canter, submission and general impression. Marcus Hermes and the Baumgurtel family's Hanoverian mare Deloitte FH (by Deveraux x Londonderry) were the runners-up with 8.1.. The chestnut mare got 8.5 for walk, and 8 for trot, canter, submission and general impression. 
Photo © LL-foto
Results - 2019 Bundeschampionate Qualifier - Werder
5-year olds
1. Franco Nero (by Franziskus x Sorento) - Esther Maruhn -  8.80
2. Tom's Diamond (by Tomahawk x Royal Dance) - Wulferding,Kira -  8.10
3. Barcelona (by Beltano x Sir Savoy) - Jessica Süss - 8.00
4. PBM Cosmopolitan (by Concetto x Larimar) - Anna-Catherine Schöffner - 7.80
5. Spotify (by Sezuan x Hotline ) - Michael Klimke - 7.60
6. Day by Day (by Destano x Argentinus) - Malte Kalus - 7.30
7. Nikita (by Fürstenball x San Amour) - Anne Neumann - 7.20
8. Destar H (by Descolari x Quaterback) - Katharina Dietl - 7.10
9. Die Baroness (by Danciano x Sir Donnerhall) - Kathrin Sudhölter - 6.80
10. Quintessential (by Quantensprung x Donnerhall) - Andrea Freye - 6.70
11. Frandrokus (by Franziskus x Sandro Hit ) - Pedro Luiz Almeida Pavao - 6.40
Valentina (by Van Vivaldi x Fürst Heinrich) - Pawel Dabrowski - RET
6-year olds
1. Just Great (by Jazz x Briar) - Borja Carrascosa - 8.30
2. Deloitte FH (by Deveraux x Londonderry) - Marcus Hermes - 8.10
3. Aubameyang (by Ampere) - Anna-Catherine Schöffner -  8.00
4. Der Donnerstag (by Dimaggio x Londonderry) - Malte Kalus -  7.80
5. Ben Benicio (by Benicio x Hochadel) - Stephanie Fiedler - 7.60
6. Who's who (by Weltregent H x Rascalino) - Heike Schmidt-Bosse -  7.20
7. Depeche Star (by Depeche Mode x Ehrenpreis) - Pawel Dabrowski - 7.00
8. Die oder Keine F (by Don Juan de Hus x Cassini II) - Pawel Dabrowski- 6.70
8. Descara de Luxe (by Don Frederico x Werther) - Lena Drebenstedt - 6.70
Related Link
Eurodressage Coverage of the 2019 Bundeschampionate