Germany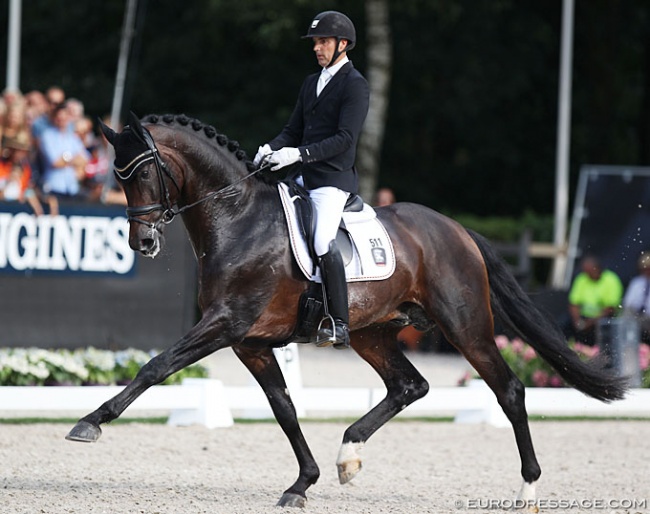 The German Equestrian Federation has published the entry list of horses that will compete in the first German selection trial for the 2019 World Young Horse Championships.
The German NF holds two selection trials: the first one is a big three-day event in Warendorf on 17 - 19 June 2019 after which a short list is made of horses eligible to present themselves one more time, on 2 July 2019, where the actual team is picked.
The first selection trial consists of a mandatory training moment in which the horses are presented in groups of two for a 10-minute training session. The next day, the horses have to perform the preliminary test in front of the selection panel.
The German WCYH selection panel includes judges Reinhard Richenhagen and Klaus Ridder, as well as German team trainer Monica Theodorescu, assisted by developing team trainers Sebastian Heinze, Hans-Heinrich Meyer zu Strohen and Oliver Oelrich.
A last minute scratch from the participants' list is Helen Langehanenberg and the Oldenburg mare Candy OLD. Last year the Sir Donnerhall daughter won bronze at the 2018 World Young Horse Championships under Eva Möller who had taken over the ride from Helen who was pregnant at the time. Candy was entered for Warendorf this week but injured herself.
The horses entered for the first trial are:
5-year olds
Sabine Egbers - Dakito
Maria Falkner Hansen - Damon Gold
Jan Fedes - Belgardo 
Greta Heemsoth - Anthrazit
Nico Kapche - Spökenkieker V
Florine Kiebaum - Sandrine
Yvonne Klaene - Eyleen MT
Annika Korte - Geniale
Hannah Laser - Daisen
Petra Middelberg - Fine Flashlight
Eva Möller - Espe
Eva Möller - Valverde
Therese Nilshagen - Finest Selection
Alvaro Osborne Diez - Don Domingo
Alvaro Osborne Diez - Diamond Lady
Ana Teresa Pires - Braveaux
Jill de Ridder - Moosbend's Rockadera
Kira Ripphoff - Chuck Bass
Dorothee Schneider - Dante's Hit
Rieke Schnieder - Furst Fabrice OLD
Jessica Süss - Fursten Fee M
Jessica Lynn Andersson - Secret
Jessica Lynn Andersson - Valentino
Kevin Thomas - Meridian
Catja Thomsen - Vidar
Franz Trischberger - Flying Scotchman
Carlos Caetano - Federer
Lena Waldmann - Go Twitter
Frederic Wandres - Zomancier
Nicole Wego - Quiana W
Nicole Wego - Free in Motion
Ann Christin Wienkamp - Donatella
Ann Christin Wienkamp - Velvet
Stefanie Wolf - For Gold
6-year olds
Matthias Bouten - Fidelio Royal
Carolin Brandt - De Sandro 
Bernadette Brune - Feel Free OLD
Jana Freund - Lord Cristobal
Jana Freund - Descando
Jan Gerdes - Caty OLD
Greta Heemsoth - Don Allegro
Andreas Helgstrand - Revolution
Sandra Kötter - Danubio OLD 
Carola Koppelmann - Farewell's Fritz
Robin van Lierop - Zum Gluck OLD
Melanie Mayer - Damon's Damiani
Patricia von Merveldt - High Heels
Stefanie Meyer-Biss - Quarida Mia
Eva Möller - Ballando
Maria Jose de la Chic Parras - Filarmonie de Malleret
Juliette Piotrowski - Sir Diamond Junior
Matthias Rath - Destacado
Hannah Rother - Salvina
Charlotte Rummenigge - Lemony S
Rieke Schnieder - For Dance
Jessica Suss - Frohnaldo
David Taylor - Heideblute Z
David Taylor - MDM Zodiac OLD
Melanie Tewes - Caracciola MT
Franz Trischberger - Ferrantino
Frederic Wandres  - Zucchero OLD
Nicole Wego - For Romance II
Nicole Wego - Harrods
Ann Christin Wienkamp - Scarlett
Stefanie Wittmann - Ben Vito
7-year olds
Katrin Burger - Vernissage (by Vitalis x Hochadel)
Isabel Freese - Voile Rouge (by Vitalis x Donnerschlag)
Isabel Freese - Total Hope (by Totilas x Don Schufro)
Isabel Freese - Top Gear (by Totilas x Don Frederico)
Patrick Kraft - Best for Me (by Bretton Woods x Latimer)
Diez Osborne - Bluebarry Dream (by Benetton Dream x Wolkenstein II)
Caroline Darcourt - Bon Coeur (by Benetton Dream x Sandro Hit)
Betina Jaeger - Bonderman (by Belarus x Alabaster)
Dorothee Schneider - Flying Dancer (by Furst Romancier x Sir Donnerhall)
Dorothee Schneider - Sisters Act von Rosencarre (by Sandro Hit x Royal Diamond)
Severo Jurado Lopez - D'Avie (by Don Juan de Hus x Londonderry)
Fabienne Lutkemeier - Delavega (by De Niro x Sion)
Ingrid Gerritsen - Diamonds are Forever (by Diamond Hit x Florestan)
Stefanie Wittmann - Dolcetto (by Diamo Gold x Stedinger)
Therese Nilshagen - Dominy (by Diamond Hit x Pour Plaisir)
Nadine Husenbeth - Faviola (by Foundation x Weltmeyer)
Maike Mende - Flirine (by Foundation x Lauries Crusador xx)
Dries van Peer - Franzi (by Franziskus x De Niro)
Claudia Rassmann - Furst Donnerhall (by Furstenball x Sir Donnerhall)
Niklaas Feilzer - Leo Lowenherz (by Licosto x Rockwell)
Stefanie Wolf - Matchball (by Millennium x De Niro)
Carina Bachmann - Quadrophenia (by Quasar de Charry x Hochadel)
Leonie Richter - Quality Quinzy (by Quaterhall x Wilawander xx)
Charlott Maria Schurmann - Quantanamera (by Quaterback x Damon Hill)
Rudolf Widmann - Revenant (by Rock Forever x Sir Donnerhall)
Ann Christin Wienkamp - Titolas (by Totilas x Stedinger)
Matthias Rath - Total Recall (by Totilas x Sandrp Hit)
Related Link
Eurodressage Coverage of the 2019 World Young Horse Championships