2019 CDIO-PJYR Hagen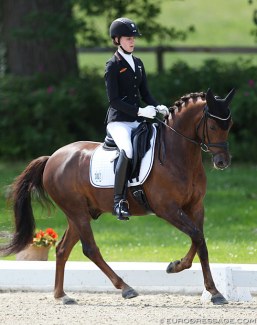 German Shona Benner and Der Kleine Sunnyboy are proving to be on strong form at the 2019 CDIO-PJYR Hagen "Future Champions" competition at Hof Kasselmann on 12 - 16 June 2019. 
The Future Champions show is an important team qualifier for several nations and boasts one of the biggest programmes for international youth riders. With a CDIO and CDI tour in each age category, chef d'equipes and team trainers from Germany, Holland, Sweden, Denmark, Belgium and Russia are inspecting their crops and weighing who would make a good team candidate for the upcoming European Championships.
For Germany the top riders from the Preis der Besten in Warendorf last month ride the CDIO tour, the others have to battle it out for their team spot in the CDI tour. 
Shona Benner and her 9-year old Der Kleine Sunnyboy (by Der Feine Lord x Valentino) have kicked off their campaign with a double victory. They won the CDI team championship test with 75.333% and went on to win the individual test with 75.180%.
In the team test Lena Bucker and the tall 9-year old stallion Cosmopolitan (by Champion de Luxe x Marsvogel xx) were second with 74.333% despite some unsteadiness in the contact and rhythm. Antonia Busch-Kuffner and her second pony Kastanienhof's Cockney Cracker (by Cracker Jack x Don't Worry) were more consistent and presented a softer image to score 73.333% in the team test. 
In the individual the Baumgurtel sisters captured place two and three. Former European pony champion Lucie Anouk was second with Coriander  (by Chambertin x Donnertraum) on 73.198% while younger sister Lana Pinou slotted in third on Massimiliano (by Monsun N x Cap Cennedy) with 72.703% in the individual test. In the team test the buckskin was not entirely in front of the aids and dragged the left hind a little bit, but the judges liked the improvement in the individual test and added a full percentage to Lana's score.
Photos © Astrid Appels - NO REPRODUCTION ALLOWED
Eurodressage was on the scene photographing all rider in Hagen that competed there on Thursday. If you are interested in photos for print or social media, send us an email.
Related Links
Scores: 2019 CDIO-PJYR Hagen
Olympic Flair at Future Champions 2019 CDIO-PJYR Hagen
Future Champions / 2019 CDIO-PJYR Hagen Attracts Talent from All over the World
Espe and Nuit d'Or Win 2019 Hagen Bundeschampionate Qualifier