2019 Bundeschampionate Qualifier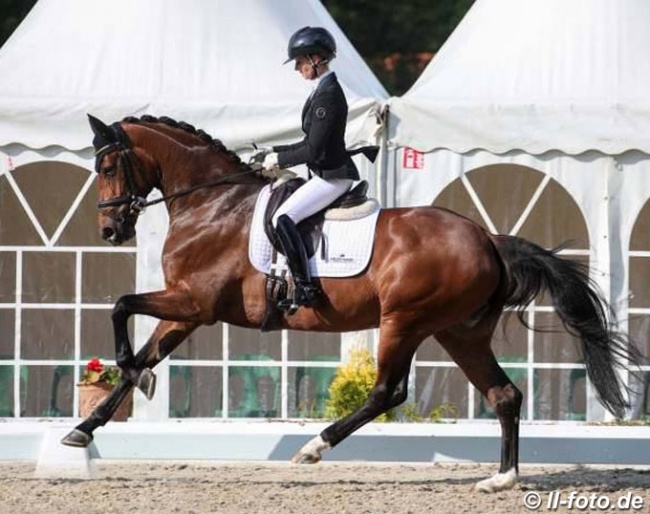 Espe and Nuit d'Or became the winners of the 5-year old preliminary test, that served as a qualifier for the 2019 Bundeschampionate, at the 2019 CDIO-PJYR Hagen on 12 June 2019.
Annually Hof Kasselmann hosts a Bundeschampionete qualification class at the beginning of its "Future Champions" international youth riders competition. The class draws the biggest field of competitors of all qualifiers held in Germany throughout the season, which meant that the class was split into two groups
No less than 9 horses achieved the Bundeschampionate qualification minimum of 8.0. The winner of the first group was Eva Möller who rode Walter Droege's Westfalian mare Espe (by Escolar x Dimaggio) to a whopping score of 8.8. The bay mare earned 8.5 for trot, 9 for walk and canter, 8.5 for submission and 9 for general impression.
Lars Ligus and Hof Kasselmann's Hanoverian stallion Nuit d'Or (by Negro x Sir Donnerhall) were the top scorers in the other group with an 8.4 total. The liver chestnut stallion, which sold at the 2017 PSI Auction for 240,000 euro to a private investor, scored 8 for walk, and 8.5 for trot, canter, submission and general impression.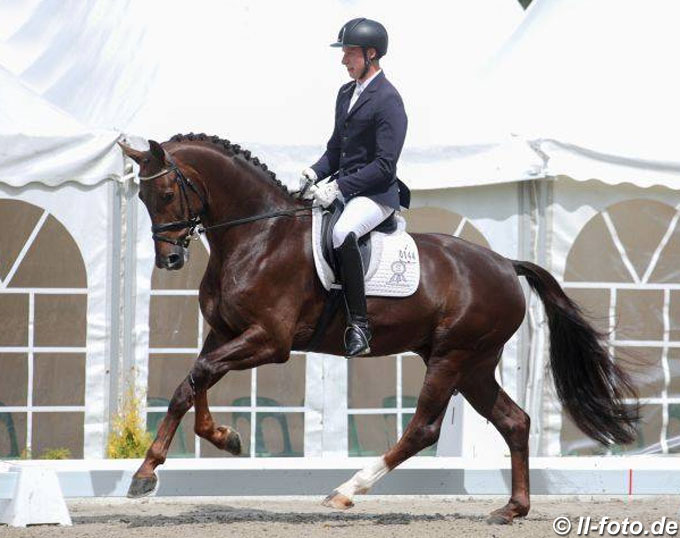 The third highest score of the day, an 8.3, was achieved by two combinations. British Susan Pape steered Leslie Malone's Oldenburg stallion V-Plus (by Vivaldi x Furst Romancier) to that mark with 8.5 for walk and trot, 8 for canter and submission and 8.5 for general impression. The total of 8.3 was also achieved by Marie Determann aboard her father Martin's Oldenburg mare Celeste MD (by Cennin x De Kooning) with 8 for walk and trot,  9 for canter, 8 for submission and 8.5 for general impression. 
Photos © LL-foto -
Photo Gallery at the bottom of this article
Results - 2019 Bundeschampionate - Hagen
5-year olds - group 1 and 2 combined
1. Eva Möller -    Espe (by Escolar x Dimaggio) - 8.80
1. Lars Ligus - Nuit D'or (by Negro (Novabor) x Sir Donnerhall) - 8.40
2. Marie Determann -   Celeste MD (by Cennin x De Kooning) - 8.30
2. Susan Pape -    V-Plus (by Vivaldi x Furst Romancier) - 8.30
3. Evelyn Eger -    Beau Monde (by Bordeaux (NLD) x Weltmeyer) - 8.10
3. Karin Schulze Topphoff -    Amarillo (by All at once x Compliment) - 8.00
3.  Janina Tietze - Birmingham vBretton Woods x Fürst Piccolo) - 8.00
3.  Alina Röhricht -  Bormidou (by Bordeaux (NLD) x Amidou) - 8.00
3. Tessa Frank -   Flying Nymphenburg (by Fürstenball x Johnso) - 8.00
5. Lars Ligus - Dinay (by Dimaggio x Argentinus) - 7.80
6. Marion Wiebusch - Evita G (by Escolar x Fürst Heinrich) - 7.70
6. Tessa Frank - DaVinci G (by Don Juan de Hus x Stedinger) - 7.60
7. Frederic Wandres -    Bella Bicolour M (by Belantis x Silberschmied) - 7.60
7.  Jenny Kitzing - Antonia (by All at once x Ehrenpreis) - 7.60
15. Florine Kienbaum -     Allerfeinst (by All at once x Laureus) - 7.50
15. Merethe Wempe -   Franco Battiato (by For Romance I x Rubin-Royal) - 7.50
17. Robin van Lierop -  Crillon RS2 (by Cennin x Carry Gold) - 7.40
17. Marion Wiebusch -     Escurio (by Escolar x De Kooning) - 7.40
17. David Leßnig -  Edina (by Escolar x Kaiser Franz) - 7.40
17. Marie Sybel -  Fabelhafter Franz (by Fahrenheit x Don Gregory) - 7.40
17. Lukas Fischer -    Gut Neuenhofs Elegance (by Estobar NRW x Florenciano) - 7.40
22. Holga Finken -   FaceTime (by Follow Me x Rock Forever) - 7.30
22. Ann-Christin Wienkamp -  Ehrensache (by Ehrenstolz x Lauries Crusador xx) - 7.30
22. Anna Kahle -  Dicarda (by Danciano x Royal Blend) - 7.30
22. Manuel Dominguez Bernal -  Franziskaner (by Franziskus x Samarant) - 7.30
26. Marion Wiebusch -  Skippy G (by Spörcken x Don Crusador) - 7.20
26.  Alina Röhricht -  Zaid (by Zonik x Sir Donnerhall) - 7.20
28. Lukas Fischer -  Scalino (by Sir Heinrich x Ehrentusch) - 7.10
28. Tanya Karen Seymour -   Total Spezial (by Totilas x Special D) - 7.10
28. Mareike Mimberg -   Alle suchen Claus (by All at once x Sir Donnerhall) - 7.10
28. Saskia Langfermann -   Dream-Boy L (by Dancier x Rotspon) - 7.10
32. Thomas Schulze -    Finesse (by Fahrenheit x Belissimo M) - 7.00
33. Laura-Sophia Ahland -    Bretton's Firegirl GD (by Bretton Woods x Fürst Heinrich ) - 6.80
34. Thomas Schulze - Federleicht (by Fürstenball x Johnson) - 6.70
35. Jessica Süss -  Barcelona (by Beltano x Sir Savoy) - 6.60
Ana Teresa Pires - Daily Sunshine (by Dujardin x Wolkenstein II) - ELI
Related Links
Zum Gluck, Price Highlight of the 2017 PSI Auction
Eurodressage Coverage of the 2019 Bundeschampionate