2019 Bundeschampionate Qualifier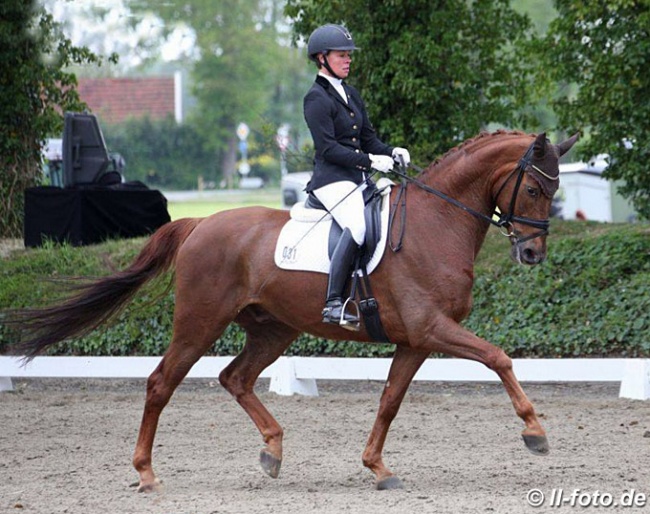 The 6-year old Bernini VMT won the Bundeschampionate qualification class held at the 2019 Haftenkamp regional dressage show on 17 - 19 May 2019. Only a 6-year old qualifier was being held at this popular dressage event.
Kira Wulferding steered Elisabeth Max-Theurer's Westfalian gelding Bernini VMT (by Breitling W x Weltmeyer) to victory with an 8.4 total score. The chestnut gelding earned 8.5 for walk, 8 for trot, and 8.5 for canter, submission and general impression. German B-squad rider Bernadette Brune landed second place aboard her own Oldenburg mare Feel Free OLD (by Foundation x Sandro Hit) with 8.1. The bay mare earned 7.5 for walk, 9 for trot, 8 for canter, 7.5 for submission and 8.5 for general impression. 
Three horses tied in third place with an 8.0 total score. Stefanie Wittmann's Hanoverian gelding Ben Vito (by Benicio x Lauries Crusador xx), Melanie Tewes' Holsteiner stallion Caracciola MT (by Chin Champ x Calido), and Nuno Palma e Santos aboard the Westflaian stallion Rock 'n Roll Boy (by Rock Forever x Sir Donnerhall).
Photo © LL-foto
Results - 2019 Bundeschampionate Qualifier - Haftenkamp
6-year olds
1 Kira Wulferding - Bernini VMT (by Breitling W / Weltmeyer) - 8.4
2 Bernadette Brune -  Feel Free OLD (by Foundation / Sandro Hit) - 8.1
3 Stefanie Wittmann-  Ben Vito (by Benicio / Lauries Crusador xx) - 8
3 Melanie Tewes  - Caracciola MT (by Chin Champ / Calido) - 8
3 Nuno Castro Silva Palma Santos - Rock'n Roll Boy (by Rock Forever I / Sir Donnerhall) - 8
6 Ann­Christin Wienkamp -  Scarlett (by San Amour / Comics) - 7.8
6 Sandra Kötter - Danubio OLD (by Dante Weltino / Laudabilis ) - 7.8
6 Patricia von Merveldt - High Heels (by Damon Hill / Roadster) - 7.8
9 Andrea MüllerKersten - Di Magic (by Del Magico / Canaster) - 7.7
10 Nicole Wego - Didou (by Dolany / Münchhausen) - 7.6
10 Nina zur Lage -  Love Parade (by Londontime / Regazzoni) - 7.6
12 Marilena Gerdes - Dornröschen (by Don Schufro / Sandro Hit) - 7.4
12 Marcus Hermes - Deloitte FH (by Deveraux / Londonderry) - 7.4
14 Johanna Klippert - Zonik One (by Zonik / Depardieu) - 7.3
15 Lena Carolina Grünerwald - For Romance II (by Furst Romancier x Sir Donnerhall) - 7.2
16 Patricia von Merveldt -  Fürst Frank (by Fürst Romancier / Sandro Hit) - 6.3
Jan­Dirk Gießelmann -  Hudson (by Hotline / Weltmeyer) - RET
Janina Tietze - Da Costa (by Dimaggio / Coriander) - ELI
Related Link
Eurodressage Coverage of the 2019 Bundeschampionate