2019 Bundeschampionate Qualifier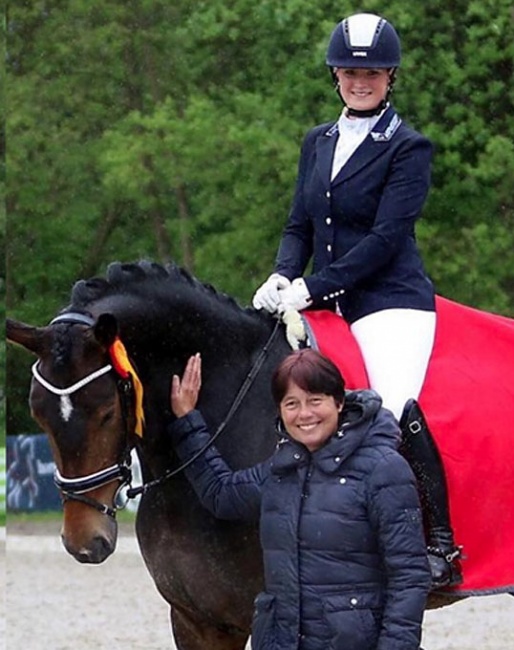 The 5-year Barcelona and the 6-year old Amazing Grace won the Bundeschampionate qualification classes held at the Altenkirchen qualifier on 3 - 5 May 2019 but no horses scored the minimum requirement of 8.0 to grab a ticket to Warendorf.
Seven 5-year olds competed in the L-level dressage horse test and professional Jessica Süss steered Carolin Fehlings's Hanoverian stallion Barcelona (by Beltano x Sir Savoy) to victory with 7.8. They edged out Laura-Sophia Ahland on Gut Darss's Oldenburg mare Bretton's Firegirl GD (by Bretton Woods x Furst Heinrich) who were second with 7.7.
Just four 6-year olds contested the M-level dressage horse test but none qualified. The winner was Laura Körting on the Bavarian bred mare Amazing Grace (by Antango x Donnerhall), owned by SEqui Professional. The pair scored 7.60. Two combinations tied in second place with 7.5: Heinrich Brähler on Angela Dregger's DSP stallion Santo Domingo II (by San Amour x Furst Heinrich) and renowned international eventing rider Bettina Hoy on Inge Overesch's DSP gelding Coconut Kiss (by Calibri x Callistus). 
Results - 2019 Bundeschampionate Qualifier - Altenkirchen
5-year olds
1. Barcelona (by Beltano / Sir Savoy) - Süss,Jessica - 7.8
2. Bretton's Firegirl GD (by Bretton Woods / Fürst Heinrich) -  Ahland,Laura­Sophia - 7.7
3. Speedway (by Schwarzgold / Anduc) - Pfeiffer,Kim -  7.6
3. Federer (by Franziskus / Damon Hill) - Caetano,Carlos Manuel -  7.6
5. Ehrensache (by Ehrenstolz / Lauries Crusador xx) - Süss,Jessica - 7.3
6. Dr. No (by Dr. Watson / Royal Blend) - Ewen,Gillian - 7.1
7. Albus T (by Antango / Rubin­Royal) - Spallek,Helena -  6.8
6-year olds
1. Amazing Grace (by Antango / Donnerhall) - Körting,Laura - 7.6
2. Santo Domingo II (by San Amour / Fürst Heinrich) - Brähler,Heinrich Damian - 7.5
2. Coconut Kiss (by Calibri / Callistus) - Hoy,Bettina - 7.5
4. Floridita (by Foundation / San Landino) - Raumanns,Lana  - 7.3
Related Link
Eurodressage Coverage of the 2019 Bundeschampionate