Great Britain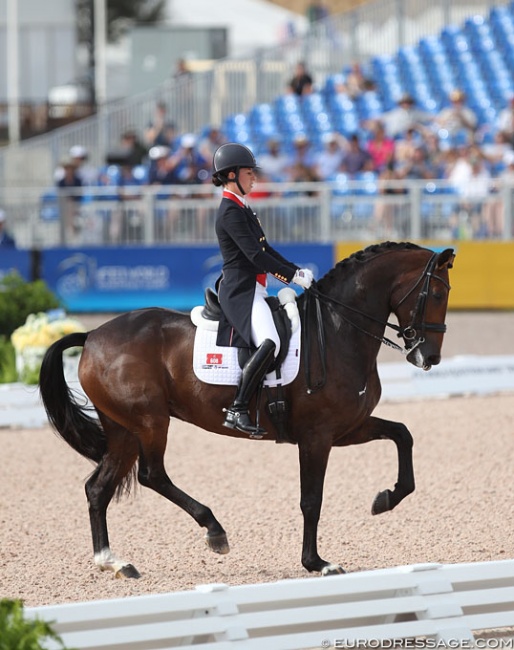 Charlotte Dujardin's long awaited show come back on her 2018 WEG team and individual bronze medal winning horse, Mount. St. John Freestyle, will be at the 2019 CDI Bolesworth on 12  - 16 June 2019.
Hopes were high that the double Olympic champion would ride MSJ Freestyle already in Windsor on 9 - 10 May 2019, but she has declared her student Sonnar Murray Brown's Erlentanz for that show. 
The 2019 CDI Windsor is a small British invitational in the garden of Windsor castle. Only fourteen pairs are invited to the show, mainly Brits, their students or British based riders. Traveling from the European continent are just two pairs: Danish Mai Tofte Olesen (Rustique) and Tommie Visser (Chuppy Checker CL).
Dujardin's number one Grand Prix horse is Mount St. John Freestyle, a 10-year old Hanoverian mare by Fidermark x Donnerhall, owned by Emma Jane Blundell. 
"She's planning just a minimal show schedule this year with the Olympics in mind," Blundell told Eurodressage. "I think Bolesworth is the plan."
Dujardin made her CDI debut at Grand Prix level on Freestyle in April 2018 at the CDI Nieuw en St. Joosland and went on to compete at three British CDI's in Windsor, Bolesworth and Hartpury to secure their ticket on the team for the 2018 World Equestrian Games. In Tryon, the pair earned team and individual bronze. 
Dujardin and Freestyle have not competed since Tryon in September 2018. Their return will be nine months after Tryon.
Trainer Carl Hester told Eurodressage that Freestyle is fit and in full work, but will only be out at a select number of shows to conserve her energy. 
"The horse looks fantastic. We are just keeping a short season with Olympics in mind. She is in full work and ready for Bolesworth," Hester told Eurodressage. 
When asked whether Aachen and Hartpury will be the other two events where she might appear to secure British team selection for the 2019 European Championships in Rotterdam, Hester replied, "we have both shows on the list. We will decide after Bolesworth."
Photo © Astrid Appels
Related Links
Bella Rose Blows Away Competition for Special Gold at 2018 World Equestrian Games
Germany Conquers Team Gold at 2018 World Equestrian Games
Freestyle By Name, Freestyle by Nature. Dujardin Wins 2018 CDI Windsor Kur
Dujardin and Mount St John Freestyle On Top in 2018 CDI Windsor Grand Prix
Ladies First at 2018 CDI Nieuw en. St Joosland Debutant Ball
Dujardin's Battle Plan for 2018 WEG Team Selection
Charlotte is Back! Returns to the Grand Prix Ring with 81%