Belgium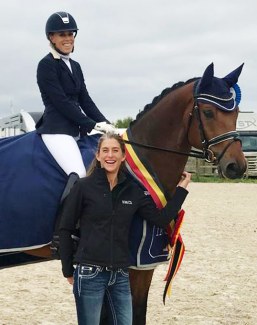 For American born Elisabeth Tepper her equestrian company EMC2 Horses is the love child of a life-long passion for horses and in particular the sport of dressage.
Established in 2016, EMC2 Horses has its base at a private, newly renovated yard in Lasne, a stone's thrown from Brussels, the European capital.
To further her passion and understanding of horses, Elisabeth maintains close ties with Germany and taps into Andrea Müller-Kersten's experience and expertise to help her find, develop, show and commercialize quality dressage horses for the higher sports level.
EMC2 Horses focuses on younger horses as the team enjoys training them from the earliest stages and providing the most comprehensive education. Each horse gets personalized and dedicated attention, and schooling is adjusted continuously to correspond to each individual horse.
A Love for Horses Fueled by Corporate Drive and Intuition
Tepper betrays her corporate background in the determination and eloquence with which she speaks of her project. After earning her Masters Degree from the Harvard Business School and working in New York City as a Management Consultant for McKinsey & Co and as a Financial Manager at IBM, Elisabeth came to work in Belgium as Finance Vice President for ABB Service Worldwide.
"After a few years, marriage and two children, I decided to leave the corporate world, concentrate on my family business, and spend more time riding, a passion I have had since early childhood," Tepper told Eurodressage.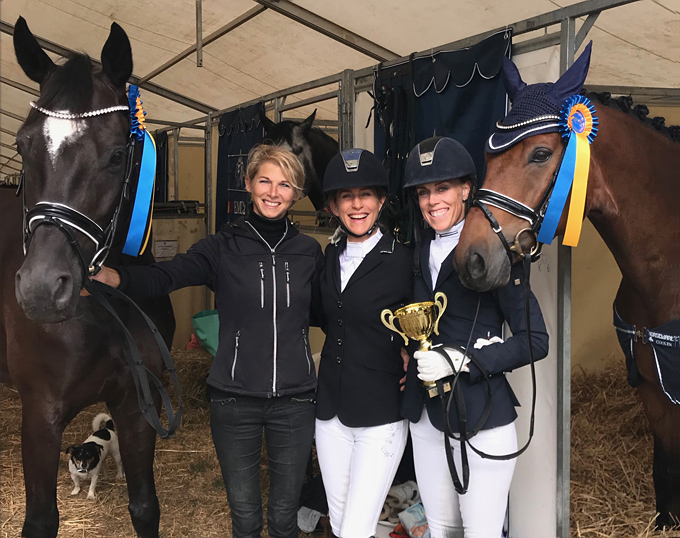 Her commitment to quality and professionalism shows in the horses she scouts and buys for EMC2. It started in early 2015 with the acquisition of the now 8-year old Oldenburg gelding Quinto (by Quaterback x De Niro), sourced at Andrea Müller-Kersten in Vechta, Germany. Since then she has cherry picked a selection of young talent directly from German breeders or at auction.
"As I had established an excellent relationship based on friendship, respect and trust with Andrea, I asked for her assistance in finding and training additional horses," said Elisabeth. "Furthermore, Andrea and I share similar values regarding horses. We consider them our friends and partners and as such we accompany and advance them whilst respecting their individual needs and unique characters."
For Tepper establishing a sense of partnership with the people close to her is a paramount part of EMC2 Horses' aspiration. She keeps Andrea close for the selection and buying process as well as for the training of the youngsters.
"Together with Andrea, I select a specific horse, make sure to do the strict due diligence and then proceed to set a price limit which I never exceed, as it is easy to get carried away during the actual sale," she explained. "The advantage of going through auction is the possibility to see and try numerous quality horses in a single spot over a very short period of time. Furthermore, the auctions specialize in young horses, which is the age category that I am interested in acquiring. To date, I have always been very pleased with the selection and services I have received from the Hanoverian, Westfalian and Oldenburg auctions."
Belaggio Breaks Belgian Records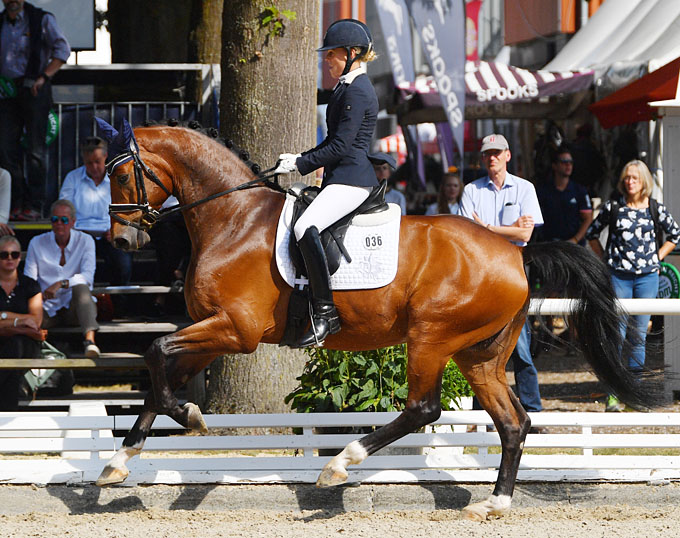 Andrea tipped Elisabeth to consider the now 7-year old Hanoverian Belaggio (by Belissimo M x Ehrentanz) as an addition to her string. He became the first horse she bought at auction.
"Andrea had been training Belaggio a few months, had won the qualification of the Hanoverian championships and was nominated as reserve for the Bundeschampionate," Elisabeth reminisced. "As the breeder had decided to sell Belaggio through the Hanoverian auction, I had to go through the auction process and was fortunate to place the winning bid. Since then, Belaggio and Andrea went on to win the Belgian Young Horse Championships at age 4, 5 and 6, a feat never done by any other horse in Belgium."
Currently Andrea has four EMC2 horses in her care: Belaggio, Di Magic (by Del Magico x Canaster I), Expression (by Ehrenstolz x Basic), and the 3-year old Bon Couleur (by Bon Coeur x Don Index).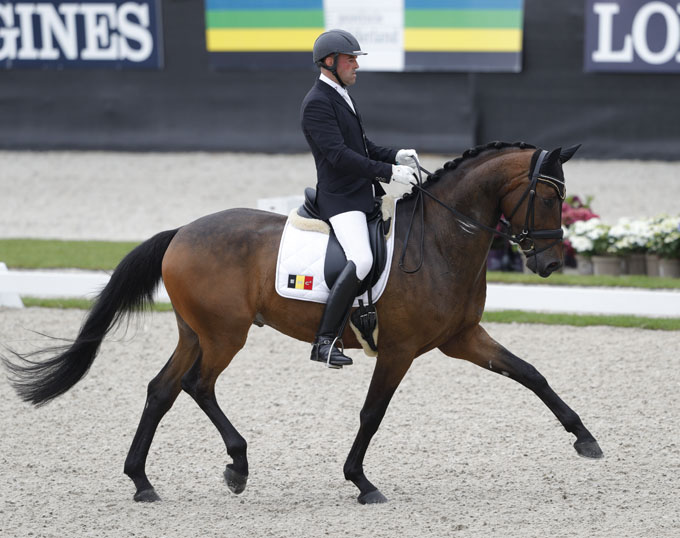 The driving forces behind EMC2 further include Piotr Misko, who has been assisting Elisabeth and caring for the horses in Belgium for nearly 12 years, alongside her trainer Claudia Kircheiss. Ronja Tabke seconds Andrea in Germany. "They are the precious and indispensable aides who insure the proper daily upkeep and support every aspect of the daily management of the horses," she said.
Nick Van Laer has joined the adventure, taking over the ride on Quinto when Andrea was pregnant. The pair showed at the 2017 World Championships for Young Dressage Horses in Ermelo, where they finished 12th in the Small Final for 6-year olds. Today, Nick is responsible for the 3-year old premium Westfalian licensed stallion Bollinger (by Bon Coeur x DiMaggio). She has not yet decided if Bollinger will stand at stud, as her primary focus will be on his sports career.
Elisabeth puts her own principles into practice by training several horses herself competing on the Belgian circuit.
With Respect for the Horses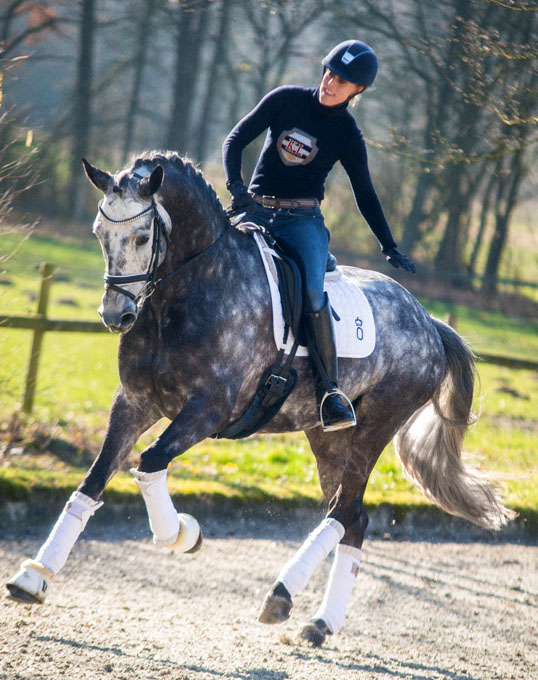 Horse welfare and the careful training of the youngsters according to the principles of classical dressage are leading for EMC2 Horses. "The three year old horses are briefly trained under the saddle and promptly returned to the field to allow them to develop properly and naturally. When the horses turn four, they are shown in a few competitions in their respective age category," Elisabeth explained. "As my intention is to train the horses for the higher levels, whilst keeping them fit and healthy, and maintaining their willingness to partner with the rider, I do not seek to participate in numerous competitions; and just select a few that are best suited for each horse depending on progress and condition."
Last year, Di Magic did only one show before participating in the Belgian Young Horse Championships for 5 years old with Andrea. They won silver with a score of 85%.
"At the end of each competition season, all horses spend one to two months in the field to get a break and enjoy some time off before resuming their training," she added.
Seeing the Essence of a Horse with an Open Heart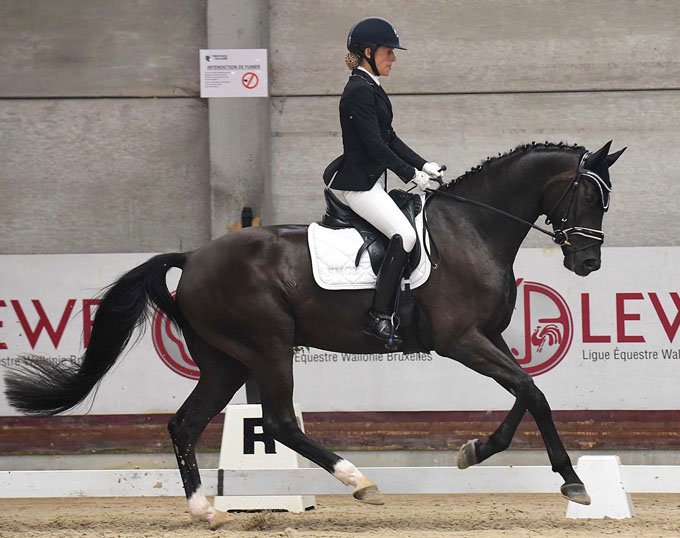 Tepper has already reaped the fruits of her vision for EMC2 Horses on a short term. The small amount of high quality horses she bought has produced strong performances as well as achieved medals and titles at the Belgian, German and World Young Horse Championships. Is it beginner's luck or a stroke of genius? The name of her company referring to Albert Einstein's formula proves that brainpower has gone into her company and mission. "Beyond a personal meaning, Einstein's formula states that Energy (E) is equal to the mass (m) multiplied by the speed of light squared (c2). What better energy to understand and harness than the energy of a horse," Tepper said rhetorically.
For the moment, EMC2 Horses owns nine sport horses and will continue to train them further whilst remembering the realities of running a business. "To date, we have sold horses both locally and internationally, and continue to stay informed of the evolution and whereabouts of our former horses," she explained.
Elisabeth aims to develop a presence in the local market and at Belgian events and Championships as well as German competitions and the Bundeschampionate These last two years, Belaggio participated in the Bundeschampionate and finished in the top fifteen as a 5-year old, and in the top ten as a 6-year old.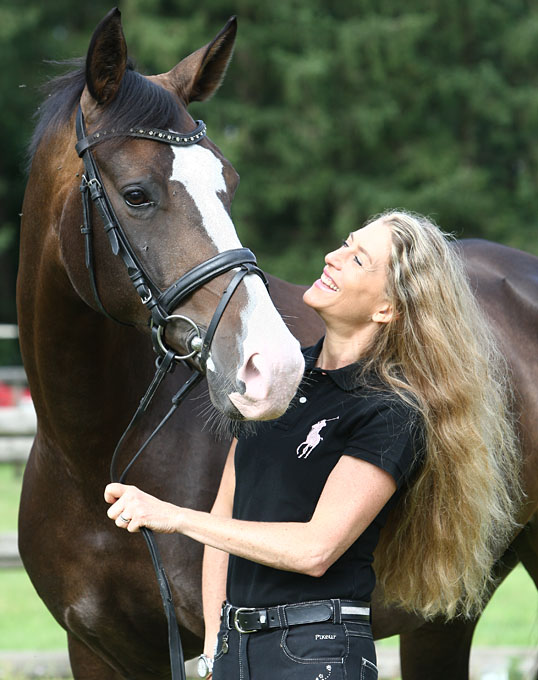 "In the future, I wish to further develop the business progressively as a small family spirited partnership with all those involved and connected. Beyond the figures, I am driven by my passion and love for horses," she stated. "As Antoine de Saint Exupéry mentions in The Little Prince: "You become responsible, forever, for what you have tamed." It's an honor and a privilege to care for horses, and it is only with an open heart that one can truly see the essence of a horse."
Discover EMC2 Horses online at www.emc2-horses.be
Related Links
San Lora, Irish Coffee, Belaggio, Go on Top Win 2018 Belgian Young Horse Championships
Irish Coffee, Belaggio, Aragon, Kastar Hof ter Zeedycke D Win the 2017 Belgian Young Horse Championships
Belaggio, Genie, Barroso, El Corona Texel Win 2016 Belgian Young Horse Championships
Belgian Delegation for 2017 World Young Horse Championship after Major Imbroglio
Caluna, Top Seller at 2017 Summer Mixed Sales in Vechta
Danciero, Champion of the 2018 Westfalian Stallion Licensing