2019 Preis der Besten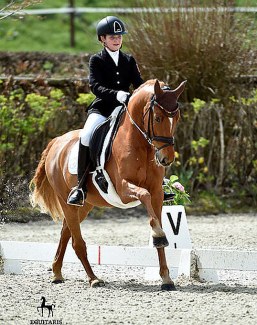 Pony rider Lara Middelberg, children rider Alegra Schmitz-Morkramer, junior rider Henriette Schmidt and young rider Alexa Westendarp became the winners of the 2019 Preis der Besten qualifier held at Hof Kasselmann in Hagen on 12 - 14 April 2019. 
The Preis der Besten is a German U21 competition circuit that starts with training seminars, where German national team coached Cornelia Endres and Hans-Heinrich Meyer zu Strohen make a selection of the riders eligible to compete in the qualifiers. The southern based riders had their qualifier in Kronberg on 2 - 4 April, while the northern based riders rode  in Hagen on 12-14 April. The best pairs will move to the actual Preis der Besten in Warendorf on 27 - 29 May 2019. The importance of this event is it is the first German team selection trial for the European Championships this summer. 
The weather in Hagen was more than usual for a mid April competitions. Pony riders were competing outdoor while snow flurried from the sky and heavy winds set in. It proved a challenge for some of the kids and their mounts. 
In the pony division Lara Middelberg steered the 11-year old Drink Pink (by Don't Worry x Golden Highlight) to victory on Sunday with a 73.740% score. Lara has taken over the rode on the chestnut gelding from her elder sister Anna, who rode on the German team at the 2017 European Pony Championships. The judges (Lammers, Holthaus, Kessler) were not in unison though on the winning test, rewarding the ride marks between 70.976% and 76.341%. The panel was more in line with Antonia Busch-Kuffner's test on the 8-year old stallion Daily Pleasure (by HB Daylight x Dressman). She finished second with 72.683%. Shona Benner and the 9-year old Der Kleine Sunnyboy (by Der Feine Lord x Valentino) slotted in third with 71.748%. 
Nine riders contested the children's division and on Sunday in round 2 Alegra Schmitz-Morkramer topped the board on her 8-year old mare Tropensonne (by Totilas x Top Non Stop II). She scored 71.094% There was also a significant score difference between the three judges here with 69.375% as the low score and 74.063% as the high score. Kenya Schierking and the 7-year old Oldenburg mare Cecil (by Bordeaux x Alabaster) landed second place with 70.052%, while Charlotte Rentrop-Schmid and the 16-year old DSP mare Prinzess (by Exposé x Lord Sinclair) were third on 68.438%.
Henriette Schmidt and her 12-year old Westfalian stallion Rocky's Sunshine (by Rock Forever x Fittipaldi) bested the field in the junior division with a 73.202% on Sunday. She edged out Lucie-Anouk Baumgurtel on the 10-year old Hanoverian mare Sweetheart (by Scolari x Hohenstein), who was second on 71.886%. Lily Bendig and the 9-year old Hanoverian Boscolo (by Ballettmeister x Conteur) slotted in third with 71.009%.
Young professional Alexa Westendarp proved that mileage counts as she steered her young 8-year old Hanoverian mare Four Seasons (by Furstenball x Fidertanz) into the winner's circle on Sunday with a 74.474% earning test. Judges Lehrmann, Ebert and Wemhöner had her between 72.895% and 76.579%. Westendarp also took second place on Hof Kasselmann's 7-year old Westfalian Belmore (by Belissimo M x Fidertanz) with 72.544%. Young rider shooting star Franz Otto Damm landed spot three on the 9-year old Lifestyle (by Lord Fantastic x Samba Hit I) with 71.272%.
Photo © Equitaris
Results - 2019 Preis der Besten Qualifier - Hagen
Pony Riders
1 Drink Pink - Middelberg,Lara - 73.740%
2 Daily Pleasure - Busch­Kuffner,Antonia -  72.683%
3 Der kleine Sunnyboy - Benner,Shona - 71.748%
4 Daddy Moon -  Oatley,Rose -  71.707%
5 Cosmopolitan - Bücker,Lena -  71.585%
6 Coriander - Baumgürtel,Lucie­Anouk - 71.179%
7 Massimiliano - Baumgürtel,Lana­Pinou - 70.284%
8 Del Estero NRW - Duen,Sophie Luisa - 69.268%
9 Frühlingstraum - Palm,Enya - 68.821%
10 Chaplin V - Wilhelmi,Johanna­Sophie - 68.658%
11 Loreley 95 Schmitz­Morkramer,Alegra -  68.618%
12 SF Dark Royal - Neumann,Nina Sue - 68.455%
13 Kastanienhof Cockney Cracker - Busch­Kuffner,Antonia -  68.130%
14 Global Player AT - Schnakenberg,Maja - 67.520%
15 Nobels Boy H -  Benner,Shona - 67.398%
16 Cute Mrs.Polly - Baumgürtel,Lana­Pinou -  66.992%
17 Nobel Nagano NRW - Tillmann,Hanna -  64.390%
Classic Dream - Baumgürtel,Lucie­Anouk - DNS/RET
Children
1 Tropensonne - Christina Schmitz­Morkramer,Alegra- 71.094%
2 Cecil -  Schwierking,Kenya - 70.052%
3 Prinzess - Rentrop­Schmid,Charlotte  - 68.438%
4 Blue Diamond - Dietrich,Helena - 66.302%
5 Dinos Boy - Schwierking,Kenya - 65.469%
6 Davinio - Kurp,Antonia Elisa - 65.208%
7 FriedaGold - Holtfreter,Marie - 64.844%
8 de Lüdde - Pögel,Lena - 62.448%
9 Dark Fellow WAF - Richter,Antonia - 60.052%
Junior Riders
1 Rocky's Sunshine - Schmidt,Henriette - 73.202%
2 Sweetheart FH - Baumgürtel,Lucie­Anouk - 71.886%
3 Boscolo - Bendig,Lily - 71.009%
4 Diodorus - Stoll,Imke - 70.921%
5 Blickfang HC -  Middelberg,Anna - 69.035%
6 Don de Jeu - Schmidt,Henriette - 68.772%
7 Ducati K - Schamburg,Henri - 68.509%
8 Weihestolz -  Braune,Elisa - 67.369%
9 Dr. Best - Bartels,Tessa - 67.193%
10 Diabolo Nymphenburg - Stuhldreier,Laura -  66.579%
11 Dajano - Stolpmann,Joya Catharina -  66.360%
12 Elaja JS - Haase,Franziska - 64.912%
13 Quinto - Lass,Caroline - 62.500%
Young Riders
1 Four Seasons - Westendarp,Alexa - 74.474%
2 Belmore - Westendarp,Alexa - 72.544%
3 Lifestyle - Damm,Franz Otto - 71.272%
4 Wild Willy Granly - Laabs,Luna - 70.614%
5 Resümee - Jensen,Emilia Josephina -  70.483%
6 Entertainer - Prahl,Anna­Marie -  69.912%
7 Sülberg  -  Grunwald,Nane -  69.474%
8 Faynaa - Grellmann,Laura­Eve  - 67.895%
9 Fürst Levantino - Sieverding,Marlene - 67.675%
10 Fairmont - Lückert,Ann­Sophie - 67.544%
11 Roma Cherie - Rohmann,Caroline - 67.237%
12 Rendezvous - Michels,Luca - 67.017%
Lord's Liebelei- Grellmann,Laura­Eve - RET/DNS
Related Links
Feldhaus, Steisslinger, Pistner, Rothenberger Win 2019 Preis der Besten Qualifier in Kronberg
Baumgurtel, Schwierking, Erbe, Rothenberger Win 2018 Preis der Besten
Barbian, Erbe, Rothenberger Win 2018 Kronberg Preis der Besten Qualifier