Westfalian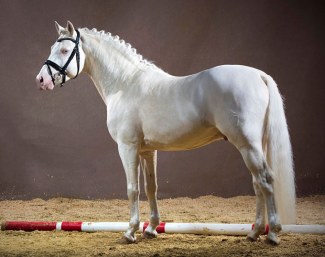 The American owned double Bundeschampion and licensed pony stallion Golden West has been awarded the title of NRW as the only stallion outside Germany with this honour.
The 8-year old Westfalian bred cremello stallion is by Hesselteich's Golden Dream out of Golden Maybe (by FS Golden Moonlight x Going East). He is bred by Bianca Weidner and owned by American Melissa Mulchahey since his 2 year old year.
NRW Title for Successes in Sport and Breeding
Under Wibke Hartmann-Stommel he won the Bundeschampionate in 2014 and 2015. Under Julia Rohmann he claimed silver at the 2017 Bundeschampionate as a 6-year old as well as the Bronze Medal in Verden as a 5yo at the WBFSH Young Dressage Pony Championships.He was shipped to his owner's yard in California in 2018.
Golden West's consecutive titles and medals under two different riders proved the stallion's talent and rideability. He has become a favourite of breeders world wide, especially since his first two foal crops not only produced the Bundeschampion Golden Mylight NRW, but also six licensed sons, licensing champions and five state premium daughters.
Because of these accomplishments the Westfalian studbook decorated this outstanding sport pony and producer with the prestigious title of NRW. Golden West NRW is the only stallion outside of Germany with this recognition.
Golden West NRW to Move to Australia
Recently owner Melissa Mulchahey reached an agreement with Kristy Jarvis and Damian Smith of Dynamik Stallions in Perth to move Golden West NRW to Australia, where he will stand at stud. The agreement is made for two breeding seasons, with a possible extension for future seasons.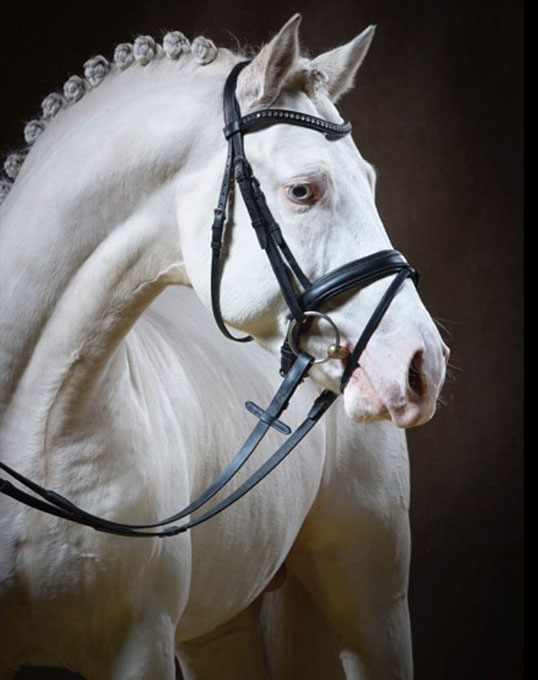 "Due to the work demands of my position as a Vice President of a Fortune 15 company I just have not had the time to ride and compete Westi as I had planned," Mulchahey told Eurodressage. "My trainer Kelly Casey Mykrantz has done a fantastic job with him in 2018. Building upon the solid training foundation he received from Wibke Hartmann-Stommel as well as Heiner, Caroline and Julia Rohmann, Westi was quickly able to move up to M and S level. In 2018 he was the USA National Dressage Pony Cup champion at M (3rd) and S (4th) level. He is currently Prix St Georges ready and schooling Grand Prix."
Kristy Jarvis has been one of Melissa's closest friends for many years, both traveling together to pony events in Germany for almost 10 years as well as their families vacationing together annually around the world.
"We've always had the same taste in ponies and have been each other's biggest supporters," said Melissa. "When I was thinking through options for Westi in late 2018 the most perfect option for me was to have him go to Kristy's stable."
The Australian interest in Golden West NRW as a pony breeding stallion has been great over the past few years. The frozen semen she sent over several years ago sold out immediately and Melissa has received repeated requests to send more since then.
"It think it will be a fantastic opportunity for Westi to help the Australian pony breeding efforts advance again. Their pony mare and stallion base is much larger than the USA and further along," she said. "I am excited that for the next fewyears the Australian mare owners will have access to fresh semen from Westi."
A New Life Down Under
The big haul to Australia has already commenced with Golden West NRW being in quarantine in Germany right now. He should arrive at Kristy's farm in late May.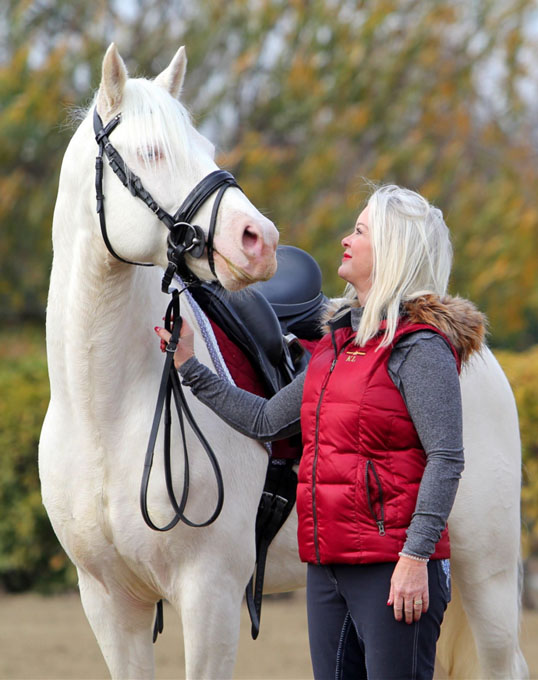 "Just after we return from our joint family vacation in Bali," Melissa smiled. "I know Kristy will have a fantastic time riding and competing on Westi. His rideability and trainability is unparalleled. I will miss him terribly, his begging for carrots and quiet, sweet personality. My stable will feel empty without him. I do still have in my stable Petit Marc Aurel and Golden State. Both of whom are still active in training and available for breeding"
Golden West NRW will be stabled next to Numerus Clausus who was his former stablemate at Hengststation Rohmann. He will also be in the same barn as his paternal half brother Golden Rock.
"This is a fantastic opportunity for breeders in Australia to have a pony stallion of this calibre to be offered at stud," said an ecstatic Kristy Jarvis. "Golden West NRW will be the sixth German Riding Pony stallion to join Dynamik Stallions. We have previously imported Don Philino WE, Top Der Da, Trussardi D, Golden Rock and Numerus Clausus. We can't wait until Golden West NRW is here in Western Australia to join our top class pony team for sport and breeding."
Photos © Guido Recki
Related Links
Daily Pleasure Wins 6-year old Dressage Pony Final at 2017 Bundeschampionate
Double Bundeschampion Golden West to be Available Worldwide in 2016
Westphalian Association, Most Successful Breed Society at 2014 Bundeschampionate
Riding Pony Power with Wibke Hartmann-Stommel in Charge at 2014 Bundeschampionate
Golden West, Price Highlight at 2013 Westfalian Pony Stallion Auction