Hanoverian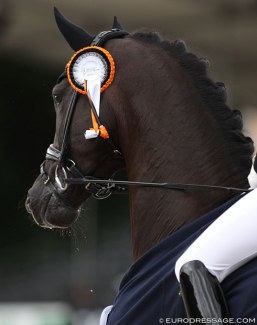 Breeder and co-owner Alex Windeler denies the allegations that co-owner Mario von Depka has made in public about a possible diagnosis of Shivers to their Hanoverian breeding stallion Don Martillo.
Axel and Ann-Kathrin Windeler issued a statement to Eurodressage about their views on the current melee.
"In October 2016 we sold our stallion Don Martillo for half to Gut Lonken. We've had success with the stallion from the start. He was the 2016 Bundeschampion as a 4-year old, the 2017 World Champion as a 5-year old. That is why in public we came to terms with each other, even though the co-owner to this date has not succeeded in paying the full purchase price for his half share and to pay for the collected stud fees in 2017. Internally we argued about that."
"In February 2018 we visited a stallion show together, where Don Martillo was presented by his World Championship rider. There in the stall, and not under saddle, we noticed a movement anomaly in one of the hindlegs. After this we had the horse examined and treated by several vets. This sympton is not fully gone yet, but the vets are on the right road. The co-owner did not participate, nor show any interest in our measures."
"None of the vets that examined Don Martillo diagnosed him with Shivers. Luminaries such as Dr. Jahn, Dr. Nolting, Dr. Körner, Dr. Brunken and our home vets see a treatable, long-term therapeutic neuro-muscular problem. Dr. Genn only examined the horse once and just briefly and cannot make a diagnosis and inject him with medication."
"After I pursued my claim for payment of the 2017 breeding season and the remainer of the purchase price, the co-owner tried several lawsuits; first to bring the stallion to his yard and then to get rid of his half. To this date the co-owner has lost all lawsuits at the court in Verden and supreme court in Celle. Since then he's been bashing Don Martillo and seemingly has now found a vet in Dr. Genn, who at the time had no diagnosis and now after a year remembers that he then diagnosed the horse with Shivers. To all other vets before him and the current vets now it is a mystery how this vet has come to this realization, while this diagnosis was not confirmed in any of the examinations."
"Not a single vet who examined him, concluded that Don Martillo is suffering or not able to breed. On the contrary. The vet reports are available to the Veterinary Office and the Chamber of Agriculture."
"After all this it would be nice if Gut Lonken woulnd't disturb the treatment of the stallion through his media campaign and instead would fulfill his payment obligations and bills. Then the dispute would have been settled long ago. "
"Like before, Don Martillo is still up the breeding mission at out our stallion station."
Photo © Astrid Appels
Related Links
Don Martillo Suspected to Suffer from Shivers
Where Are They Now? Don Martillo
Devonport and Don Martillo, High Scorers at 2017 Stallion Sport Test in Verden
Don Martillo Prevails in 5-YO Finals at 2017 World Young Horse Championships