F.O.C.U.S.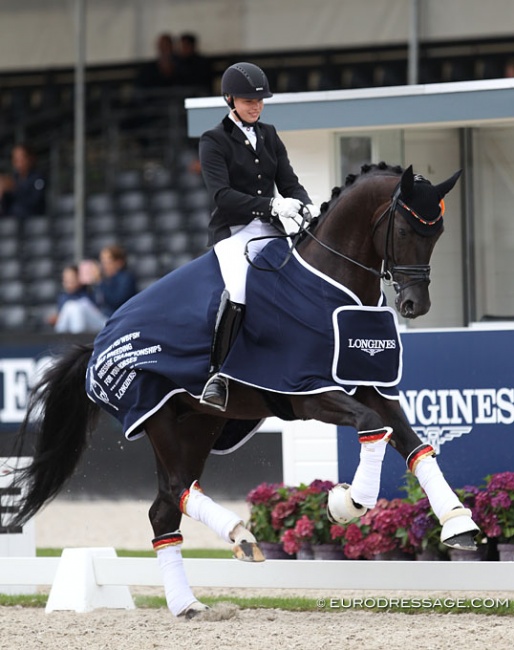 In 2017 Ann Christin Wienkamp steered the Hanoverian licensed stallion Don Martillo to victory at the World Young Horse Championships in Ermelo, The Netherlands. 
The black stallion is by Don Juan de Hus x Benetton Dream and is owned by breeder Axel Windeler in partnership with Mario von Depka.
He was the 2016 Bundeschampion in Warendorf, won the 14-day suitability test and was top scorer in the sport test in 2017.
After being the convincing winner of the preliminary test at the 2017 World Young Horse Championships, Don Martillo freewheeled to the World Champion's title in the Finals with a 9.7 for trot, 10 for walk, 9.7 for canter, 9.5 for submission and 9.8 for general impression. He totaled 9.74 points.
Since then Don Martillo has completely disappeared from the scene. He was certainly the biggest absentee at the 2018 World Championships in Ermelo, where he did not show up to defend his title. Rumours about an injury were floating around...
Where is He Now?
The now 7-year old Don Martillo is based at Windeler's stallion station, but there has been a fall-out between the two owners. Eurodressage spoke with the rider and both owners, but the details about Don Martillo's future remain unclear. 
In August 2018, Eurodressage already asked Wienkamp about the horse not coming to Ermelo. Her reply at the time was: "No sport this year, only breeding. We decided it in February, because so many people want to use him as stallion; even more than last year. And it is difficult to make the breeders happy and do high quality sport. So last year he was the world champion and it can't be better this year!"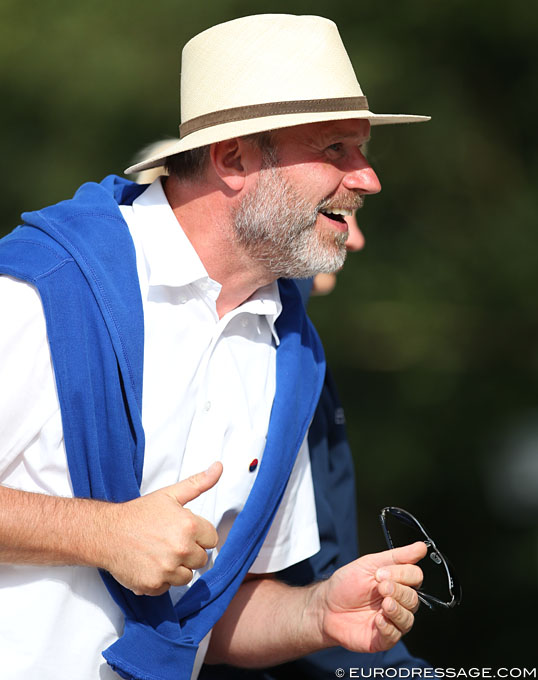 After the stallion shows in February 2018, Wienkamp, who is based at Oliver Oelrich's yard, stopped riding the horse.
Owner Von Depka told Eurodressage in November 2018 that Don Martillo was not fit last year. "In February his breeder fetched him from Oelrich, because he was not fit. Since then he is keeping him in his box and no one gets information. We have got one doctor's report from May this year (2018) that he is lame. To my knowledge this is still ongoing, unfortunately."
Von Depka made it clear that both owners are no longer in agreement. "Axel Windeler keeps the horse on his farm under total control," Mario told Eurodressage. "All information I want to get I get only through (a) lawyer of court."
In December 2018 Ann-Kathrin Windeler replied to Eurodressage's questions about the whereabouts and training of the horse. She confirmed that the stallion has been focusing on breeding in 2018 and his sport career was on the back burner because of that. 
"That he hasn't been ridden for a year, is new information to us. The last public rides were at the stallion shows in Munster (10 January 2018) and the private show in Verden (3 February 2018). It is hard to improve his achievements and his successful rider Ann-Christin Wienkamp does not live in the vicinity. Furthermore we want to offer the breeders quality semen."
When asked about his sport career, Windeler stated that "Don Martillo's training level at the momemnt is between M and S-level. His talent for the upper level movements is outstanding and we want to work him according to his age."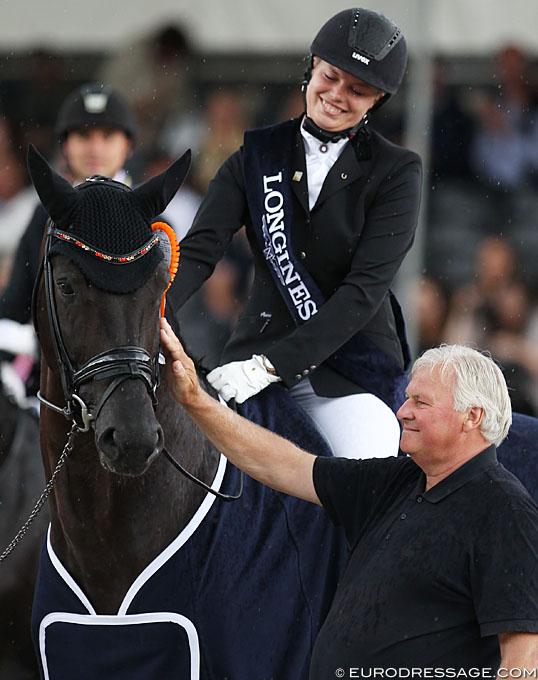 Windeler informed that co-owner Von Depka is less involved because of his professional job. "Mario von Depka Prodzinski has a share in the ownership but at the moment he is more in the background because he occupies himself with his business in Hanover. However, we do take important decisions together."
Ann-Kathrin added that Don Martillo is being worked at home by one of their assistant riders and "he has never been without training. Further plans we'll make in the new year."
Photos © Astrid Appels
Related Links
Don Martillo Prevails in 5-YO Finals at 2017 World Young Horse Championships
Devonport and Don Martillo, High Scorers at 2017 Stallion Sport Test in Verden
Where are They Now? Don Davidoff
Where are They Now? Fiontina