Opinions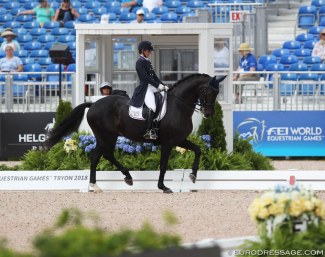 When explaining in a judges clinic how to look at a horse/rider combination, I give the example of 4 different ways of looking at them : the eye of a movie-maker (for the movement and the paces ), the eye of a photographer (for the general carriage and legs action), the eye of a policeman (to see the lines, the precision related to the arena markers, the count of changes or of steps ), but I insist on the fourth way : the eye of a psychologist . This view is supposed to give an impression of the quality of the relationship between horse and rider.
How to analyze this way of looking at a horse/rider pair? First of all, look at both partners: if the rider looks happy and relaxed, it's a good point; but a supple seat, a tonic back, steady hands and legs are also to look at. For the horse we look at the physiognomy: how he carries his ears, how are the eyes, the mouth, the nostrils, the lips. We look at his general condition: sweating or not, where and how; breathing smoothly or not. We look at his suppleness, tensed back and switching tail or relaxed upper line. Then we have to look at the contact point in between both: the seat of the rider in the saddle and the contact with the back of the horse; the legs and the contact with the body of the horse; and the most important part : the mouth, the reins and the contact with the hands of the rider.
The experienced judge who is also a "horse person" feels immediately if this relationship is good or not. The public who is mostly horse lovers can feel it too. But do we have an objective way to explain it? Could it be possible to measure some wellness of each partner? To have some measurement of the force at each contact point ? Or better, of the comfort and the sensitivity of both parts in contact ?
Because the harmony in a dressage presentation is more in the elasticity and suppleness of the horse, and the discreet aids of the rider, I wonder if more research on that topic is possible. But the sport would need it anyway …
by Bernard Maurel
Photo © Astrid Appels
Related Links
Riding and Dancing - Harmony, Mystique or Simply Logic?
Judging Guidelines for the Grand Prix Freestyle
Sarah Warne: Are We Asking Too Much?
Sarah Warne: Creating that Special Something