USPRE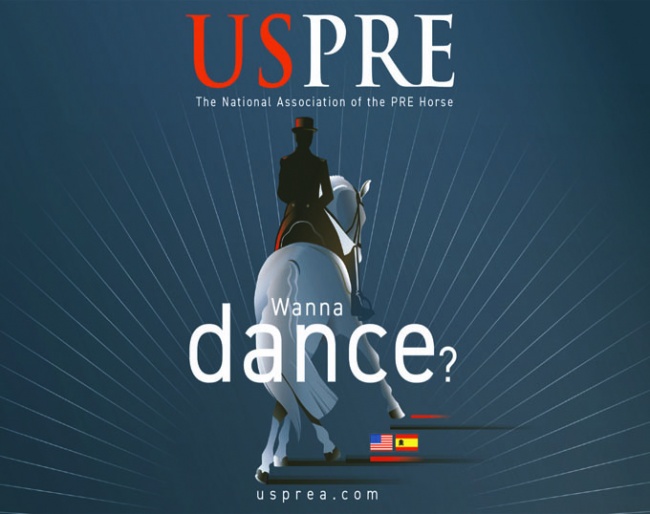 Every year in late January, the United States PRE (USPRE) Association hosts a week-long event which focuses entirely on promoting the Spanish PRE breeds within the United States.
This year, USPRE Week will be held from January 22-27, 2019 in Wellington, Florida. Wellington has long been the epicenter for premiere international riding competitions and even earned the name "Equestrian Disneyland" for horse aficionados. USPRE proudly invites all members, as well as PRE lovers everywhere, to enjoy a world class program of activities related to these Spanish horses.
One of the biggest parties of the entire equestrian season will be the USPRE Week kickoff party, held Wednesday, January 23 at 6 pm in the Global VIP Tent. The party boasts a number of unique moments with a variety of activities designed for the enjoyment of all PRE fans.
This year's party centers around the theme "Wanna Dance." Partygoers will enjoy food, drinks and an entire night of performances by both professional dancers and PRE horses to classic American dance music featuring 'Patrick Swayze', hits by Michael Jackson and Whitney Houston as well as new favorites from the Greatest Showman and Camila Cabello. Special musical guest Cassie Ortiz, winner of American Equestrians Got Talent (AEGT) 2017 will also perform.
Among the guests will be Mr. Jose Juan Morales Fernandez, President of ANCCE and Mr. Manolo Gonzalez, Executive Vice President of ANCCE.
Thursday morning, coffee and croissants will be provided at Horses and Hounds Farm. A seminar will follow discussing the metabolic health of PRE horses given by Dr. Robert P. Boswell, DMV, PA and James Gilchrist (Farrier). The focus of this seminar will be sharing knowledge and experience regarding the prevention and treatment of Laminitis in the PRE.
Thursday evening at the International Polo Club will be the annual USPRE Member Dinner. The 2018 Annual Awards for top members and breeders will be presented at that time. Tickets may be purchased through the USPRE website, www.usprea.com.
On the morning of Friday, January 25, Olympic rider Jose Daniel Martin Dockx and 4* Judge Juan Carlos Campos will hold a seminar 'Preparing the Young Horse for FEI Competition: Selection and Training.' Both speakers will explain their impressions and experiences on the World Breeding Dressage Championship for Young Horses. This seminar will be held at Hampton Green Farms.
To close out USPRE Week, the audience is invited to enjoy the electric atmosphere of the Friday Night Stars Freestyle. Prior to the awards presentation, Javier Ruiz Garrido from the Royal Riding School of Ronda will take the center line with Batidor X for a long-lining/handling demonstration.
All in all, an entertainment "dance-stravaganza" is promised for the five-day long USPRE Week. We hope to see you all dancing alongside these purebred Spanish horses in Wellington!
PROGRAM
Tuesday, January 22:
6:00 PM- Member Reception at White Horse Tavern
Wednesday, January 23:
9:00 AM- Seminar Updates from ANCCE featuring President José Juan Morales and Manolo González
6:00- USPRE Party and Wanna Dance-Stravaganza
Thursday, January 24:
8:30 AM- Coffee & Croissants at Horses and Hounds
9:00 AM- Seminar "Prevention and Treatment of Laminitis in the PRE: Nutritional and Interventional Strategies" with Dr. Robert P. Boswell, DVM, PA & James Gilchrist, Farrier
1:00 a 4:00 - USPRE Office Open House
18:00- Annual Member Dinner & Annual Awards.
Friday, January 25:
11:00 AM- Seminar: "Preparing the Young Horse for FEI Competition: Selection and Training"
Speakers: Jose Daniel Martin Dockx, Juan Carlos Campo
Light Lunch will be provided
6:00 PM- Cocktails reception VIP TENT Global
7:00 PM- Freestyles Under the Lights. Long-lining/handling demonstration by Javier Ruiz Garrido during AGDF Freestyles
For more information visit www.usprea.com
Related Links
2019 USPRE Week: Schedule of Events
Call for Talent for 2019 USPRE Week