USPRE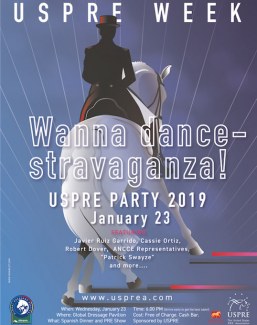 The annual USPRE Week in Wellington, of which this year's edition takes place on 22 - 26 January 2019, will bring together friends, aficionados and masters from all over the US and Spain for a week of celebration, meetings, information and two of the best parties in the PRE world. 
The United States PRE Association (USPREA) has announced the schedule of events for the 2019 USPRE week.
"We want your experience to be the best possible. Check out the details of the exciting activities and special events not to miss at this year's USPRE Week," USPRE posted on their website.
Schedule of Events
22 January 2019
6 PM : Welcome Reception at the White Horse Tavern
23 January 2019
9 AM: Seminar: Updates from ANCCE, feat. president Jose Juan Morales and Manolo Gonzalez at MTICA farm
6 PM: USPRE Party and Show at Global Pavillon
24 January 2019
8.30 AM: Coffee and Croissants at Horses & Hounds Farm
9 AM: Seminar: Prevention and Treatment of Laminitis at Horses & Hounds Farm, feat. Dr. Robert Boswell (DVM) and James Gilchrist (farrier)
1 - 4 PM: Open House at USPRE office
6.30 PM: Member Dinner and Awards at International Polo Club
25 January 2019
11 AM - 1 PM: Seminar and Luncheon: preparing the Young horse for FEI Competition at Hampton Green Farm, feat. speakers Jose Daniel Martin Dockx (Olympic dressage rider), Juan Carlos Campos (4* judge) and Manolo Gonzalez (ANCCE ex. sec)
6 PM: Cocktails at Hospitality Tent at Adequan Global Dressage
7 PM: AGDF Freestyle and Long-Lining / Handling Demonstration at Adequan Global Dressage
For more information, visit www.usprea.com
Related Links
Call for Talent for 2019 USPRE Week
The Majesty of the Pure Spanish Horse Celebrated during USPRE Week 2018