NRPS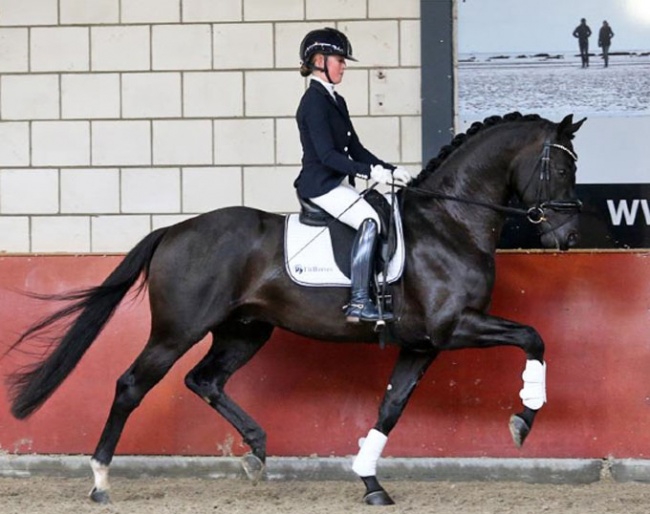 The KWPN bred D'Joep (by Desperado x Ferro x Roemer) became the high scorer horse of the 2019 NRPS Stallion Performance Testing in Ermelo, The Netherlands, which concluded on 12 January 2019. 
Twenty-three stallions passed the testing, nine of them are dressage bred warmblood horses and two are dressage ponies. 
D'Joep, whose original KWPN name is Joep but because of his NRPS licensed status he had to be allocated a name starting with the first letter of the sire, was already the NRPS licensing champion in 2018 and now he was the top scorer in the testing. 
Bred and owned by J. van der Meijden, D'Joep scored 8 for walk, 8.5 for trot, canter, willingness to work and dressage potential, 8 for his dressage test and 9 for his behaviour in the stall. D'Joep was praised for his clarity in walk, power, balance and activity in trot and good self carriage and engagement in canter. 
The second highest scoring horse was the KWPN bred El Perdon (by El Capone x Negro), bred by R. Van Erp and owned by H. Hoeflake. 
Other high scorers were the 12-year old small tour level competed Scandreo O (by Sandreo x Zeoliet) and Gert-Jan van Olst's 4-year old chestnut Niro (by Negro x De Niro). 
Five further stallions were officially licensed for breeding following a positive performance test: Rockstar (by Rousseau x Ronaldo), Painted Pride (by Painted Black x Redford), the black Love Just Mickey (by Lord Leatherdale x Negro) who is owned by Russian young rider Anna Guseynova, as well as Gert-Jan van Olst's dark bay Nick (by Negro x Monaco) and Gonzalres (by Governor x Bon Bravour).
Photo © NRPS
Related Links
D'Joep Named Champion of the 2017 NRPS Stallion Licensing
Nagano, High Scorer at the 2017 NRPS Stallion Performance Testing
Fideniro, Crowd Favourite of the 2014 NRPS Stallion Licensing
Guidam's Willow the Second, Champion of the 2013 NRPS Stallion Licensing
Thirteen Stallions Approved at 2012 NRPS Stallion Licensing
Twenty Colts Accepted at 2011 NRPS Stallion Licensing
Twenty-Five Colts Approved at 2010 NRPS Stallion Licensing
Fifteen Stallions Approved for the NRPS Studbook
Sunliner, Champion of the 2009 NRPS Stallion Licensing
Ferrero Wins 2006 NRPS Stallion Licensing