U.S.A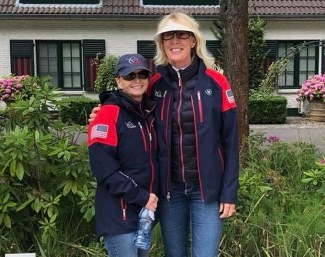 US Equestrian has appointed Charlotte Bredahl as the U.S. Dressage Development Coach, pending final contract negotiations.
Bredahl will take over for the newly appointed U.S. Dressage Technical Advisor and Chef d'Equipe, Debbie McDonald, who previously held the position of Development Coach and has now become the U.S. Team Trainer for the senior Grand Prix riders.
The role of the Development Coach is to work hand in hand with the Managing Director of Dressage, the Technical Advisor, and the Dressage Sport Committee to assist with the development of a sustainable system to produce combinations for the Dressage Elite Athlete Pathway.
The collaboration between Bredahl and McDonald has been longstanding through their work in their previous roles over the past four years, and will continue in their newly appointed positions.
"I have had the opportunity to work closely with Charlotte [Bredahl] over the last few years," said McDonald. "She is an excellent fit for the U.S. Dressage Development Coach position. She has a great eye, and she is not only experienced as an international rider and trainer, but also as a judge. She will lead this program to the next level, and I'm thrilled to have her as my right hand!"
Bredahl's standing relationship with the athletes, her strong communication skills, and her knowledge and understanding of the sport made her a strong candidate for the position. She will begin her new position as the U.S. Dressage Development Coach immediately.
Her responsibilities will include assisting and advising on setting and tracking targeted key performance indicators for the Development Program and its athletes and their personal trainers, leading and implementing the Developing Program itself, strategic planning and guidance for the athlete/horse combinations, coordinating educational opportunities for the athletes, and more.  
"I am so incredibly honored and humbled by this appointment," stated Bredahl. "For the past four years, I have had the privilege to serve as the U.S. Dressage Assistant Youth Coach and have worked side-by-side with fellow USEF coaches, Debbie McDonald, Christine Traurig, and George Williams, as well as Technical Advisor Robert Dover. I am thrilled to continue to be part of this great team now led by Debbie [McDonald]. I am looking forward to supporting all our talented athletes and their trainers, and can't wait to jump right in!"
Christine Traurig will continue to serve as the U.S. Dressage Young Horse Coach, while George Williams will continue as the U.S. Dressage Youth Coach.
Related Links
Debbie McDonald to Lead USEF Developing Dressage Program
McDonald, Traurig, Williams, Bredahl to Speak at 2019 USDF FEI-Level Trainers Conference
Charlotte Bredahl Retires from Active Competition Career
Debbie McDonald Observing Horses and Riders in Hopes of Developing Elite Competitors for U.S.