Germany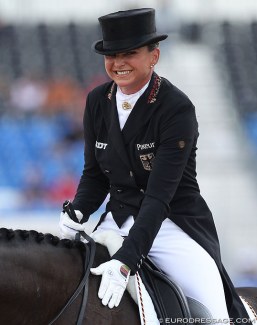 Not World and European Champion Isabell Werth, but Dorothee Schneider has topped the German National Riders Ranking of 2018. 
The German riders ranking is based on results achieved at national shows in the period 1 October 2017 and 30 September 2018. 
For the first time in 10 years Werth is no longer topping the ranking. This year Dorothee Schneider leads the pack with 145.174 points. Schneider achieved almost double the amount of placings than Werth, who finished second with 135.430 points. 
Jessica von Bredow-Werndl moves from 10th place to 3rd with 108.631 points. Fabienne Müller-Lutkemeier is fourth with 65.140 points, while Uwe Schwanz landed fifth place with 49.382 points. 
The highest ranked Under 25 rider is Lisa-Maria Klössinger in 17th place with 35.047 points. 
The Top 10 for 2018 is as following:
1. Dorothee Schneider (Framersheim), 145.174 points
2. Isabell Werth (Rheinberg), 135.430
3. Jessica von Bredow-Werndl (Aubenhausen), 108.631
4. Fabienne Müller-Lütkemeier (Paderborn), 65.140
5. Uwe Schwanz (Grub), 49382
6. Benjamin Werndl (Aubenhausen), 48.539
7. Bettina Schulte-Übermühlen (Apen), 45.775
8. Kathleen Keller (Hamburg), 41.197
9. Heiner Schiergen (Krefeld), 40.193
10. Sönke Rothenberger (Bad Homburg), 39.912
Photo © Astrid Appels
Related Links
Schneider and Pathétique Lift Off at 2018 CDI Randbøl
Faustus Wins the 2018 Otto Lörke Prize
Training Happy Horses with Riegler and Schneider
Showtime No Show at 2018 German Championships
Sönke Rothenberger Wins 2018 German Grand Prix Championship