Germany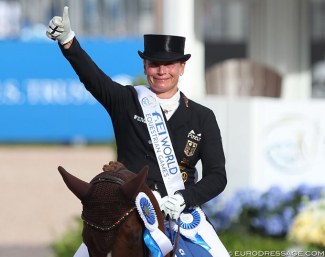 Olympic silver individual and gold team medallist duo, Isabell Werth and Weihegold Old, have topped the FEI Dressage World Rankings once again (2742 points), following their win in the Grand Prix and the Grand Prix Freestyle to Music at the 2018 CDI Stockholm.
The famous combination, who were number one for almost two years, from November 2016, only sat in second place for a couple of months behind Laura Graves and Verdades (USA), who won individual silver at the 2018 World Equestrian Games, where Werth chose to ride Bella Rose to gold.
The American duo now drop back to second place again with 2714 points.   
Dressage Queen Isabell Werth can be found three times in the top four of the ranking list, as she holds the third place with Bella Rose (2690 points) and the fourth place with Emilio (2658 points).
A number of other combinations moved up in the rankings, thanks to the CDI Stockholm and the World Cup qualifier in Madrid (ESP) on 23-25 November 2018.
Patrik Kittel with Delaunay Old (SWE) moved from the 97th to the 11th place (2280 points), whilst Daniel Bachmann Andersen and Blue Hors Zepter (DEN) jumped from the 175th to the 33rd place (2030 points). Claudio Castilla Ruiz and Alcaide (ESP) also made an enormous leap from the 118th to the 43rd place (1923 points).
With the FEI Dressage World Cup™ season continuing over the next few months there will certainly be more impressive changes in the ranking list. 
The FEI Dressage World Ranking list can be found here.
Photo © Astrid Appels
Related Links
Werth and Weihegold Bag the Money at the 2018 CDI Stockholm
Spain's Ferrer-Salat Posts Definitive Victory as Madrid Makes its Series Debut
Laura Graves is the New World Number 1