U.S.A.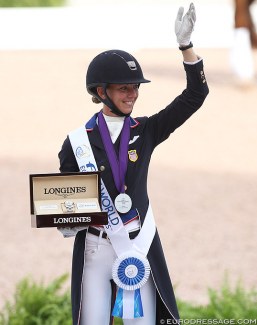 Olympic bronze medalist, Laura Graves has topped the FEI World Dressage rankings on 1 October 2018 thanks to their double silver medal placings last month at the 2018 World Equestrian Games in Tryon.
The famous combination has become the first American partnership to be ranked world number 1, as they took home silver in the Grand Prix Special and the Grand Prix competitions, boosting their ranking points to 2714 points, and placing them one point ahead of Germany's Isabel Werth and Weihegold Old.
"I'm just beside myself, and it certainly doesn't feel like a reality yet," said Graves, upon receiving the news. "What this horse has allowed me to do for U.S. dressage is extraordinary. We are so excited."
Isabel Werth (GER) and Weihegold Old have held the number one position for almost two years, when they took over from fellow German Kristina Bröring-Sprehe in November 2016.
Werth allowed this ground breaking change to the top spot  happen by choosing to ride Bella Rose and not Weihegold at the 2018 World Equestrian Games. Werth has no longer assembled any ranking points with Weihegold since the 2018 World Cup Finals in April. They are now pushed back to second place with a total of 2713 points.
Isabel Werth is still impressively dominant in the FEI World Dressage Ranking. She can be found in three more positions in the ranking list, at the third with Emilio 107 (2680 points, previously ranked second), at the fourth with Bella Rose 2 (2586 points, previously ranked 51st and at the 11th with Don Johnson FRH (2291 points, previously ranked 8).
The FEI World Equestrian Games were an opportunity for several combinations to move up in the rankings, with Charlotte Dujardin (GBR) and Mount St John Freestyle moving from 10th to 6th place (2416 points), whilst Kasey Perry-Glass (USA) and Goerklintgaards Dublet jumped from the 20th to the 14th position (2267 points).
A number of other well-known combinations have soared into higher ranking positions this month, with Jessica Von Bredow-Werndl (GER) and TSF Dalera BB moving from the 53rd to 22nd  position (2148 points) and Great Britain's Carl Hester and his mount Hawtins Delicato made an enormous leap from the 130th to 23rd spot (2145 points). Hans Peter Minderhoud (NED) with Dream Boy previously ranked 211th  managed to get to 41st place (1891 points), and Sönke Rothenberger (GER) with Cosmo jumping to 43rd place from 256th (1884 points).
As the FEI Dressage World Cup™ Western European League starts on 17 October in Herning (DEN), we will no doubt see some dramatic changes throughout the season, as these top international Dressage riders give good chase and maintain their world ranking positions.
The FEI Dressage World Ranking list can be found here.
Photo © Astrid Appels
Related Links
Bella Rose Blows Away Competition for Special Gold at 2018 World Equestrian Games
Werth Makes Winning Surprise Come Back with Bella Rose at 2018 CDI Fritzens
Graves Secured World Cup Finals' Ticket at 2018 Palm Beach Derby CDI-W
Laura Graves Beats Isabell Werth in Grand Prix Special at 2017 CDIO Aachen