KWPN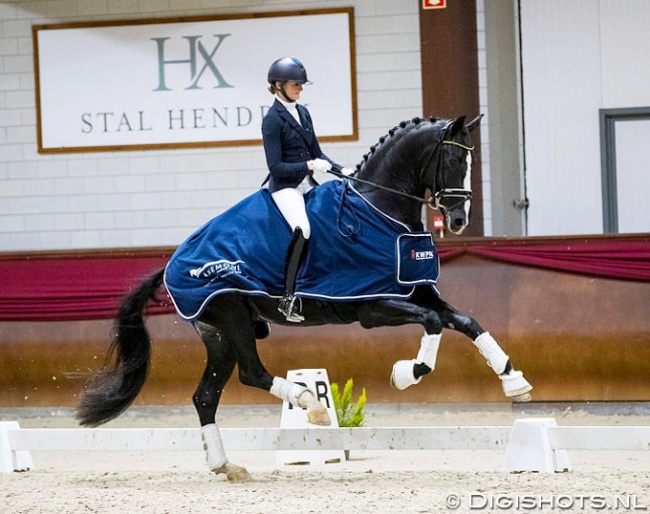 The 4-year old Jameson, the 5-year old Imposantos, and the 6-year old Hermes became the winners of the first qualifier for the 2019 KWPN Stallion Competition Finals to be held at the 2019 KWPN licensing in 's Hertogenbosch in February.
The first of three qualifiers took place in Kronenberg, The Netherlands, on 19 November 2018. The KWPN Stallion competition is mandatory for Dutch warmblood licensed stallions born in 2014 and 2015. Especially in the 5-year old division a large group of stallions were absent from the first qualifier: Invershin, It's a Pleasure, Inspire, Incognito, and Improver VDT. 
In the 4-year old division the 2018 KWPN autumn performance test winner and Pavo cup winner Jameson RS2 (by Zack x Negro) reigned supreme with 92 points ahead of spring performance test winner Just Wimphof (De Niro x Riccione) who landed second place with 89 points. Judges Gert van den Hoorn and  Mariette Sanders rewarded Marieke van der Putten and Jameson RS2 a 10 for canter, a 9 for trot and 9.5 for harmony and general impression. The walk needed a bit more ground cover. Renate van Vliet and Just Wimphof were not far behind. The third place went to Johnny Depp (by Bordeaux x Jazz) with 86 points.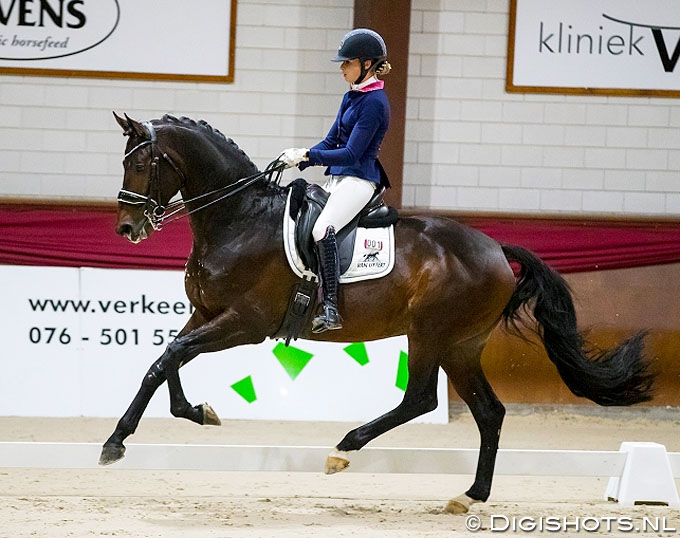 The M-level divisions for 5-year olds  was dominated by Bart Veeze aboard her World Young Horse Championship finalist Imposantos (by Wynton x Krack C). He took first place with 89 points, ahead of Emmelie Scholtens on the KWPN licensing champion Indian Rock (by Apache x Vivaldi) with 88 points. Veeze and Imposantos, who train with Eva Möller, earned a 9 for trot, 8.5 for canter, and 9 for harmony. Indian Rock got 8.5 for walk, trot and harmony. The canter earned 9.5. Renate van Vliet and In Style (by Eye Catcher x Lorentin) slotted in third with 85 points. 
Five combinations contested the 6-year old division at Z-level. With the horses turning 7 in 2019 several riders opted to present their stallions in a double bridle. Dinja van Liere and World Young Horse Championship bronze medal winning Hermes (by Easy Game x Flemmingh) won the division with 87 points. The  judges rewarded the harmony with a 9. Italian Riccardo Sanavio and the Austrian owned, German bred Trafalgar (by Totilas x Lord Loxley) were the runners-up with 84 points, while Van Liere and Geniaal (by Vivaldi x Biotop) were third with 83 points.
Photos © Digishots
Results - 2018-2019 KWPN Stallion Competition - Kronenberg
4-year olds/L-level
1. Marieke van der Putten - Jameson RS2 (by Zack x Negro) - 92
2. Renate van Vliet - Just Wimphof (by De Niro x Riccione) - 89
3. Renate van Vliet - Johnny Depp (by Bordeaux x Jazz ) - 86
4. Kim Koolen - For Ferrero (by For Romance x Don Crusador) - 85
5. Bart Veeze - Jerveaux (by Ferdeaux x Jazz) - 83
6. Franka Loos - Jayson (by Johnson x Negro) - 82
7. Emmelie Scholtens - Jamaica (by Desperado x Wynton) - 80
7. Gerrel Vink - Jheronimus (by Dream Boy x Jazz) - 80
7. Theo Hanzon - Johnny Cash (by Bon Bravour x Flemmingh) - 80
10. Kirsten Brouwer - Joyride (by Ampere x Jazz) - 77
11. Kimberly Pap - Jersey (by Vivaldi x Ferro) - 75
11. Jeanine Nieuwenhuis - Joop TC (by Ravel x Krack C) - 75
13. Jeanine Nieuwenhuis - Just for You (by Uthopia x UB40) - 74
13. Eric van den Wildenberg - Jones (by Negro x Krack C) - 74
13. Janine Drissen - Falihandro (by Furstenball x Dancier) - 74
16. Eva van der Linde - Jerenzo Texel (by Enzo Ferrari x Jazz) - 73
5-year olds/M-level
1. Bart Veeze - Imposantos (by Wynton x Krack C) - 89
2. Emmelie Scholtens - Indian Rock (by Apache x Vivaldi) - 88
3. Renate van Vliet - In Style (by Eye Catcher x Lorentin) - 85
4. Joyce Lenaerts - Iconic B (by Bon Bravour x Jazz) - 84
5. Laura Reija Belart - Imagine (by Chippendale x Jazz) - 83
6. Hans Peter Minderhoud - Dettori (by Desperado x De Niro) - 81
6. Femke de Laat - Intro K (by Apache x Rousseau) - 81
8. Nicky Snijder - I'm Perfect STH (by Zack x Fidertanz) - 77
8. Charlotte Fry - Inclusive (by Everdale x Uptown) - 77
8. Diederik van Silfhout - Impression (by Don Schufro x Ferro) - 77
11. Jennifer Sekreve - Il Divo (by Winningmood x Oscar) - 75
12. Franka Loos - Inverness (by Everdale x Johnson) - 72
6-year olds/Z-level
1. Dinja van Liere - Hermes (by Easy Game x Flemmingh) - 87
2. Riccardo Sanavio - Trafalgar (by Totilas x Lord Loxley) - 84
3. Dinja van Liere - Geniaal (by Vivaldi x Biotop) - 83
4. Jennifer Sekreve - Hitmaker (by Wynton x Cabochon) - 82
5. Remy Bastings - Hennessy (by De Niro x Jazz) - 78
Related Links
Imposantos, Total U.S., Gunner KS Win 2018 KWPN Stallion Competition
Trafalgar, Toto Jr, Four Legends Win 2017 KWPN Stallion Competition Finals
Toto Jr, Ferdeaux, and Electron Win 2015-2016 KWPN Stallion Competition Finals
El Capone, Desperado, Cupido Win 2013-2014 KWPN Stallion Competition
Desperado, Charmeur, Bordeaux Win 2012-2013 KWPN Stallion Competition Finals
Chippendale, Bon Bravour, and Apache Win 2011-2012 KWPN Stallion Competition
Bon Bravour, Amazing Star and Zhivago Win 2011 KWPN Stallion Competition Finals
Andretti, Zhivago and Wynton Win 2010 KWPN Stallion Competition
Zizi Top, Wynton and Vivaldi Win 2009 KWPN Stallion Competition
Wynton, Johnson, Dreamcatcher Win 2008 KWPN Stallion Competition Finals
Uptown, Tolando and Florencio Win 2006 KWPN/KNHS Stallion Competition Finals
Sandreo, Scandic and Rhodium Win 2005 KWPN/KNHS Stallion Competition Finals
Scandic, Ro-Lex and Prestige VDL 2004 KWPN Stallion Competition Winners
Rousseau, Paddox and Rubels Win 2003 KNHS/KWPN Stallion Competition