Germany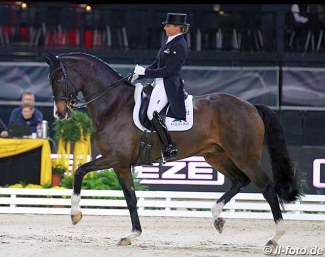 Dorothee Schneider's rising Grand Prix horse Faustus has become the recipient of the 2018 Otto Lorke Preis for the best upcoming young Grand Prix horse in Germany.
The award is given annually at the international dressage competition in Stuttgart in November. In the past only one horse would win the prize, but the past eight years, there were multiple recipients. For 2018 the selection committee of the German Olympic Equestrian Committee (DOKR) went back to one winner. 
Faustus is a Hanoverian bred Falsterbo x Forrest xx offspring owned by Gestut Fohlenhof. He is bred by Heino Bruns and initially owned by Andreas Bruns, who sold Faustus for 36,000 euro via the 2013 Hanoverian Summer Auction.
The bay gelding was started by Dirk Linden and two years ago he arrived in Dorothee Schneider's barn. They were the reserve champions of the 2017 Louisdor Cup (German Developing GP Horse Championship). In 2018 they have placed 17 times in a Grand Prix and Special, five of those were first places.
"Faustus has much aura, a lot of potential, no weaknesses in his basic gaits and many highlights," said Schneider. "In the show ring he's still a bit of the introvert type and can not yet show everything what is inside, but it's coming out more and more. I'm very grateful to the owner that I can train and present such a cool horse. He's a lot of fun."
Photo © LL-foto
Related Links
Schneider and Pathétique Lift Off at 2018 CDI Randbøl
German Team for 2018 CDIO Aachen Announced
Schneider and Faustus Bag First Victory on Show Debut at 2017 CDN Ankum
Faustus, Best Seller of the 2013 Hanoverian Summer Auction
Previous Otto Lorke Winners
Fabregaz and Heuberger TSF Win 2016 Otto Lorke Prize
Cosmo, Showtime, Emilio Win 2015 Otto Lorke Prize 
St. Emilion, Zaire, Weihegold Win 2014 Otto Lorke Prize
Dresden Mann and Bella Rose Win 2013 Otto Lorke Prize
Diva Royal Wins 2012 Otto Lorke Prize
Don Johnson and Desperados Win 2011 Otto Lorke Prize
Isabell Werth's El Santo NRW Wins 2010 Otto Lorke Prize
Balkenhol's Dablino Wins 2009 Otto Lörke Prize
Ulla Salzgeber and Herzruf's Erbe Win 2008 Otto-Lörke Prize
Monica Theodorescu's Whisper Wins the 2007 Otto Lörke Preis
Elvis VA Wins the 2005 Otto Lörke Prize
Alexandra Simons-De Ridder's Wellington Wins 2004 Otto Lorke Preis
Isabell Werth's Aleppo S OLD Wins 1999 Otto Lorke Preis 
Isabell Werth's Agnelli FRH Wins 2000 Otto Lorke Preis
Ann Kathrin Linsenhoff's Renoir R Wins 2001 Otto Lorke Preis 
2002 Otto Lorke Preis for Heike Kemmer and Ellen Schulten Baumer