2018 French Dressage Championships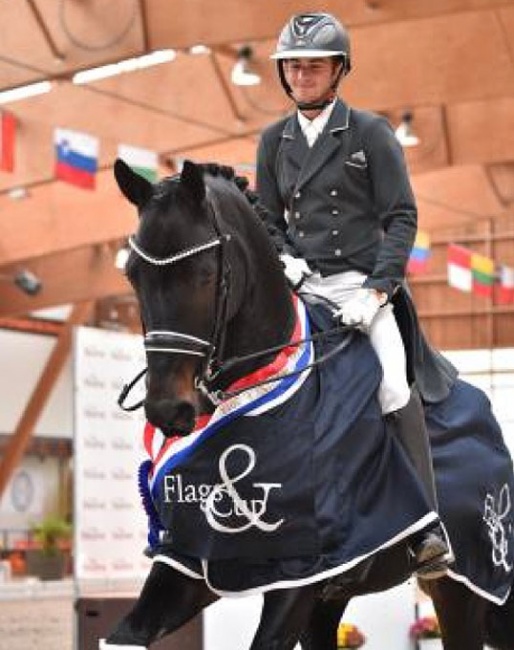 Former Under 25 Grand Prix rider Corentin Pottier rode Gotilas du Feuillard to the title at the 2018 French Dressage Championships for 7-year olds in Le Mans, France, on 18 - 19 October 2018. 
The French 7-year old Championships are held annually in Le Mans during the CDI indoor competition. This is the third, consecutive year that a Nationals for 7-year olds is being organized. Previous winners were Sertorius de Rima (Pauline Vanlandeghem) and Evita (Remy Issartel).
This year seven combinations participated in these Nationals and two tests are ridden to determine the title, gold medal and champion's sash.
After placing 12th in the Finals at the 2018 World Young Horse Championships, Pottier and the Dutch warmblood bred Gotilas (by Totilas x Ferro) also reigned on home turf. They won the warm up round with 78.559% and in the second test they scored 78.717% to clinch the title with an average of 78.638%.
"The horse was fantastic ! Both tests went really fluently, warm up as well as in the ring," Pottier told Eurodressage. "Everything seemed really easy to ride and fun. Gus was 100% with me although the indoor arena was quite nosy and impressive. He is such a generous and willing horse, I am a very lucky guy."
Pottier has been working on hard since Ermelo to consolidate the exercises on the black. 
"All movements got easier for him, flying changes are more secure and he has really improved in his frame and contact," said Corentin. "He has matured and lets me ask for much more, especially in the trot that I am now able to ride with more power. I have now ridden him over a year and feel like we are really a team, he trusts me and I know how much I can ask for without creating mistakes. He is also much more confident. The good example of that was the price giving. In Ermelo it was kind of yeeehaaa whilst in Le Mans it was Totilas style, super calm and majestic!"
The horse will now get a break from competition with some pasture time and hacking. He aims to move him on to the medium tour in 2019. "I hope we can start with medium tour in 2019 but I'm in no hurry and he will tell us what he is ready to do and when," Corentin added. "He is a special horse, we've decided to keep him although we had offers after the World Championship and the goal is to take him up to Grand Prix."
Lena Thouvenin and another former World Young Horse Championship participant, the Oldenburg Diamondgio LTH DressValue (by Diamo Gold x Pik Noir), became the runners-up at the French Championships with an average of 73.689%. The pair was third in the first round with 72.779% and second on the second round with 74.600%/
Alix van den Berghe and Catherine Sorieul's Hanoverian bred Denver (by Dancier x Carismo) scored the bronze medal with an average of 73.551%. The combination started off the championship with a 73.305% score and second place in the first round and then added a 73.796% to it after round two.
The other participants were Camille Flament (Life's Good Astola), Caroline Godin (Querida de Hus), Odile van Doorn (Flic Flac) and Belgian Dominique Mohimont (Genie).
Related Links
Vanlandeghem and Sertorius de Rima Win 2017 French Championships for 7-year Olds
Issartel and Evita Win 2016 French Championships for 7-Year Olds