Bits 'n Pieces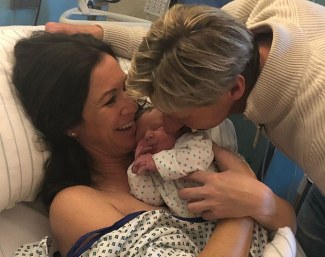 Australian Olympic dressage rider Lyndal Oatley has given birth to a baby girl, Emilia, on Monday 15 October 2018. 
Both mother and daughter are doing well.
"Overjoyed and full of love," Lyndal stated after delivering her first baby. "We are all doing well and blissfully happy surrounded by amazing family and friends."
"Today Emilia Oatley-Kittel, aka "Ems", joined us," said the proud father Patrik Kittel. "We are all so so happy.. it feels unreal, weird but so crazy good.. crying with happiness over the love for Lyndal and our baby girl."
As the delivery was a planned C-section, Lyndal had her support team on hand: her parents Andrew and Carol as well as her sister Nicky had flown in from Australia on the weekend.
Lyndal Oatley put her competition career on hold in 2017 and 2018 for a baby. Her last international competition were the 2016 Olympic Games in Rio. Oatley and Kittel got married on Hamilton Island in October 2010.
Related Links
Lyndal Oatley and Patrik Kittel Expecting
Lyndal Oatley's Sandro Boy Passed Away
Lyndal Oatley Secures New Ride, Elvive
Lyndal Oatley and Patrik Kittel: Partners off the Horse, Rivals on It
Patrik Kittel and Lyndal Oatley Acquire Connie Endres' Eulenhof
Oatley and Kittel Get Married
Kittel and Oatley Engaged