2018 Portuguese Youth Riders Championships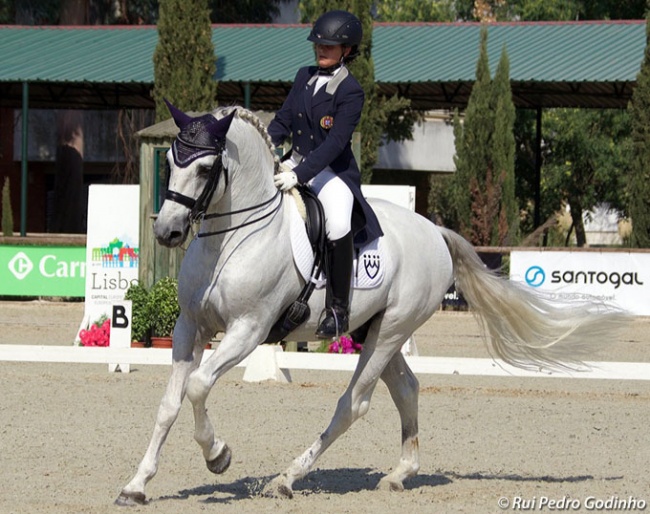 Pony rider Francisca Monteiro, junior rider Maria Mafalda Deitado, young rider Martim Meneres, and Under 25 rider Alexandra Gouveia became the winners of the 2018 Portuguese Youth Riders Championships that were held at the Lisbon International Dressage Show in Portugal's capital on 26 - 30 September 2018. 
Two pony pairs completed the FEI level pony championship and Francisca Monteiro and her 9-year old Westfalian bred pony Der Kleine Choco Boy earned the gold after scoring 70.952% and 73.073%. The silver medal went to Maria Miraldes Diogo da Silva and Bugio after posting 62.905% and 64.531%.
There was more action in the junior riders' division with ten combinations gathering in Lisbon. The most experienced rider of the lot, Maria Mafalda Deitado and the 12-year old Lusitano bred Bandolim (by Sueste), also took the highest step on the podium with a total of 198.172 points. Deitado placed far ahead of her rivals after scoring 64.818% in the team test, 66.029% in the individual, and 67.325% in a second individual test. Catarina Duarte Dias Velez de Melo and Zig-Zag QTA finished with silver on 192.866 points. She tallyed 62.667%, 64.059% and 66.140%. Justina Manuel Lopes Alves and Aviao got bronze with 191.230 points.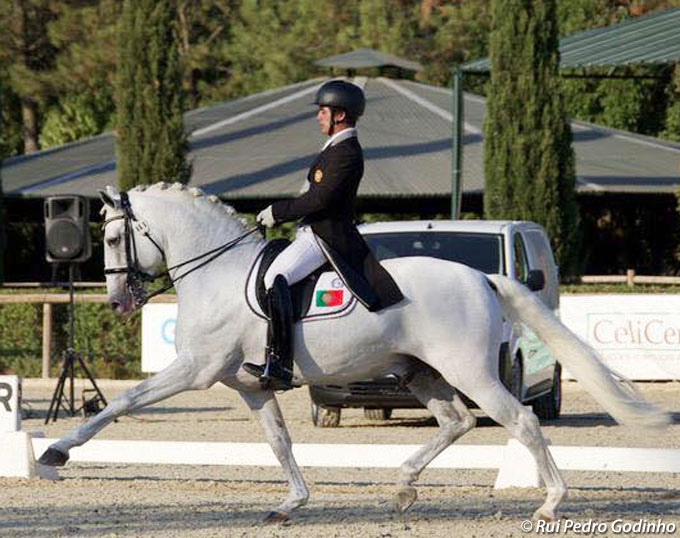 A smaller group of just five young riders battled it out for the team and the three podium places were captured by the riders that represented Portugal at the 2018 European Young Riders Championships in Fontainebleau, France. Meneres and the 9-year old Lusitano Equador (by Peralta Pinha) topped the board with 219.336 points after scoring 70.676% in the team test, 72.235% in the individual and 76.425% in the kur to music. With the victory he renewed his champion's title from last year. Yoann Pinto and the 10-year old Lusitano Douro (by Rubi) got silver with 197.887 points. This pair scored 63.206%, 65.206% and 69.475%. Catarina Lopes and the 8-year old Lusitano Falcao (by Barao Lagoalva got bronze with 196.971 points. 
In the Under 25 division three pairs were entered so each rider got rewarded with a medal for the effort. Alexandra Gouveia and the 13-year old Lusitano Artista earned gold with 191.294 points after scoring 61.706%, 61.538% and 68.050%. Maria Maneira Cancio and the experienced 15-year old Lusitano Xeque Mate (by Quadrado) landed the silver with 188.418 points. She received 62.235%, 60.333% and 65.850% in the three rounds. Mariana Assis da Silva and Vulcao scored bronze with 180.017 points.
Photos © Rui Pedro Godinho
Results - 2018 Portuguese Youth Riders Championships
Pony Riders
1. Francisca Monteiro - Der Kleine Choco Boy - 70.952 - 73.073 --- 144.025
2. Maria Miraldes Diogo da silva - Bugio - 62.905 - 64.531 --- 127.436
Junior Riders
1. Maria Mafalda Deitado - Bandolim - 64.818 - 66.029 - 67.325 --- 198.172
2. Catarina Duarte dias Velez - Zig Zag QTA - 62.667 - 64.059 - 66.140 --- 192.866
3. Justino Manuel Lopes Alves - Aviao - 63.212 - 62.353 - 65.665 --- 191.230
4. Louis Steyaert - Sir Alex - 61.818 - 63.324 - 65.125 --- 190.267
5. Nicole Antunes Silva - Evimar - 59.909 - 62.706 - 65.050 --- 187.665
6. Maria Beatriz Gonçalinho - Fidelius - 61.909 - 61.500 - 62.575 --- 185.984
7. Beatriz Reto - De Plaisir -  60.894 - 62.971 - 58.050 --- 181.915
8. Vania Filipa Duarte Alcobia - Forcado -  56.303 - 61.618 - 61.875 --- 179.796
9. Miguel Ferreira Dias - Xafarruço - 54.091 - 55.000 - 60.265 --- 169.356
10. Ana Carolina Gonçalinho - Bingo - 51.030 - 0.000 - 58.925 --- 109.955
Young Riders
1. Martim Meneres - Equador - 70.676 - 72.235 - 76.425 --- 219.336
2. Yoann Pinto - Douro - 63.206 - 65.206 - 69.475 --- 197.887
3. Catarina Lucas Lopes - Falcao - 65.765 - 63.206 - 68.000 --- 196.971
4. Alexandra Dias Fernandes - Distinto - 59.647 - 59.059 - 65.475 --- 184.181
5. Francisco da Cruz Vila Nova - Aereo - 60.853 - 57.029 - 63.775 --- 181.657
Under 25
1. Alexandra Gouveia - Artista - 61.70661.53868.050 --- 191.294
2. Maria Ines Cancio - Xeque Mate - 62.23560.33365.850 --- 188.418
3. Mariana Assis da Silva - Vulcao - 60.26558.69261.060 --- 180.017
Related Links
Daniel Pinto Wins 2018 Portuguese Grand Prix Championship
Monteiro, Lopes, Meneres, Caetano Win 2017 Portuguese Dressage Championships
Bartz, Meneres, Castelo, Caetano, Godinho, Cancio, Carvalho Win 2016 Portuguese Championships
Goncalo Carvalho Wins 2015 Portuguese Grand Prix Championships
Maria Caetano Wins 2014 Portuguese Dressage Championships
Castelo and Ralao Duarte Win 2014 Portuguese Junior and Young Riders Championships
Maria Caetano Crowned 2013 Portuguese Grand Prix Champion
Goncalo Carvalho Wins 2012 Portuguese Dressage Championships
Maria Caetano, 2008 Portuguese Grand Prix Dressage Champion
Miguel Ralão Duarte, 2007 Portuguese Dressage Champion