2018 CDI Lisbon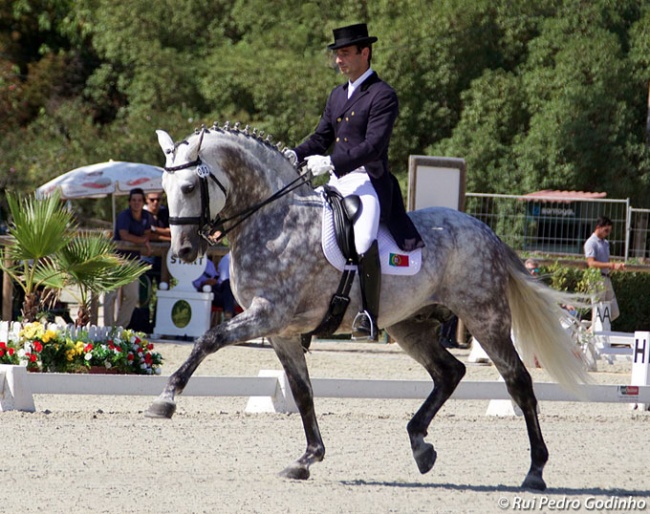 The Lisbon International Horse Show on 27 - 30 September 2018, saw more than 80 horses competing in the CDI and National Championships as riders and spectators were welcomed to four-action packed days of great competition and atmosphere. 
Spokesperson for the event, Maria Pais do Amaral, says that the judging was fantastic with several 4 and 5 star judges on deck.
"Francis Verbeek, Juan Carlos Campos, Christof Umbach, Hans Christian Mathiessen, Nicoletta Milanese and Carlos Lopes were all invited so riders could benefit from not only great weather and conditions but also great judging," said Maria. 
The CDI Lisbon Draws Out the Crowds
Amaral has assisted in the organization of the CDI Lisbon for the second consecutive year. "Sociedade Hípica Portuguesa was in charge of the organization of the event, and the team was led by myself, Miguel Costa Dias and Luciana Inácio," she explained.
The highlight of the event was the Saturday evening, with the Freestyles and finals of the championships.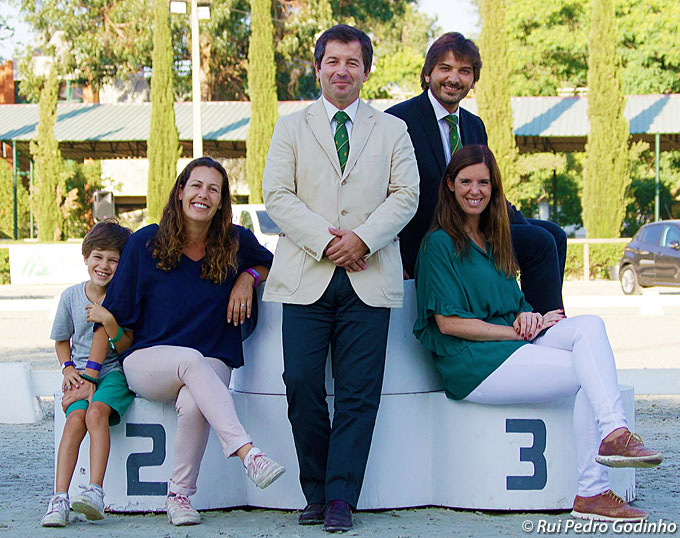 "We had a full house, with full benches, and a lot of dynamic. We also had an auction for a charity institution which was a success, where popular Lusitano stallions' coverings were auctioned for the institution. Besides that there was a tribute to the Young Rider, Manuel Vinagre, which was a very emotional moment for everybody." 
The International Rubi Prize was handed out for the second time, an initiative sponsored by Christine Jacoberger. The prize is awarded to the best Lusitano competing in the Grand Prix and the winner receives 2,000 euro. This year Rodrigo Torres and Fogoso were the recipients. 
Pony Pair Returns in Dtyle from their European Championship Debut
Back from their debut European championships, Portugal based Italian Lisa Bartz and her 12-year old palomino gelding Hemingway B (by Der Harlekin B x Derano Gold) took out both the pony tests with 68.943% and 69.973%. Lisa feels the Europeans really helped the pair deal with the pressure of competition.
"For sure the experience of the Bishop Burton 2018 Europeans helped me a lot. Facing the pressure of such an event was totally new for me since I had only participated in shows in Portugal so far," said Lisa. "I also quickly realized that my pony matched up against the best pony dressage combinations in Europe. It was also great to be part of a team to share experience with my team mates. Wearing a dress with the italian flag is also something to be proud of. It was a very motivating experience and i could learn a lot on every aspects just by watching how other teams were organizing their day with their ponies."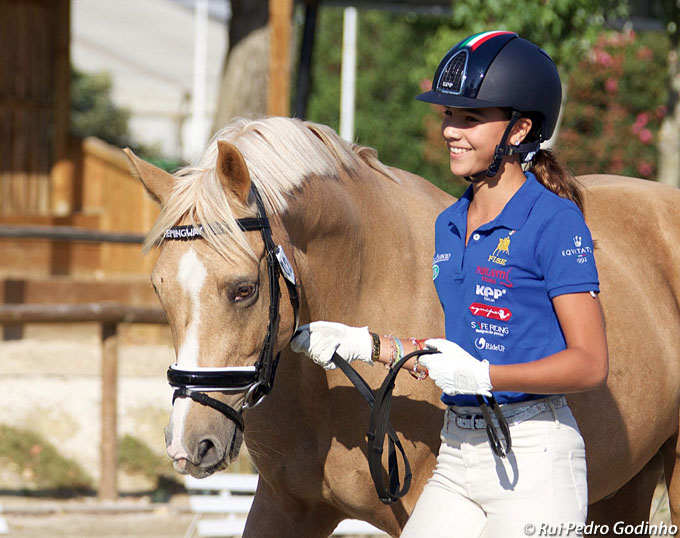 Three weeks prior to the Europeans, Lisa spent training in Germany with Stephanie Meyer-Biss. Her coaching was a huge help, particularly as Stephanie has trained some of the best ponies in the world (Dornik B, Danilo, Deinhard B).
The only one entered in the pony division at the CDI Lisbon, Lisa regrets that ponies are not part of the equestrian culture in Portugal which she believes is a serious low in the system.
"Most of the young riders over here want to ride horses and feel shame when they are on ponies. This is a big mistake in my opinion as riders learn a lot in the pony division. I will stay on my ponies till the age limit," Lisa stated. With her recent acquisition, 6-year old licensed stallion Derano B (by Dornik B x Golden Dancer), in tow 2019 will be an exciting year for Bartz who aims for the Europeans in Poland. 
Local Junior Girls Neck and Neck
Portuguese youngster Francisca Castro Monteiro won the junior team and kur tests with 66.788% and 68.675%, drawing with another local girl, Mafalda Deitado, to claim equal first in the individual on 66.029%.
"Unfortunately I had a problem with the national championship registration, which meant that the CDI tests did not count towards the title of national champion. Nevertheless I gave my best and won all the three days," said Fransisca. "My horse went very well and I felt he was confident throughout the competition. The highpoint of the CDI was the homage they did for Manel Vinagre, who left us prematurely last year.  It was an exciting moment that left everyone with a great feeling of nostalgia."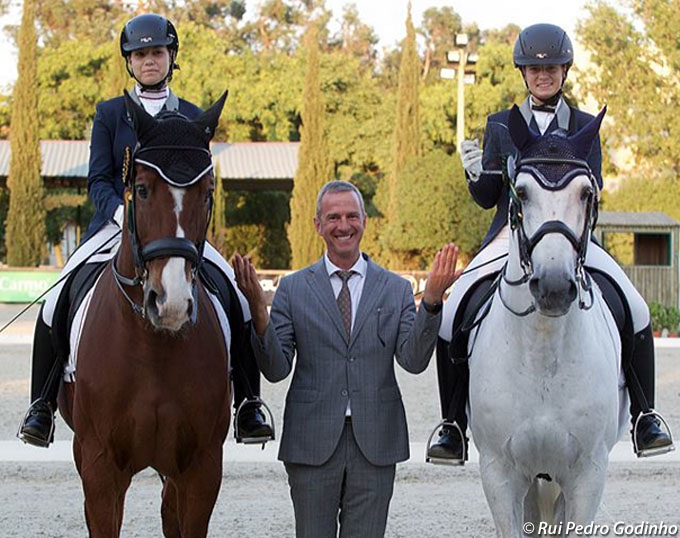 Fransisca's ride, Weserprinz (by Weserstar x Pathos) is 19-years old not growing out of his special personality. "He is a giant full of insecurities, who needs a firm but gentle leader," Fransisca commented. "He taught me that there is much more to do than to train and to do tests, we have to manage the horse emotionally because he is very sensitive and we have to keep him motivated."
Fransisca's hope for the future is to have fun without any major stress or worries, and she is grateful for all this horse has given her. "It has been a fantastic time that I did not expect. It was a very difficult transition from children to juniors but with fantastic results. My horse looks like a 10-year old so I let him tell us if we're going to do it next season."
Mafalda Deitado and her 12-year old Lusitano Bandolim (by Roma x Sudoeste) returned from their first European championship with a lot of new knowledge and experience, which helped them much with their development.
"Bandolim is always focused in his work and in the coming months we will work on perfecting the exercises. I think we still have a lot we can show," said Mafalda.
Young Riders with Bright Futures
Home hero Martim Meneres and 9-year old stallion Equador (by Peralta) claimed all three young rider tests with three scores over 70%!  "I feel it's the perfect end to the season as I was able to accomplish all of the goals I have established at both national and CDI level," said Martim.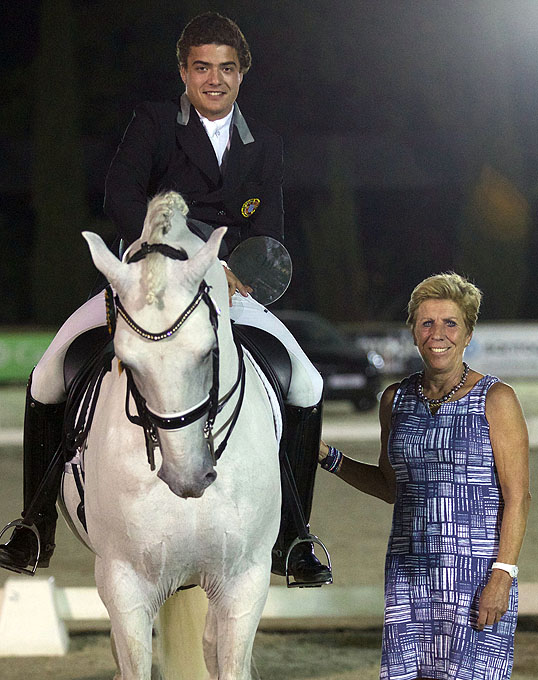 Scoring 76.425% in the Kur, Martim thought the freestyle was his moment. "Equador is a warrior and he has been with me since he was 5. He has the ability to learn daily and he tried his best every day," said Meneres, who aims to be an Olympian one day.  "We have been learning together with the help of my coaches as in the beginning Equador had never done dressage competitions and I also didn't have much experience in dressage."
For Martim the whole season was marked by the loss of his dear friend Manuel Vinagre who he misses very much. "But I feel he is always with me," he added.
Credit is also due for young rider Alexandra Dias Fernandes whose dedication is admirable. Dias Fernandes and her 10-year old Lusitano Distinto are new to the international scene and have been working slowly towards gaining confidence together. The first two days of competition the nerves got the better of her so it was nice to see her finish the final day with 65.475%, a 7% lift from the first two days.
Second Ever CDI for Small Tour Winner
In the small tour Tiago Alves won both the Prix St Georges and the Intermediaire I with 64.824% and 65.118%. Tiago says the weekend was incredible.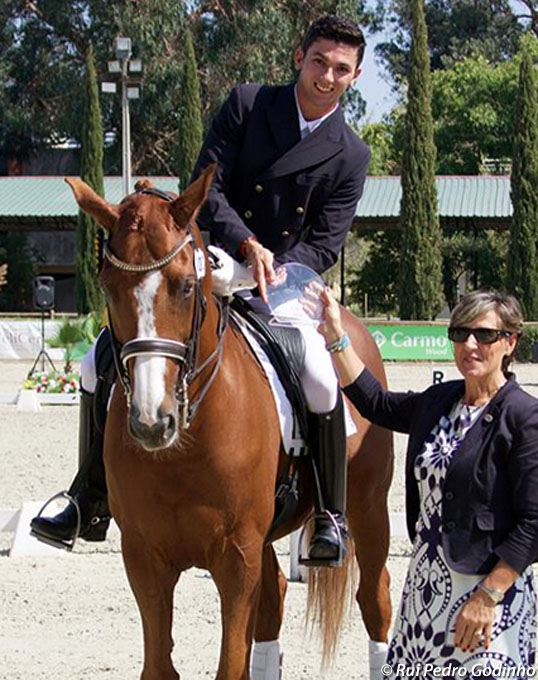 "Between the international dressage events and the presentation in honour of Manuel Vinagre, the show turned out to be a very special and unique weekend of dressage," Tiago stated. 
Tiago rode the 12-year old Hanoverian gelding Ramon (by Rousseau) who has been with him since November last year. Tiago says the horse has been teaching him a lot as he is a special character.
"Ramon is very suspicious, like a child afraid of the dark, and Pedro Torres has done an amazing job coaching us to help me gain the horse's trust and confidence," said Alves.
After his second ever CDI Alves explained that he has grown a lot as a rider over the past few months. He is learning the importance of the subtlety of the aids and the way the rider must not only help the horse to understand better, but learn to predict and therefore avoid things that may frighten or upset the balance of the horse. His goal for the coming months is to get to Grand Prix.
Three Wise Men Rule the Big Tour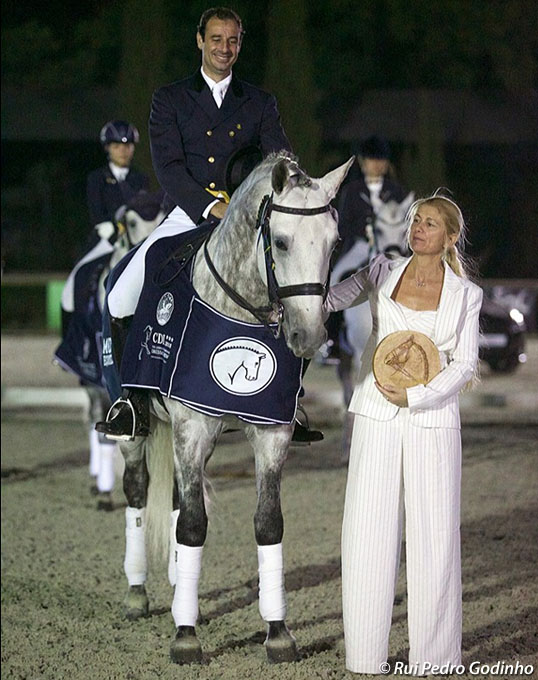 In the Big tour Rodrigo Torres and 8-year old Lusitano stallion Fogoso (by Rico) led the pack, taking out the Grand Prix and Grand Prix kur with 71.739% and 75.390%. Pedro Valente Torres and Csar came in second in the Grand Prix and Grand Prix Special on 64.348% and 64.617%, while Duarte Nogueira Beirao won the Grand Prix Special with 68.851%. 
"The weekend went very well," said Rodrigo Torres, who was called up to represent Portugal at the 2018 World Equestrian Games in Tryon, but declined the last minute offer as it was too strenuous for his 8-year old rising Grand Prix star.  Instead Torres opted to shine on local turf. "The event was very well organized with top judges, a top footing, and a top atmosphere!" 
With the competition very near to where Rodrigo trains, is horse arrived in the best condition possible. He felt honored by the feedback from the international judges about the evolution of Fogoso
"The highlight for me was the Grand Prix as I felt like we achieved a test that up until this point we had not yet accomplished. That gave me a huge sense of satisfaction, particularly as this is our first year in Grand Prix and we are already consistently achieving scores between 68% and 72% which is I think is very exciting."
Torres has a clear plan for Fogoso's future and is looking forward to 2019.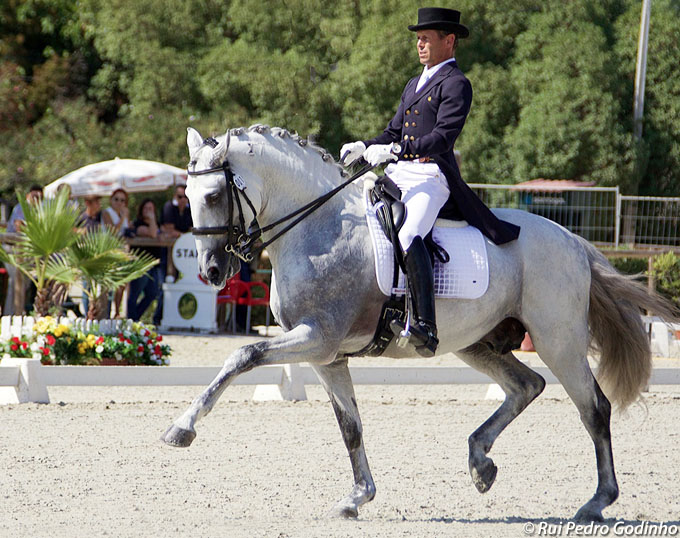 "The next few months I'm going to work with Fogoso on developing his physical and psychological performance and to improve his strengths and go competing without pressure or stress," he explained.  "My goal is to prepare our partnership for next years European championships at the level that this horse was born for!"
Pedro Torres was also super happy with 11-year old Lusitano Csar (by Soberano x Queixosa), particularly as he is also relatively new to Grand Prix level.
"We have been gradually improving his potential and I have been very careful to make the horse feel at ease and relaxed in the exercises as the goal is to sell the horse and I want to prepare him well for his future owners," said Pedro, who was proud of Csar especially in the Grand Prix Special as it was at night. "It was great to see Csar's confidence despite the shadows and atmosphere."
CDI Lisbon, a Return Event
Maria Amaral is thrilled with the feedback she gets from the riders, judges and spectators about the CDI Lisbon and she hopes that the team can keep the show as an annual event and improve on it every year.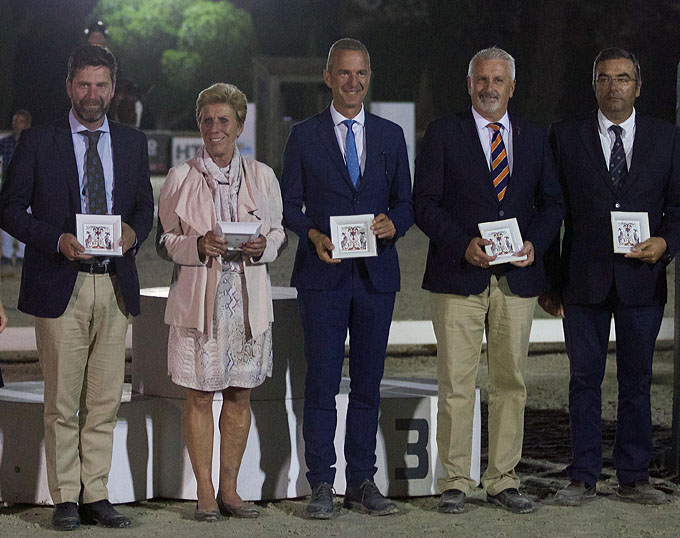 "Our goal was to provide riders with a great show in the south of Europe, which will gradually attract more and more international riders, who I am sure will enjoy spending some time in our beautiful city of Lisbon, at a facility with top footing for the horses and a complete agenda for the riders," Maria concluded.
by Sarah Warne - Photos © Rui Pedro Godinho
Related Links
Scores: 2018 CDI Lisbon
2017 Lisbon International Dressage Show Sets the Bar, First Step towards CDI Series
Monteiro, Lopes, Meneres, Caetano Win 2017 Portuguese Dressage Championships
Caetano In Winning Mood on New Small Tour Ride Biso das Lezirias at 2016 CDI Lisbon
Portugal's Best Strive for Rio Points at 2016 CDI Lisbon