2016 CDI Lisbon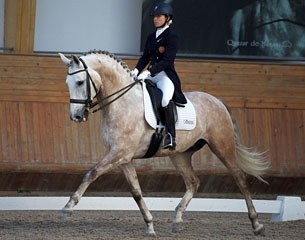 Portuguese Grand Prix team rider Maria Moura Caetano made her debut on a new small tour ride, Biso das Lezirias, and swept the Prix St Georges and Intermediaire I at the 2016 CDI Lisbon indoor competition in Lisbon, Portugal, on 29 - 31 January 2016. With only two riders contesting the small tour, the competition was not exactly fierce but Caetano posted top notch scores on the board.
Her newest FEI level horse Biso das Lezirias (by Solar dos Pinhais) made its international debut in Lisbon and scored 69.825% in the Prix St Georges, and 70.633% in the Intermediaire I.
"It was my first international with Biso das Lezirias and he is a very nice 8-year old approved Lusitano stallion bred by Companhia das Lezirias and owned by Manuel Luis Goucha," Maria told Eurodressage. "His owner is a very good friend of the family and fell in love with this horse a couple of years ago. He decided to invest in the dressage career of the horse, and choose me as the rider."
Maria described the grey horse as very charming and with good movements.
"I am hoping to get the horse out to some more CDI's this year. We will concentrate on the small tour for now, and next year I think he will be ready for Grand Prix," she said.
Caetano also brought along her rising Grand Prix horse to Lisbon, the 9-year old Coroado (by Rubi), which she showed last year at small and medium tour level. In Lisbon the pair scored 68,840% in the Grand Prix and 68,730% in the Grand Prix Kur to finish in third and second place respectively.
"Coroado did an amazing Grand Prix on Friday! It was his best test to date. He is doing very very well for his age and limited experience in Grand Prix. In the Kur he was doing a great test but he spooked in the canter because of the noise of the sound system.  Overall I'm very happy with him and he is my big hope for the Big Tour over the next few years.  Our main goal together will be the European Championships for 2017."
by Sarah Warne - Photo © Rui Pedro Godinho
Related Links
Scores 2016 CDI Lisbon