Great Britain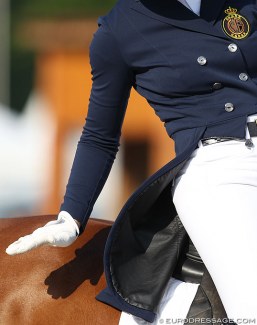 Not the FEI but the show organizers of the 2018 CDI-W London Olympia Horse Show have revealed more details of the shortened Grand Prix test pilot project which will commence at the London World Cup qualifier in December. 
On Thursday 4 October the FEI issued a surprise announcement about this pilot project and their intensions to shorten the Grand Prix with as aim "to maintain a pacey and interesting competition on the first day, keep the audience engaged, expose emotions with direct interview of the athletes still mounted at the end of the test."
Olympia has now disclosed more details about the pilot, who is a two-year project. 
The changes to the existing dressage format include significant alterations to the Grand Prix phase, although the test will still be judged and ridden in the same format as all other FEI technical tests and will continue to demand the highest level of technical ability, accuracy and precision. The Grand Prix changes include
A shorter Grand Prix technical set Test of five minutes
Music will be selected for each rider, by a professional Musical Director, for the Grand Prix Test, which will reflect each combination's personality and interests
After the Grand Prix, riders will remain in the arena to watch the Judges scores, which will provide immediacy and instant reaction
During the Grand Prix, spectators will be able to assess their own marking skills against the professional Judges
After each Grand Prix Test, riders will discuss their performance in a short interview in front of the audience.
"Collectively, it will give the audience a Masterclass from the rider's perspective over the entire competition," Olympia said about those mini-interviews.
Richard Davison, Dressage Consultant to the Olympia Organising Committee, who has been working together with the FEI on the project said, "The World Cup series is a really important opportunity for us to showcase dressage and widen its appeal. This pilot project is an exciting initiative aimed at adding considerably more spectator appeal, while maintaining traditional dressage values and a highly competitive format."
Simon Brooks-Ward, Show Director, said: "This new format is not a gimmick or a theatrical experiment. I have been convinced, for some time, that Dressage in the World Cup Series has been underperforming against its potential. Unashamedly – and I believe quite rightly – we want to make the Grand Prix evening at Olympia as meaningful, relevant and exciting as the Freestyle night. Two cracking nights of elite competition will do a lot to improve Dressage's visibility amongst those who have not been initiated into the complexities of the sport."
Lovers of the classical dressage are disgruntled that the ultimate dressage test, the technical Grand Prix, is being tampered with for the sake of entertainment and at the cost of the principle goal of dressage: to achieve harmony, relaxation and lightness. 
Related Link
FEI To Test Shortened Grand Prix Version at 2018 CDI-W London