FEI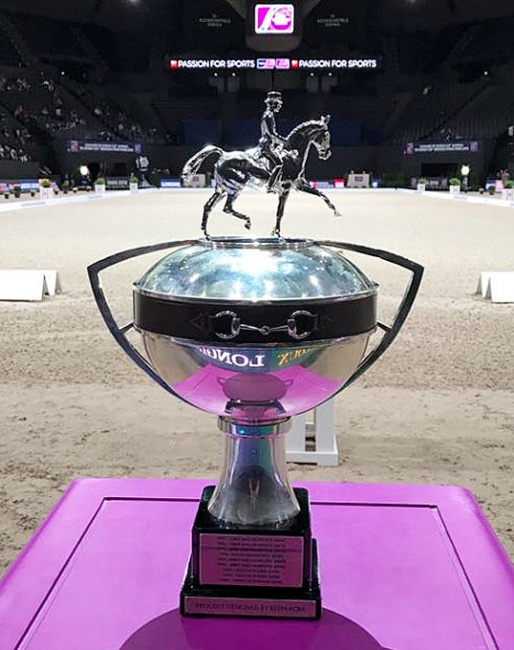 In the FEI's obstinate pursuit to make dressage more accessible to the masses, lower its threshold to be watched and understood by leymen, and in a desperate attempt to woo television stations, whose role is every decaying with the advent of on-demand online streaming, the FEI has decided to test a shortened Grand Prix test as warm up class for the freestyle on the World Cup circuit.
The first time this unpublished, new shortened Grand Prix test will be tested is at the 2018 CDI-W London in December.  
"The aim of this pilot phase is to maintain a pacey and interesting competition on the first day, keep the audience engaged, expose emotions with direct interview of the athletes still mounted at the end of the test," the FEI stated in a press release.
The majority of the riders, trainers, experts, stakeholders and press has not seen this shortened version and it is only a guess which parts have been removed or shortened. However it is more than plausible that time consuming movements - which test the essence of classical dressage: relaxation, harmony and throughness - will get tampered with!
"The short Grand Prix test will be published as an annex to the approved schedule of the FEI Dressage World Cup qualifiers, CDI-W London Olympia 2018," the FEI stated.
The concepts of interviews at the end of the ride has already been tested in Germany with the Nurnberger Burgpokal and Louisdor Cuo qualifiers in Germany. Instead of giving the horses a proper cool down to prevent injury after a strenuous effort in a competitive test, riders will now be asked the stop and speak about their ride on a panting horse to please the crowds. 
The allocation of points system for the World Cup Series will remain unchanged and all rules pertaining to the FEI Dressage World Cup™ are applicable. World Cup points are earned based on the results in the freestyle, not the warm up (short) Grand Prix. 
Photo © Astrid Appels
Related Links
Head of FEI Officials to be Appointed, Recommendation for Code of Conduct
Six Candidates for Seat on FEI Dressage Committee 2018-2022
Ingmar De Vos Sole Candidate for FEI Presidency, Ferrer-Salat and Kittel Aim for FEI Rider Rep Seat
Blood Disregarded at 2016 CDIO Rotterdam?
David Stickland: "We Have to Use Statistics to Give Insight to Dressage Judging"
David Stickland: Moving Towards a Stable Score Future
Wayne Channon: Judging Accuracy - an Oxymoron?