2018 British Young Horse Championships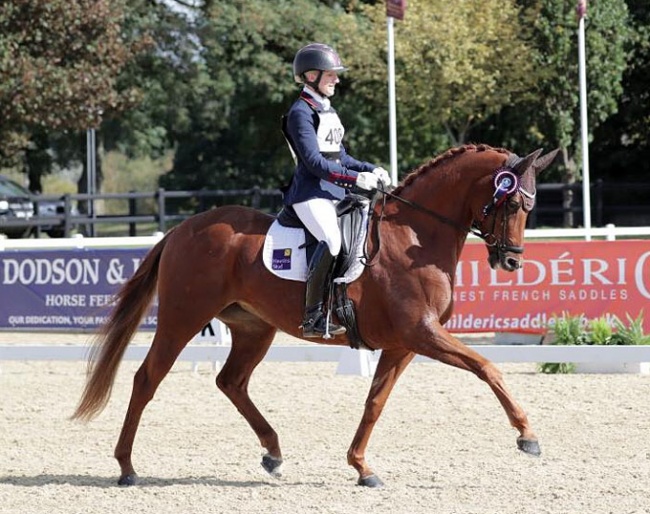 The 4-year old Hawtins Lirica, the 5-year old Izonik and the 6-year old Hawtins San Floriana became the winners of the 2018 British Young Dressage Horse Championships held during the Nationals at Stoneleigh Park on 20 - 22 September 2018. 
The British Young Dressage Horse Championships are a highlight of many visiting the 2018 British Dressage Championships and have seen many equine celebrities, both past and present, claim the titles through the years. This year's series has without doubt been a wonderful showcase of British breeding, riding and training. 
Hawtins Lirica Wins 4-year old Championships
Gloucestershire-based breeder Judith Davis and her team have much to celebrate following a successful Sunday in the Young Dressage Horse Championships for four-year-olds.
The ballerina-like mare Hawtins Lirica, presented by Lucinda Elliot, was named Champion in her age group with stable mate Hawtins Fianello moving up to the reserve position following the rider judging.
The Young Horse classes are a firm favourite with the Stoneleigh crowd and with star German rider/trainer Eva Möller returning to guest judge, today's tests were a highlight once more. To add to the experience, FEI 5* judge Isobel Wessels provided a riveting commentary of the class via Radio Nationals. Isobel has many times judged the World Young Horses and next week will head to the Swedish Young Horse Championships to look at their four to seven year old horses.
Isobel started the class by commending the many horses, riders and breeders who take part in the Shearwater series year after year, "Hundreds of horses come forward for this Championships, 40 go to the Semi Finals and we see only 10 at each level here so well done to all of the finalists that made it here. It's an amazing standard."
The four finalists from Saturday's pre-judging are each ridden by Eva Möller who adds her opinion to that of the judges panel on the ground, Ulf Möller and Maria Colliander.
The first horse to be put through the magic Möller system was yesterday's top scorer Hawtins Lirica (Lemony's Nicket x Hawtins Delizia). The light-footed mare behaved impeccably with both her home rider Lucinda and guest rider Eva. Over Radio Nationals Isobel commented, "It's a really nice type of horse, it wants to move through the body. This mare can control her front leg and clearly there will be a talent for piaffe and passage in the future. I like this horse, she's very elastic and her conformation her back is a bit low – she needs to be given a lot of time to develop musculature but her trainability and expression is all there."
Finnish judge Maria Colliander provided an arena side summary of the dainty yet powerful mare, "She's a lovely horse, very expressive and really taking the rider with her – clear paces and well balanced."
Next up for judging was SJL Baks Zacco, a handsome son of Blue Hors Don Romantic owned by Sara Lucas. Isobel Wessels praised the horse's conformation, stating that his compact frame and well-muscled back would be highly beneficial in the future. "He's very well developed for a large horse," she said, "I'd like him to stretch his frame a little longer and swing more over the back. He's a very talented horse but very different to the first horse. Every horse has different talents and different levels of development."
Maria Colliander added, "This is a very solid horse, he has a good contact, always listening with three clear paces. We'd like more freedom in the shoulders but this is something that can be improved with age, power and good riding."
Judith Davis's second horse to be presented in the final was the eye-catching chestnut gelding Hawtins Fianello (Floriscount x Hawtins Cardinal Virtue). "Now this is a very impressive looking horse," Isobel Wessels remarked, "This is a horse who as his engine starts to work more and the contact is taken forward can make beautiful transitions with a good connection. It's a wonderful type - very expressive and elastic. He looks like he wants to work, gives a nice picture and in his development is secure."
The judges by the side of the arena were also duly impressed. "Here we saw a very energetic worker," said Maria Colliander, "Ulf [Moller] says he's a bit over motivated to be the best kid in the class – he loves his canter and that's his pace. It's a lovely powerful pace with good jump in the hind leg and activity."
The fourth and final horse to be presented in the four-year-old age category was Matt Frost's G Star, by Gandhi. "The horse is a little hurried and I'd like to see him take the rein forward, swing through the back and soften," Isobel commented, "a slightly more suspended feeling would be great. This horse's canter is his highlight and after the canter the trot improves."
Maria concluded, "This horse is the baby of the group in comparison with the others, Eva put her finger on it that the horse needs development in the connection and the elasticity over the back. The trot needs more power but the walk is very good."
After a final consultation between the judges the final order was confirmed, Hawtins Lirica, Hawtins Fianello, SJL Baks Zacco and G-Star.
Proud breeder Judith Davis can add now one more title to her vast collection from the National Dressage Championships – it was not too long ago that Carl Hester first spotted his WEG star Hawtins Delicato in the Shearwater five-year-old Championships in the same arena.
Speaking about her stars of today Judith said, "It's an amazing achievement just to make it to Sunday's final let alone win! To have first and second is amazing, Lirica is truly special and Fianello is a very very good horse too. We produce for the long term so these horses have come here off the back of a summer break. They've never done anything like this so I'm very impressed.
"Lirica is a very brave horse, she's even been leading our older horses around the show ground. I was thrilled to bits with them yesterday, and today has been a dream. I'm really pleased for Bryony and Lucinda, they work so hard, they love the horses and they work very well together."
Both Judith and stable jockey Lucinda Elliot credited Serena Pincus as a large part of their success. Serena has trained the stable for just over a year and both breeder and rider were keen to sing her praises.
Izonik is the 5-year old Champion
The impressive young stallion Izonik, produced and presented by Kerry Mackin, was this afternoon crowned the 2018 British Young Dressage Horse Five-Year-Old Champion. The exciting young stallion, who is by Zonik and out of a Jazz mare, impressed ride judge Eva Möller to maintain his first place position after yesterday's assessment and preliminary judging.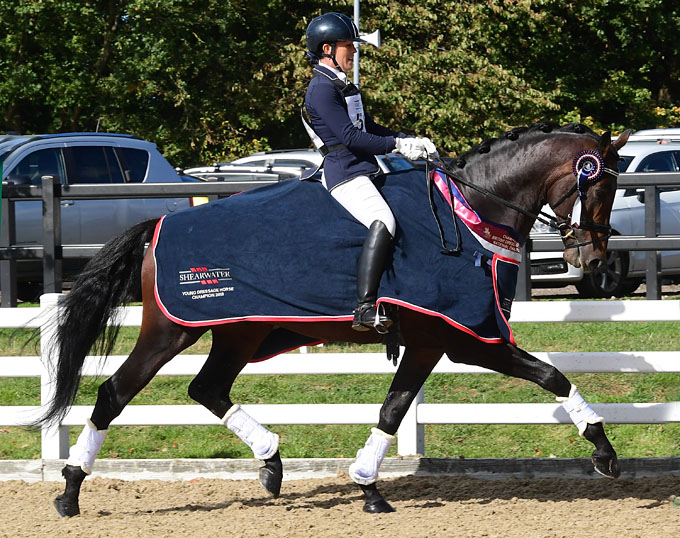 The ultimate winner – Izonik who is co-owned by his rider and Rowan Bryson - was the first in the arena for the final judging under Eva. "He's a very impressive horse," commented Isobel Wessels. Looking at him it's difficult to believe he's just five. He's well-muscled with a lot of propulsive power, and he has gears. He creates a lovely picture of ease and elasticity, and has a lot of airtime in canter.
Co-commentator John Bowen said; "He's a lovely horse, a super type. He presents a lovely picture and is very elegant. He's maybe a little weak in the middle but he will develop into a super horse. He looks a little tired in the hind leg today, but he's already competed in the Novice and Elementary classes here. Also, you cannot underestimate the pressure of staying away from home and how tiring it is for the horses."
Maria Colliander, who judged the Shearwater Young Horse Championships alongside Eva and Ulf Möller, summarised; "We saw a horse with absolutely clear paces. The walk is a highlight, the trot absolutely in rhythm. He could maybe have been a little sharper behind, but the canter is big and nicely balanced. He could have a little more connection over the back, but he did respond well to Eva's questions.
Next up was Nikki Barker with Sara Lucas's Iwan, a gelding by Charmeur. "He's a beautiful horse with a lot of expression," said Isobel, "though he's not always on the hind leg enough, yet. I like him - he's a very good horse. Nikki is a good rider and she'll have a super horse to ride and train!
"He's not as smooth as Izonik, but he's incredibly uphill. He manages the smaller circles very well and is 'thinking' about a flying change. He has a tendency to go away, rather than stay on the hind leg, but in a few years the extended canter will eat up the ground. He's just looking a little for Eva to help him."
Maria Colliander commented; "That was very nice to watch. We saw a horse with a nice forward attitude. He likes his work and is willing to go. The trot is rhythmical, the canter has a lovely jump, and the walk is clear.
Third in was Kiss and Tell, presented by Matthew Baker and owned by Roland Tong, on only the horse's third show. Isobel said; "He certainly has the x-factor. He has a huge engine. He's a bit behind the others due to a year out, but he's a lovely horse. He has a very nice knee action, is very active with the qualities for Grand Prix. He throws himself away a little in the canter transition, but once she [Eva] has him, it's a powerful canter with lots of airtime. You need quickness with power, and this horse has it. He now just needs a bit more suspension which will come with self-carriage. It's a lovely picture and he looks like a treasure of a horse to me. In my case, I call it the 'teddy bear factor'!"
Maria commented; "He was a positive chap. He wanted to do what Eva wanted him to do. He has a big canter. I'd like to see a slightly sharper hind leg in canter but he has clear paces with a good relaxed walk."
The final horse forward was Amy Woodhead and Hero. "This is another huge horse," said Isobel. "The natural balance is not quite as good as the others, the nodding in canter is indicative of that and he could be more 'through' in the body."
Maria commented; "He's five-years-old and a little like a teenager. He has quality in all his paces but could by nature have a bit more go, be more in front of the rider."
So the final order was announced: 1st Izonik, 2nd Iwan, 3rd Kiss and Tell, 4th Hero.
"It's been such an amazing journey," beamed Kerry Mackin who has produced the horse from the very start. "He's been an absolute perfect gentleman, the whole way through our journey."
"It's quite emotional for me as it's my last ride on him," said Kerry who relinquishes the ride and ownership to his current co-owner Rowan Bryson. "He's an incredible horse with an incredible brain and I just couldn't be happier today.
"I'm so happy that the judges thought he'd come on so much since last year [when reserve four-year-old champion], as I haven't had any training on him. I've done it all myself and not even had one lesson on him," said Kerry.
"He's a lovely horse. At home he's dead chilled. The only thing we all cringe at is that when you put him in the stable, he rolls like mad!" she laughed. "So he's a bit of a dinosaur in the stable, but apart from that he's easy. With his training he never says no, he tries everything and he gave everything yesterday in that test, probably one of the best extensions he's ever done. He's a big boy and it's taken him time to gain strength, but he's incredible. I'm ecstatic."
Hawtins San Floriana is the 6-year old Champion
A competitive six-year-old Championship saw Charlotte Dujardin take on two mares who've visited the World Breeding Championships for Young Horses plus an impressive rising star from the Headmore Stud.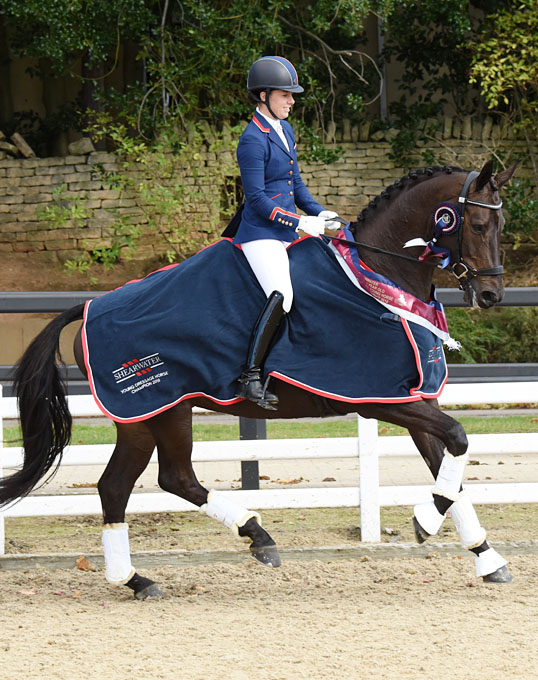 An intense battle resulted in a win for Charlotte with her own and Carl Hester's Hawtins San Floriana, who displayed the same quality today that gifted her both the four and the five year old titles previously to complete her set in style.
In front of a knowledge crowd, Amy Woodhead's ride MSJ Zonetta went first under the expert guidance of Eva Moller. "The canter needs to jump through more and show a little more ground cover and uphill tendency," Isobel said over Radio Nationals. "The expression is getting better and better, Eva gave the horse plenty of time to get going in order to find out more. The hind leg reaches more and more under the body and she is improving through her core."
Maria Colliander delivered the judges verdict: "Here we see another Zonik offspring with a very big and good walk. I think that at the beginning the horse lacked a little bit of enthusiasm to listen to the rider but she responded well and Eva mad a big difference. The walk is big and clear, the trot has perhaps a small tendency to hurry at the start but is in rhythm, the canter could perhaps be a bit more under from behind with more shoulder freedom but the horse shows a clear ability to collect."
"Next we see a really classy horse, but she's not always perfect – she can be a little short in the next and too hot to handle," Isobel said of Hawtins San Floriana, Carl Hester and Charlotte Dujardin's outstanding daughter of San Amour. "The croup can also come a little high at times, that said she oozes class and character, combined with endless energy and elasticity. The mare wants to go, she doesn't want to hang about! Eager to go and eager to please." The mare, another bred by Judith Davis of Hawtins Stud, is a descendent of foundation mare State Premium World Finest who is also the grandmother of Hawtins Delicato… talent clearly runs in the family!
Reiterating Isobel's points, the judges said "Well, I have to say we liked watching this! It's an impressive looking mare with a lot of stage presence, all three paces are absolutely clear. If the walk in the first qualifier was tense, today it was clear and nicely relaxed in the end. The trot has a wide range to come and go and the canter shows underlined clear ability to collect! She's really willing and ambitious, at times this takes over with a little tension but it's a very nice horse."
"This mare looks nice with little Eva on board!" Isobel commented on Sara Gallop's BKS Fantasia, the third horse to be assessed in the six-year-old category. "The picture is really nice, Eva will try to get the horse more over the top line and ask to be allowed in a bit more. The trot can be a bit edgy but the horse accepts the aids willingly." BKS Fantasia is a delightful black mare by Furstenball standing at 15.3hh, "this little lady's got big presence and big movement" the commentary team at Radio Nationals cooed.
Maria Colliander contributed, "We see here a really very pretty, feminine, light-footed horse. She's energetic with an active hind leg, listening to the rider her energy can take over a bit! The rhythm can get a bit hectic, but it's a nice horse with three workable paces."
Belissimo M is renowned for producing nice horses with nice character, Alice Oppenheimer's mare Headmore Bella Ruby certainly lives up to the reputation. "Headmore stud have bred some wonderful wonderful horses, Bella Ruby looks a little tired today but we've got to remember that the weather and staying away in temporary stables does have an effect on these young horses." Isobel continued, "The back can tighten a little and she could carry herself up and out a bit more with the neck, but she's a beautiful horse."
Commenting on the final horse of the Shearwater Young Horse Championships Maria Colliander said, "She's a nice horse with three clear paces, we'd like her to work more from behind with a more supple connection to bring the forehand up in trot. The canter has a strong jump, the trot was in a nice rhythm with ability to collect and extend. She could show more freedom in walk. It's a horse willing to work with the rider, but otherwise she did listen and she did work for Eva."
With the class complete, the prestigious title was awarded to Charlotte Dujardin and Hawtins San Floriana, BKS Fantasia moved up a spot from the pre-judging assessment to take the reserve spoils whilst MSJ Zonetta claimed third. In her prize-giving interview Charlotte expressed just how much she thinks of her brilliant horse, "She's a Rolls Royce! She's so smooth and elastic, and she's got so much character. I can't ask for much more than this horses, she is amazing."
The win saw the curtains close on an immense week for Charlotte, speaking about how valuable the LeMieux National Championships experience is she said "I don't think there's another show in the world that's as electric as this show. There's a lot happening here, you've got flags, you've got tents flapping, you've got horses moving around you all the time, you've got applause in your tests. We don't get to go anywhere else where you have that. The horses have to learn to deal with the pressure of this sort of environment so being here with the young ones is great."
Charlotte thanked Sadie Smith and Katie Bailey once more for keeping the horses running throughout the World Equestrian Games, as well as all the team behind the scenes for their support. "I had two days to prepare and as the week's gone on the horses have got better and better – I'm a perfectionist so whilst my preparation wasn't ideal I've been so pleased with the horses and the results."
Text by British Dressage - Photos © Kevin Sparrow
Related Links
Waverley Dante, Hawtins San Floriana, Mount St. John VIP Win 2017 British Young Horse Championships
Hawtins San Floriana, Mount St. John VIP, San Marco Win 2016 British Young Horse Championships
Hawtins Duchessa and Florentina Win 2015 British Young Horse Championships
FJ Veyron and River Rise Escarla Win 2014 British Young Horse Championships
Eldorado and Romanno Stromboli Win 2013 British Young Horse Championships
Romano Ruinart, Zolansky, Royal Concert Win 2009 British Shearwater Young Horse Championship
2007 British Dressage Young Horse & Breeding Championships