2018 Hungarian Dressage Championships
Pony rider Hanna Hoffer, children's rider Lucia Lokos, junior rider Jazmin Yom Tov, young rider Reka Zengo, and senior Grand Prix rider Nikolett Szalai were the winners of their respective divisions at the 2018 Hungarian Dressage Championships held in Budapest, Hungary, on 30 August - 2 September 2018. 
This year the young horse, youth and senior championships were hosted together at one all-comprising Hungarian Dressage Championships in capital Budapest. 
Hoffer, Lokos, Yom Tov, Zengo Win Youth Gold
In the pony division experienced FEI pony rider Hanna Hoffer and her 10-year old palomino Macciato (by The Breas My Mobility x Bogenschütze) was a league of her own scoring consistently round 70% and grabbing the gold far ahead of the rest. Hoffer scored  69,722%, 71,619%, and 70,360% in the three rounds.
Twelve combinations contested the children's division and Lucia Lokos slowly climbed her way to the top of the podium on Fatuna S. In the first round the competition was close on her heels as there was a tie in first place with 68.718% but Lokos moved ahead in the team and individual test with 70.769% and 69.107% and became the national champion.
At junior riders' level the Dutch based Jazmin Yom Tov steered her 8-year old Hanoverian gelding Dodge Ram (by Desperados x Westernhagen) to the gold medal with a very clear lead over her rivals. Coached on the scene by Sjef Janssen, Yom Tov and her 2016 World Young Horse Championship ride Dodge Ram posted 69,091%, 70,735%, and 72,225% for the overall victory.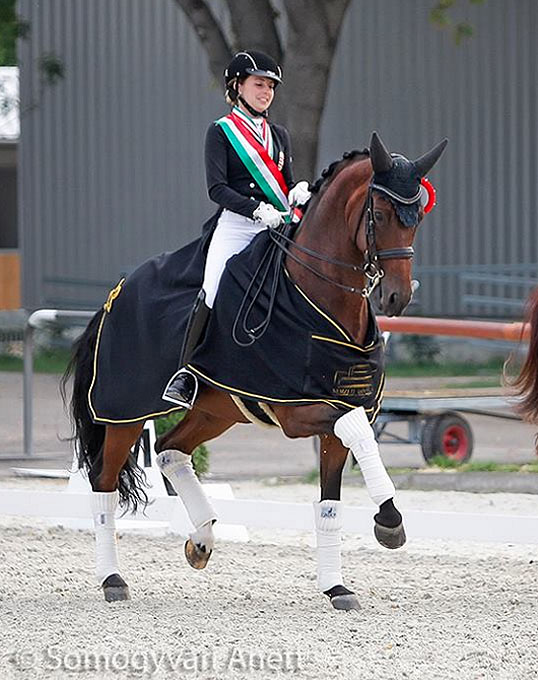 At young riders level, five pairs vied for the three medals and Reka Zengo topped off a great year with the national title. After placing 18th in the Kur to Music finals at the 2018 European Young riders Championships, Zengo and her 14-year old Bavarian bred Ronaldinho (by Rivero II x Royal Diamond) also won the Hungarian Young Riders Champion's title with 70,490%, 70,392%, and 71,750%.
Title Hattrick for Szalai
In the senior division Nikolett Szalai made it a triple, winning her third consecutive Grand Prix title aboard her 13-year old Hanoverian Willy the Hit (by Wolkenstein II x Brentano II). This year Hungary was strikingly absent from international Grand Prix competitions after writing history last year by fielding a full team at the 2017 European Championship. No World Equestrian Games for Hungary, but at national level no less than 13 combinations battled it out. Szalai won the title with the overall high score of 206.883%, but she only won the first round, the Grand Prix, with 68.794%. In the Special she was third with 67.804% and fourth in the freestyle (70.285%). Robert Acs and the 11-year old Oldenburg stallion Fioretto (by Fidertanz x Dormello) scored silver with 65,588% , 66,261%, and 72,330% (total 204,179%), while Viktoria Nebel and the 11-year old Oldenburg bred Quite Right (by Quaterback x Paradiesvogel) finished with bronze on a total of 203.640 points after scoring 66,441%, 66,739% , and 70,460%.
Photos © Anett Somogyvári
Results - 2018 Hungarian Dressage Championships
Pony Riders
1. Hoffer Hanna - Macciato - 69,722% - 71,619% - 70,360% --- 211,701%
2.  Rajnai Emerencia - Comtesse van de Beekerheide - 66,620% -  66,667% - 68,694% --- 201,981%
3.  Nagy Rita Laura - Dano's Miracle - 67,083%  - 66,429% - 66,712% --- 200,224%
4.  Vaszilkó Virág Lili - Rocardo - 63,889%  - 66,167%  - 68,829% --- 198,885%
5.  Plutzer Zsófia - Haverstein's Olympic - 65,741%  - 63,429%  - 66,802% --- 195,972%
6.  Uzonyi Natália - Equestricons Epiascer - 66,435% --- 66,435%
Children
1. Lőkös Lúcia - Pannon Royal Fatuna S - 68,718% - 70,769% - 69,107% --- 208,594%
2. Ambach Fanni - Schufro Armani - 68,718% - 68,590%-  68,274% --- 205,582%
3. Fejes Kata - Furioso 123 - 67,500% - 66,410%-  68,393% --- 202,303%
4. Koszta Botond - Bicolor - 65,269% - 68,013% - 68,155% --- 201,437%
5. Karvalics Eszter - Qui Boy - 65,513% -  65,513% - 68,393% --- 199,419%
6. Balogh Zsófi Zoé - Labanc - 66,795% - 64,103%-  65,000% --- 195,898%
7. Novák Panna - Ivado - 63,269% - 67,308% -  62,738% --- 193,315%
8. Lőkös Larissza Anna - Rubinella - 61,026%-  66,154% -  65,476% --- 192,656%
9. Nagylaki Kitti - Bonifatia - 62,500% - 64,551% - 59,048% --- 186,099%
10. Strbka Anna - Sharon Dora - 58,987% - 63,269% - 63,393% --- 185,649%
11. Kelemen Dina  - Fidelio -  60,449% -  62,436% - 61,190% --- 184,075%
12. Tóth Renáta - Atent - 57,821% - 59,808% - 57,321% --- 174,950%
Junior Riders
1. Yom Tov Jazmin - Dodge Ram - 69,091% - 70,735%  - 72,225% --- 212,051%
2. Iván Hanna  - Bilan - 70,000%  - 68,824% - 67,542% --- 206,366%
3. Makk Dorka Panka - Balco -  66,919%  - 68,235%  - 69,317% --- 204,471%
4. Nagy Panka - Guilty - 66,515%  - 68,186%  - 68,275% --- 202,976%
5. Lázár Zsófia - Balerina Royal - 65,354%  - 67,549%  - 69,250% --- 202,153%
6. Kolacsek Panna Rozi - Roxette - 67,626%  - 65,147% -  69,250% --- 202,023%
7. Radnai Bernadett - Lohengrin - 66,414%  - 65,000%  - 66,808% --- 198,222%
8. Sedlmayer Eszter - Aranykapu Sandro - 64,192% -  63,618%  - 67,583% --- 195,393%
9. Rapi Kitti Krisztina - Dancing Queen BC -  64,293%  - 60,637%  - 69,592% --- 194,522%
10. Gyorsok Luca - Ayrton Senna van de Vannahoeve - 64,697% -  61,814%  - 66,942% --- 193,453%
11. Benák Inez  - Mojito -  63,434%  - 62,696%  - 64,042% --- 190,172%
12. Kutos Petra  - Weltfurst - 60,909%  - 60,833%  - 66,458% --- 188,200%
13. Hartmann Alice - Koppany - 59,495%  - 56,765%  - 62,858% --- 179,118%
14. Borza Dominik  - Dongo - 68,131%  - 67,745%  -0,000% --- 135,876%
15. Kiss Imre Ferenc - Lavinia - 60,657%  - 0,000%  - 66,075% --- 126,732%
16. Malaczkov Fanni - Amaretto - 63,434% - 0,000% --- 63,434%
Young Riders
1. Zengő Réka - Ronaldinho - 70,490%  - 70,392% -  71,750% --- 212,632%
2. Kökényesy Anna Zsófia  - Leopold - 67,255%  - 68,922%  - 70,792% --- 206,969%
3. Érdi Gabriella - Sierappel - 68,039%  - 68,088%  - 68,500% --- 204,627%
4. Patik Csenge Kata - Decamerone - 67,402% -  66,324% -  63,375% --- 197,101%
5. Erdei Csenge Virág - Harlekin - 63,382%  - 61,569%  - 52,375% --- 177,326%
Senior Grand Prix
1. Szalai Nikolett  - Willy The Hit - 68,794% - 67,804% - 70,285% --- 206,883%
2. Ács Róbert  - Fioretto - 65,588% -  66,261% - 72,330% --- 204,179%
3. Nébel Viktória - Quite Right - 66,441% - 66,739%  - 70,460% --- 203,640%
4. Losonczy Anikó  - Mystery - 66,706%  - 66,130%  - 70,760% --- 203,596%
5. Yom Tov Jazmin - Hexagons Zodinde - 68,971%  - 64,870%  - 69,425% --- 203,266%
6. Schmidt Anita  - Limitless - 67,441%  - 65,783% -  66,460% --- 199,684%
7. Németh Gábor - Le Baldi - 64,382% -  64,913%  - 67,545% --- 196,840%
8. Kovács Ernő - Fyrca - 63,853% - 62,957% - 67,300% --- 194,110%
9. Burger Orsolya  - Right Now -  64,618% - 62,891% - 63,310% --- 190,819%
10. Pachl Benedek - Koheilan Tajmir -  60,265% - 59,565% - 56,650% --- 176,480%
11. Kiss Rebeka - Maxim - 61,971% 52,130% - 56,100% --- 170,201%
12. Szokola Csaba  - Disneyland - 63,618% - 61,565% --- 125,183%
13. Jankó Eszter Csillag - 53,824% - 0,000% --- 53,824%
Related Links
Nikolett Szalai Extends Title by Winning 2017 Hungarian Grand Prix Championships
Radnai, Ivan, Szoke Toth, Zengo Win 2017 Hungarian Youth Riders Championships
Nikolett Szalai Wins 2016 Hungarian Grand Prix Championships