Elite Foal Auction Borculo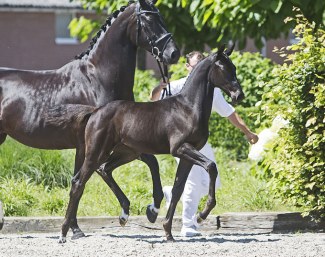 The KWPN Championship results speak loudly for the Elite Foal Auction Borculo collection. First of all, five-year-old and KWPN approved Imposantos impressed with a stunning victory in the Pavo Cup Final. Auctioned in Borculo as a foal in 2013, the son of Wynton has since brought many successes to his rider Bart Veeze, owner Theo Driessen and breeder Willy Wijnen.
This year's dressage foal collection contains a genetically superb foal out of the same dam line from the same breeder. This catalogue number 38 is Narina W, a daughter of the young Impression (s. Don Schufro) out of the Grand Prix mare Tarina (s. Jazz), a half-sister to Imposantos's dam.
Solid finals
Apart from this amazing 'Borculo result' at the Ermelo National Equestrian Centre, Jazz daughter Hello d'Ottie finished eighth in the Pavo Cup. She was also successful at the recent World Breeding Dressage Championship for Young Horses at the same venue, as was Imposantos. Hello d'Ottie is three quarters of a sister to cat. no 37 Norma d'Ottie's dam. Former Borculo foal Hollywood Tarpania also showed her class in a solid final with the six-year olds. The talented Negro daughter Jasmijn S – herself also once auctioned under a Borculo hammer – made her way into the four-year olds finals.
Several young KWPN stallions managed to impress with high-quality final tests, such as Indian Rock (fourth) and Iconic B (seventh). Two well-bred foals by these promising stallions will be auctioned Thursday 30th August: no. 43 Night Dream (Indian Rock x De Niro) and no. 37 Norma d'Ottie (Iconic B x Vivaldi), who we mentioned before.
National Foal Inspection
At the National Foal Inspection, part of the KWPN Championships, the current dressage collection was represented by two outstanding foals. Stemming from the direct line of KWPN stallions UB40 and Davino V.O.D., cat. no. 50 Naluciënne STMT (Quantensprung x Ampère) finished in eleventh place in the finals. She had before already won the Province of Overijssel title. The complete no. 5 Next Deniro H had qualified himself for the inspection by winning the Belgian KWPN Champion's title. This son of Grand Prix producer De Niro was bred out of World Championship and Small Tour mare Randy Star (s. Lancet) through ICSI.
N.O.P. suffix for Dream Boy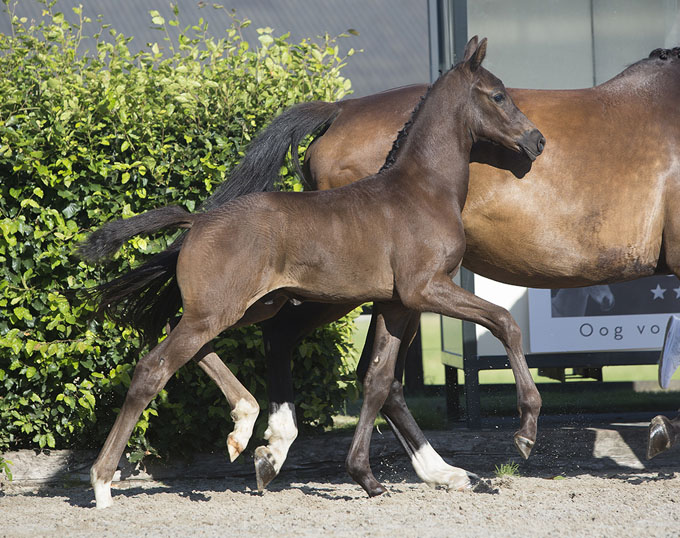 Shortly after the KWPN Championships it was announced that future crack Glock's Dream Boy had acquired the N.O.P. status, securing him for the Dutch dressage sport up to and including the 2020 Tokyo Olympic Games. By Dream Boy we offer cat. no 8 (ds. Jazz) and 9 (ds. Uphill). With Hans Peter Minderhoud Glock's Dream Boy N.O.P will soon be showing his worth at the Tryon World Equestrian Games. Like Apache (Emmelie Scholtens) and Glock's Zonik N.O.P. (Edward Gal) he was selected for the Dutch team, and we also offer foals by these cracks, respectively number 1 and numbers 69 and 70.
Not selected for the Dutch team yet but also rewarded with the N.O.P. status, is Expression (Diederik van Silfhout). Three foals by this stallion were selected (no. 11-13). Vivaldi's blood – the sire of Expression as well as Dream Boy – is further represented by two direct offspring (no. 66 and 67) and four grandchildren (no. 62-65) through his son Vitalis.
Apart from Vivaldi Totilas's blood is broadly represented in this collection through three direct offspring (no. 58-60) of the living sport and breeding legend as well as four grandchildren through his talented sons Glock's Toto Jr. (no. 30-32) and Governor (no. 34).
Best of the best dam lines
Foal Auction Borculo is known for combining genetic supremacy on the sire side with the best of the best mares and dam lines. The collection contains names such as the famous Dutch dam lines of Butopia (the line of, among other, Interfloor Next One and Radar, no. 56), Charites (among others Exquis Nadine and Dorado, no. 46), Corieta (among others Dark Knight Texel and Enzo Ferrari, no. 31 and 32), Endy (among others Charmeur and Zuidenwind, no. 3, 35, 62 and 65), Ilbria (among others Glock's Voice and Blue Hors Don Olymbrio, no. 9 and 12), Lola-G (among others Fellini and Emerald S, no. 59) and Warmante (among others Jazz, no. 20).
Please look here for the complete dressage collection
About the Elite Foal Auction Borculo
Since 1979, 'Borculo' has been a household name within the equestrian world and this is partly due to the fact that the organization has always been progressive and innovative. Elite Foal Auction Borculo is therefore the first on many fronts. Not only the first foal auction of the Netherlands or the first based on the highest average auction price, but also traditionally the first auction of the regular foal auction season. The same goes for this year when on August 29th (jumping foals) and 30th (dressage foals) edition 2018 of the Elite Foal Auction Borculo takes place in Vragender.