Danish Warmblood Elite Foal Auction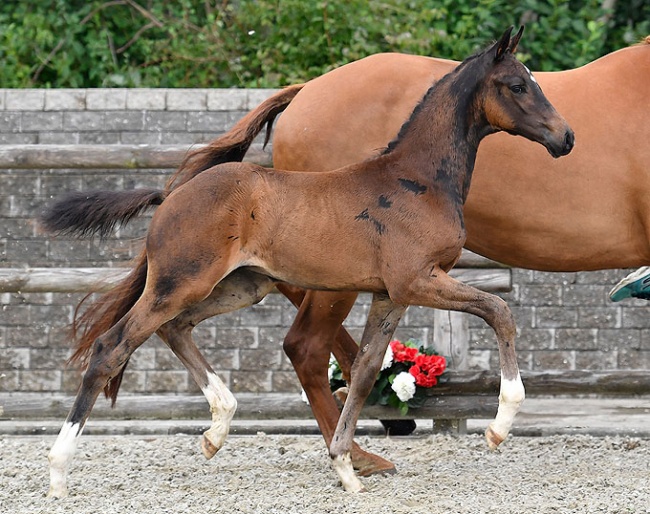 The Danish warmblood society is proud to present a phenomenal collection of dressage and show jumping foals that are ready to be purchased by a new owner at the 2018 Danish Warmblood Elite Foal Auction in Vilhelmsborg, Denmark, on 25 August 2018. 
The annual DWB Elite Foal Auction features an outstanding collection of foals that have been hand-picked at Danish Warmblood foal inspections and at dedicated breeders across the country. Secure your next future champion in Vilhelmsborg.
Unique Breeding Highlights
No less than sixty-six foals with top quality dressage or show jumping pedigrees will enthuse horse sport owners alike. Dressage enthusiasts can get particularly excited about several unique highlights this auction boasts!
The highly popular KWPN breeding stallion Franklin (by Ampere x Ferro) continues to stamp his offspring with spectacular movements. Franklin foals are some of the most sought after dressage prospects because of their phenomenal cadence in trot and modern type. The stunning filly Franklini (by Franklin x Blue Hors Don Schufro) as well as the very typey colt Ellegaardens Fabergé (by Franklin x Michellino) are real eye-catchers. Fabergé stands out with his correct confirmation, super expressive and strong top line. He shows three excellent gaits with both push from behind and knee action, including a super walk. Expression and power for a future breeding- and riding horse.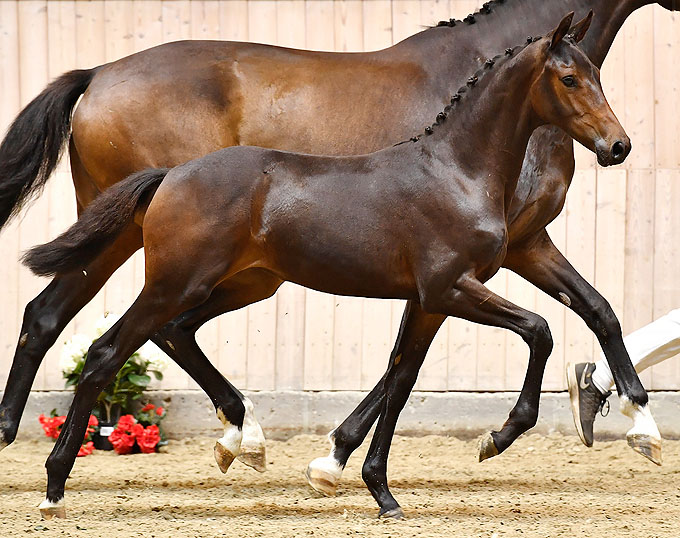 The brand new World Young Horse Champion D'Avie (by Don Juan de Hus x Londonderry) is represented in the auction collection through Diaz Skovvang (by D'Avie x De noir). The dam of this impressive colt is silver medal mare Chakira Skovvang, who also produced Wilson Skovvang (selected for the licensing in Herning) and silver medal mare China Skovvang (placed in top of the dressage breeding ranking). Diaz has an appealing type and nice supple top line in all three gaits with a superb canter. A copy of his sire and born from one of the strongest dam lines in Danish Warmblood, Diaz is a show stopper.
Danish international Grand Prix stallion Blue Hors Don Olymbrio (by Jazz x Ferro) is represented by the stunning black filly Remember Me (by Don Olymbrio x Sezuan). This smashing mover had a gorgeous uphill confirmation and all the ingredients to be a top future dressage prospect. 
The picturesque bay colt Ladegaard's Vivaldi (by Valverde x Sir Donnerhall II) is a stunning bay beauty with lots of knee action and a very active hindleg that is always engaged and reaching under.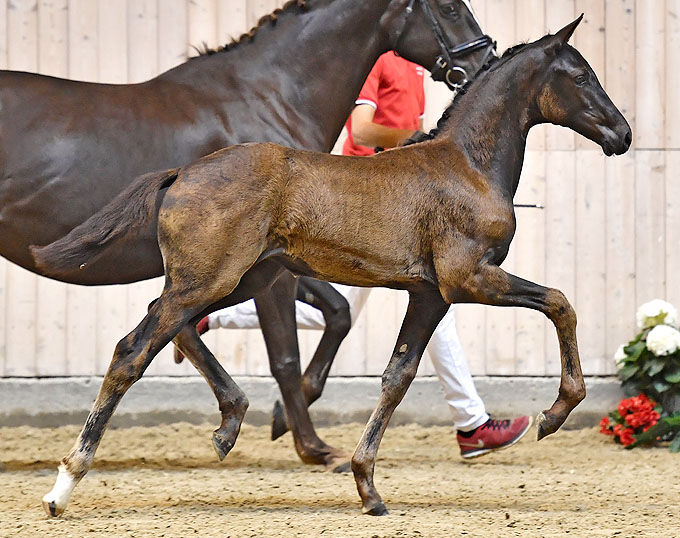 Don't Miss the Auction
The auction starts at 19h00 on 25 August 2018 in Vilhelmsborg. Visitors who cannot attend the auction, can bid over the phone. The auction will also be streamed live on www.clipmyhorse.com
For information on bidding and foals please contact Louise Ringsbo via lrb@varmblod.dk or call +45 61679493
The complete collection with photos and videos can be viewed online. Follow the auction also via Facebook.